Disturbing Details Found In Dorothy Dandridge's Autopsy Report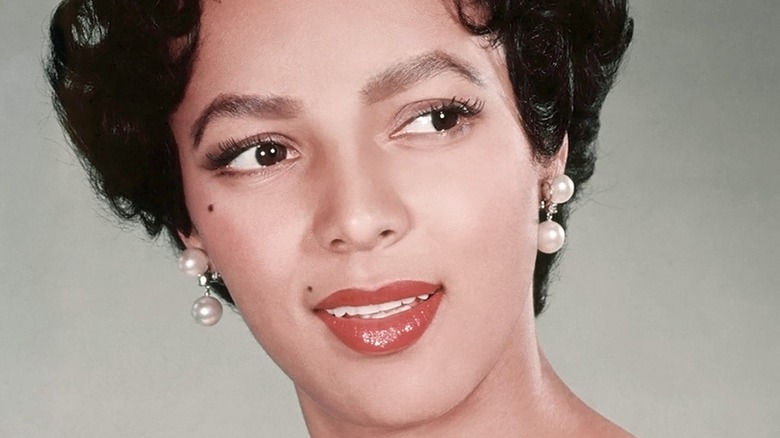 Donaldson Collection/Getty Images
In spite of her brief life, Dorothy Dandridge left her mark on history. According to Vanity Fair, she was the first Black woman to be nominated for an Academy Award for best actress. However, Dandridge's accomplishments have largely been forgotten due to her tumultuous personal life and tragic death (via Biography). Born in Cleveland, Ohio in 1922, her mother, Ruby, was set on making her a star. Dandridge, her mother, and sister Vivian traveled throughout the South to perform. Eventually, Dandridge, her sister, and their friend Etta Jones formed a musical group called the Dandridge Sisters.
Per The Washington Post, the Dandridge Sisters was a success. They were given small movie roles and performed at the famed Cotton Club in New York, where Dandridge met tap dancer Harold Nicholas, the man who became her first husband and the father of her only child. Even with her ever-growing career, VideoTrust explains, as an African American woman in the 1930s, Dandridge faced racism, discrimination, and segregation. This did little to deter her from her dreams. But first, she wanted to make things official with Nicholas. In September 1942, Dandridge married the now-iconic tap dancer (per Hollywood Vanguard).
A year later, she gave birth to their child, Harolyn Suzanne Nicholas. All That's Interesting reports that Harolyn suffered brain damage at birth. Moreover, Dandridge's union with Nicholas was strained from the start as he was reportedly unfaithful and cared little for Harolyn. The pair divorced in 1952 and Dandridge quickly got back to work. Biography writes that after her divorce from Nicholas, Dandridge triumphantly returned to the stage and earned her first starring role in "Bright Road."
Dorothy Dandridge's rise and fall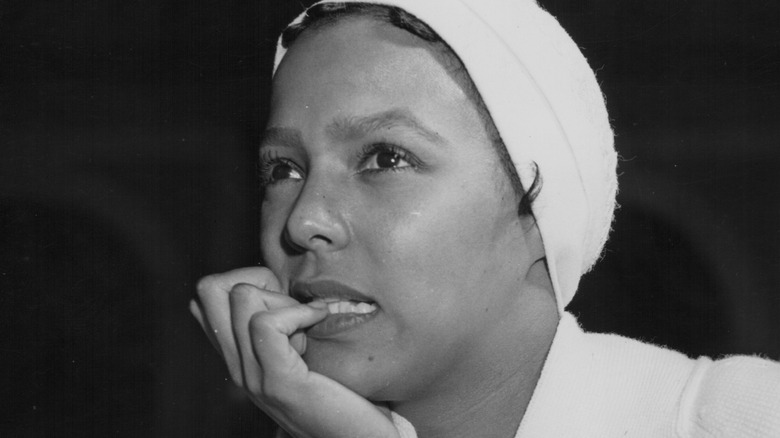 Terry Fincher/Getty Images
In 1954, Dandridge was cast in "Carmen Jones," the film that changed the trajectory of her life and career. Vanity Fair states that her performance as the titular character, directed by Otto Preminger, received critical acclaim. Ultimately, "Carmen Jones" earned Dandrige an Academy Award nomination. Despite losing to Grace Kelly, the nomination was monumental nonetheless. It also cemented Dandridge's celebrity and stardom. Likewise, she was put on the cover of Life Magazine, making her the first Black woman to achieve this honor.
Per Mental Floss, Dandridge was making thousands of dollars and arguably became one of the most revered Black women in the world (via The Washington Post). However, her career quickly floundered after the hype of "Carmen Jones" ceased. Dandridge, as Biography explains, wanted leading roles that challenged her. Instead, her skin color attracted demeaning stereotypical parts that she had no interest in. Dandridge subsequently made a series of flops. In fact, many believe that her role in the 1959 classic "Porgy and Bess" is the only film besides "Carmen Jones" that truly shows her talents.
In addition to her failing film career, Dandridge's personal life was also in shambles. According to Vanity Fair, she had an affair with Preminger, who also directed "Porgy and Bess." Preminger was reportedly abusive and controlling. The relationship ended by the time the pair began to work on "Porgy and Bess." Dandridge's career seemed to be over by the 1960s. She also had another failed marriage, to Jack Denison (via Biography). According to Mental Floss, Denison was abusive and mishandled her finances.
Dorothy Dandridge's death at 42
When the marriage ended in 1962, she was deeply in debt. Additionally, Dandridge was guilt-ridden for abandoning her daughter, Harolyn, years earlier. As All That's Interesting explains, she felt like she was unable to properly care for her daughter early on. Instead, Dandridge paid for caretakers. However, her debts meant that she could no longer afford to pay for her daughter's care.
Dandridge was forced to institutionalize her daughter. Harolyn remained in care until her death in 2003. Distraught, Biography reports, Dorothy turned to drugs and alcohol to cope. Although she was hoping to make a comeback, that never occurred (per Mental Floss). According to a United Press International report published by the Madera Tribune (posted at the California Digital Newspaper Collection), Dorothy Dandridge died on September 18, 1965. The 42-year-old was found naked in her Hollywood apartment by her manager. At the time, she reportedly only had $2 in her bank account.
Ebony Magazine writes that the first autopsy found that she had died from something called a rare embolism — that a five-day-old fracture from the gym had resulted in small pieces of fat to break off and caused blockages in Dandridge's lung and brain. However, further toxicology testing concluded that she had actually overdosed on an antidepressant, as The New York Times reported. This caused speculation that Dandridge had committed suicide. The truth — whether suicide or an accident — remains unknown. Per Find a Grave, Dandridge was laid to rest at Forest Lawn Memorial Park in Glendale, California.
If you or anyone you know is having suicidal thoughts, please call the National Suicide Prevention Lifeline​ at​ 1-800-273-TALK (8255)​.