The Unexpected Truth About Ruth Bader Ginsburg's Name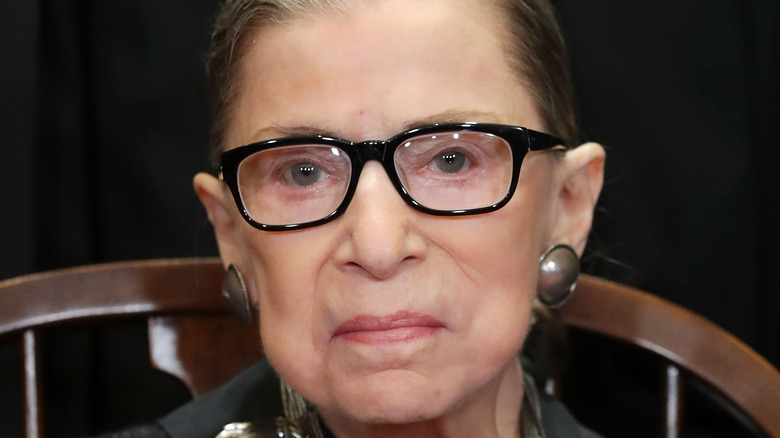 Chip Somodevilla/Getty Images
Ruth Bader Ginsburg made history when she became the first female Jewish justice of the Supreme Court in 1993, but she had many achievements under her name long before that. In 1954, Ginsburg graduated at the top of her class at the prestigious Cornell University before she studied law at Harvard. According to Reader's Digest, Ginsburg was one of only nine women in a class of 500 students and thrived in an environment where sexism was commonplace. She transferred to Columbia University for her last year of law school and graduated first in her class.
Ginsburg was a champion of gender and racial equality, and she participated in monumental cases in the Supreme Court that dealt with critical issues, such as same-sex marriage, abortion, and gender equality (via Fortune). Furthermore, she was the first Supreme Court justice to officiate a same-sex marriage in 2013. With her long list of achievements, Ginsburg has left an unforgettable mark in the country's history.
Ruth Bader Ginsburg's real name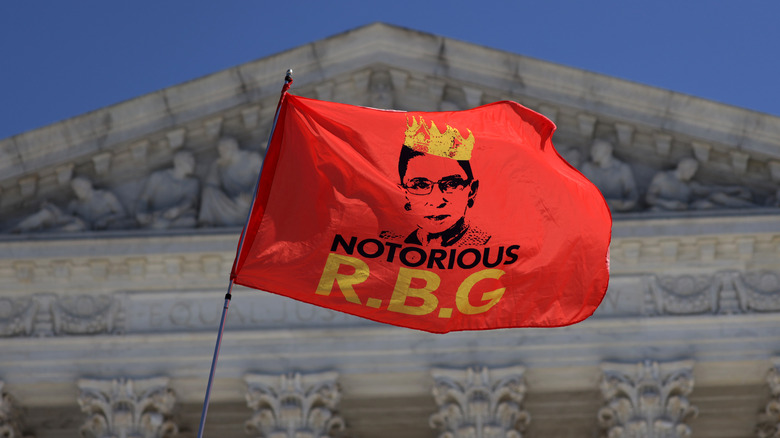 Alex Wong/Getty Images
Ruth Bader Ginsburg's supporters oftentimes refer to her as Notorious R.B.G., which was a nickname conceived by law student Shana Knizhnik in 2013 and inspired by rapper Christopher Wallace, more popularly known as Notorious B.I.G. Knizknik even created a Tumblr site dedicated to Ginsburg. In an interview with NBC News in 2017, Ginsburg said that she embraced her new nickname, especially since both she and Wallace both came from Brooklyn, New York. However, the initials R.B.G. would have been J.B.G., if she stuck with her first name.
Ginsburg was born Joan Ruth Bader in 1933, and she went by her first name, Joan, until she attended school. Per Harper Collins, Ginsburg's mother noticed that there were several girls named Joan in her daughter's class, so they decided to call her by her second name, Ruth, to help teachers identify her from the other classmates named Joan. From then on, Ginsburg used the name Ruth. In the 1930s, Joan was among the top 10 most popular female names along with Mary, Betty, Shirley, and Dorothy (via Social Security).
A ship is named after Ruth Bader Ginsburg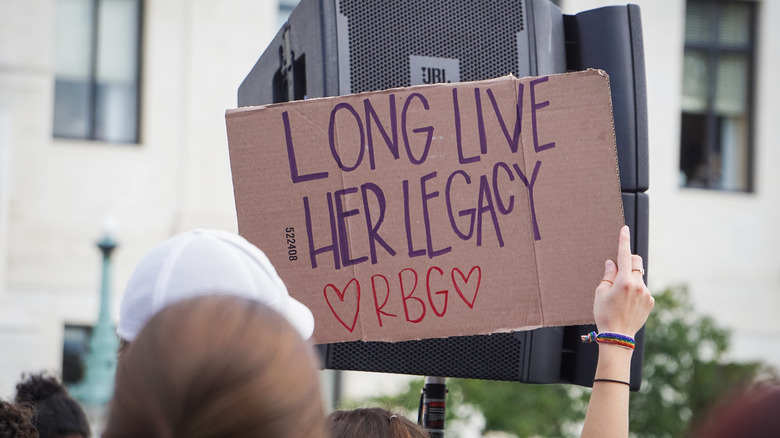 Stephanie Kenner/Shutterstock
In April 2022, the Navy announced that it will be honoring Ruth Bader Ginsburg by naming a U.S. Navy ship after her. The news came on the last day of Women's History Month, and at that time, the ship was yet to be constructed, as reported by NPR. It is included in the John Lewis-class of replenishment oiler ships, which are all named after people who made a mark in the civil and human rights movements.
In the statement, Secretary of the Navy Carlos Del Toro said about Ginsburg, "She is instrumental to why we now have women of all backgrounds, experiences, and talents serving within our ranks, side by side with their male Sailor and Marine counterparts" (per Navy). Ginsburg served as a Supreme Court justice for 27 years until her death in 2020 due to pancreatic cancer complications. She was 87 years old.