Where You've Seen Cyndi Lauper's Husband David Thorton Before
Donna Ward/Getty Images
Sometimes celebrity couples are made up of two equally famous people, but it's often the case that one half of a famed match is much more well known that the other. That's certainly the case when it comes to actor David Thorton and his wife, singer/actor Cyndi Lauper. After over 30 years of marriage, however, it doesn't seem to bother either of them or affect their union negatively. Lauper is most well known for her 1984 breakthrough album "She's So Unusual," which according to Billboard spent most of the year in the Top 40, thanks to several hit singles. Included were the No. 1 ballad "Time After Time" and the classic feminist party anthem "Girls Just Wanna Have Fun."
Thorton was born in Cheraw, South Carolina on June 12, 1953, per the IMDb. According to a 1992 interview in The Independent, his parents met "in the Unitary Choir." His father taught English at Harvard University and wrote books on the poet Robert Burns. 
Thorton grew up to study acting at Yale University and the Lee Strasberg Actors Studio. He and Lauper met on the set of the 1991 movie "Off and Running," in which Lauper played an underwater dancer whose biggest acting credit is a recurring role on the television drama "Miami Vice." Ironically, Thorton, who played the role of Reese in "Off and Running," actually did appear on "Miami Vice" in 1985, although it appears that his role as Lile on the episode "Rites of Passage" was a one-time deal.
Lauper and Thorton met on a movie set
Jamie Mccarthy/Getty Images
As Cyndi Lauper told The Independent in 1992, she was coming off of the breakup of a long-term relationship with her former manager, Dave Wolff, which had been followed by "a no-win masochistic situation with this man who wasn't particularly good-looking." Feeling depressed and convinced that her career as an artist was over, she accepted the role in "Off and Running" and saw it as "the chance of a vacation from myself, a way to get lost in work and forget who I was. Then I met David and everything changed." David Thorton was reportedly very quiet and shy with Lauper at first, so she started writing teasing notes to him and the two started walking on the beach at night. They soon became a couple, and Thorton started mentioning marriage just a few weeks into their relationship. Lauper was a bit more cautious, and as she tells it, "When the film was finished, we spent a month alone together at Cape Cod. We could stand each other, so we decided to go ahead and marry."
Thorton told The Independent that he and Lauper didn't have much to do with each other on the set at first because he "was worried that if we became friendly and liked each other it might affect the scenes we do together, which are fairly angry and violent." She invited him to eat with her and her assistant one night; there "wasn't an immediate buzz, but we laughed a lot."
Thorton has a recurring role in the Law & Order universe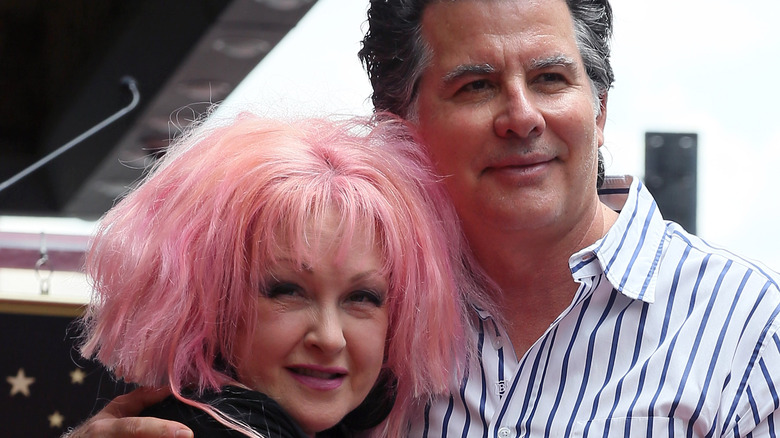 David Livingston/Getty Images
Where else does David Thorton show up on both the large and small screen? According to the IMDb, his most substantial and long-running role is that of defense attorney Lionel Granger, a role he first played in 2003 and went on to reprise several times on "Law & Order: SVU." The "Law & Order: SVU" Fandom TV wiki describes the character as "highly competitive and high priced" with few fans among the staff of the Special Victims Unit. Thorton also appeared on "Law & Order" in the role in 2005, despite having played two previous other guest roles on the show. Ironically, in the 1992 interview with The Independent, Lauper said one of the things she didn't like about her husband was "he doesn't like TV and always shuts it off."
Thorton's other performances over the years include a recurring role as George Pallis on "Homeland" in 2017 and appearances in a wide variety of movies, including "Home Alone 3," "The Last Days of Disco," "John Q," and "The Notebook." Lauper and Thorton's son Declyn was born in 1997. He goes by the name Dex, and per ABTC is a rapper, producer, and songwriter. On his birthday on November 19, 2019, Lauper shared an adorable vintage family portrait on Instagram, writing, "We are excited to see u living your dream. [heart emoji] m/d."