This Creedence Clearwater Revival Hit Predicted The Band's Breakup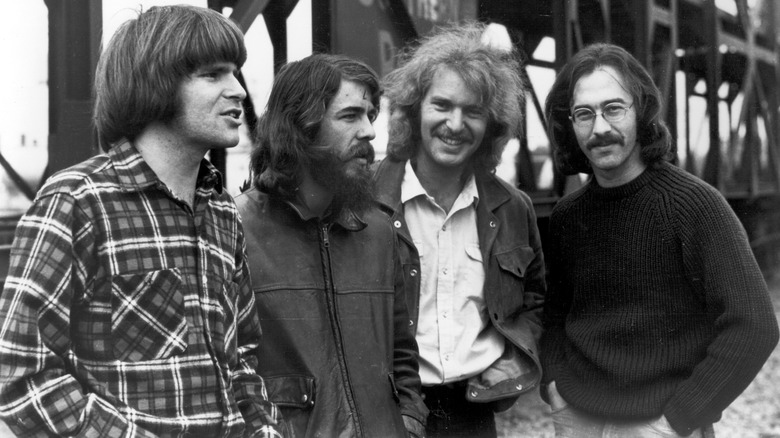 Michael Ochs Archives/Getty Images
Over a four-year period from 1968 to 1972, Creedence Clearwater Revival rattled off a series of hits, setting a record in the process with the most No. 2 hits without ever hitting the top of the Billboard singles charts. But despite all those close calls, despite their "always the bridesmaid, never the bride" status as hitmakers, CCR left a lasting legacy as swamp rock/Southern rock legends who didn't actually hail from Louisiana. (All four members were born and raised in California.)
Sadly, CCR is also known for having one of the messiest breakups in rock 'n' roll history. This was a band that featured a pair of brothers, as well as two of the younger brother's school friends, but when they broke up after that long string of hit singles, there was bad blood all around. And that's not even mentioning what happened in the years after their breakup, where said younger brother, John Fogerty, remained estranged from big brother Tom until the latter's death, and John refused to let former bandmates Stu Cook and Doug Clifford join him onstage as CCR celebrated their induction into the Rock and Roll Hall of Fame. But those negative feelings between the younger Fogerty and his three (and later two, after Tom's exit) CCR colleagues had been building up ahead of their disbandment, and one of their biggest hits had, in a way, predicted what was to happen less than two years after it cracked the top 10 of the Billboard Hot 100.
Have You Ever Seen the Rain hinted that the end was coming soon for CCR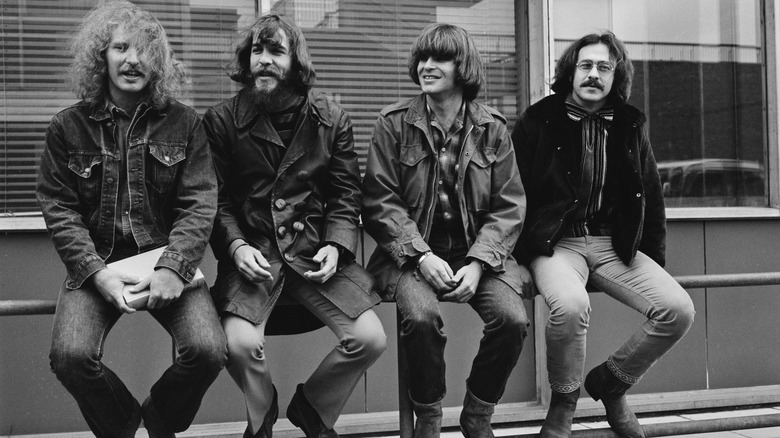 Evening Standard/Getty Images
When interpreted literally, the chorus of Creedence Clearwater Revival's "Have You Ever Seen the Rain" hints at an unusual, yet legitimate event that is more common in certain Southern states (via Clean Energy). But if you look a little deeper and consider the increasingly contentious relationship between CCR singer-guitarist (and undisputed band leader) John Fogerty and his bandmates, it can be interpreted as a portent of the group's eventual breakup. Yes, CCR was basking in the sunshine of chart success and rock stardom circa early 1971, which is when "Have You Ever Seen the Rain" reached its Billboard Hot 100 peak position of No. 8. But rain clouds were brewing in the form of band infighting, and the increasing discontent felt by Tom Fogerty, Doug Clifford, and Stu Cook over their lack of creative control.
John Fogerty admitted as much in an interview with Rolling Stone, where he told Michael Goldberg that he wrote "Have You Ever Seen the Rain" after assessing the band's unhappiness despite their continued good fortune. "That song is really about the impending breakup of Creedence," he said. "The imagery is, you can have a bright, beautiful, sunny day and it can be raining at the same time. The band was breaking up. I was reacting: "Geez, this is all getting serious right at the time when we should be having a sunny day."
The song was CCR's last hit with Tom Fogerty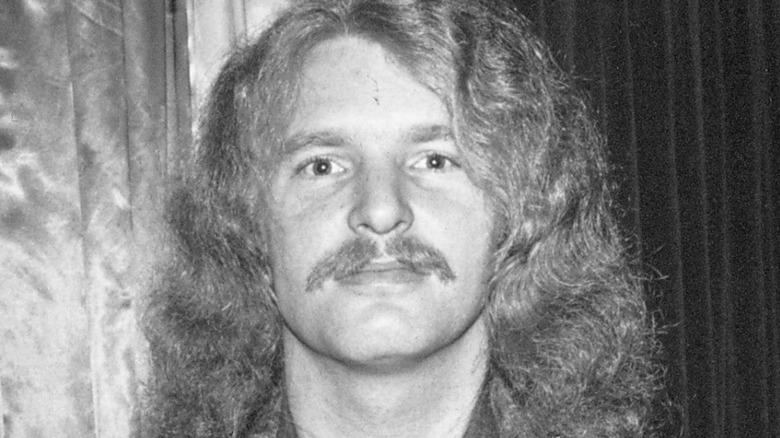 Donaldson Collection/Getty Images
As pointed out by Rolling Stone's Michael Goldberg in his interview with John Fogerty, "Have You Ever Seen the Rain" was Creedence Clearwater Revival's last hit single recorded while John Fogerty's older brother, rhythm guitarist Tom Fogerty, was still in the band. Being a few years older than his bandmates, Tom was considered the leader before CCR became CCR, and while he was initially fine with John taking over, he ultimately became disenchanted with his little brother's apparent creative dominance and quit soon after their album "Pendulum" was released in December 1970. Tom and John Fogerty never fully reconciled before the former's death in 1990.
With Tom Fogerty out, Creedence Clearwater Revival pushed forward as a power trio, but only got to record one more album, 1972's "Mardi Gras." Although songwriting and lead vocal duties were split evenly among John Fogerty, bassist Stu Cook, and drummer Doug Clifford, that did little (if anything at all) to heal the proverbial wounds. In its review of "Mardi Gras," Rolling Stone argued that Fogerty's decision to kowtow to his creatively frustrated bandmates was his "revenge," one where he'd show the world how inferior Cook and Clifford were as songwriters and musicians.
Not long after "Mardi Gras" hit record stores, the prophecy of "Have You Ever Seen the Rain" was fulfilled, as CCR rode off into the sunset and went their separate ways.