In 2016, Mozart Performed A Startling Music-Industry Feat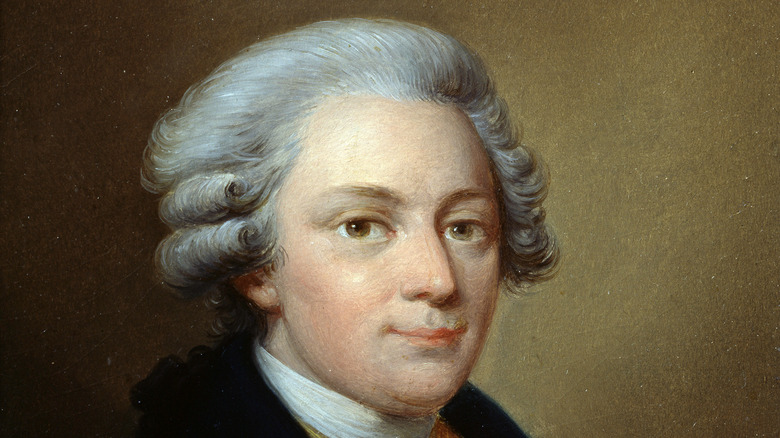 Heritage Images/Getty Images
The music industry can be a strange place. Anyone who witnessed the spectacle that was Lady Gaga's meat dress ("it smelled like meat, it was thrilling to wear," Gaga told British Vogue in a YouTube Life In Looks segment) can attest to that. Sometimes, monster hits can arrive out of nowhere, and the biggest artists can flop or return in a surprising fashion.
Wolfgang Amadeus Mozart is undoubtedly one of the most iconic musicians of all time. As Britannica reports, he had an extraordinary ability to tackle multiple different genres of music, an impossible jack of all trades and master of all of them. It's crucial to note, though, that he died in December 1791. As such, musical genres weren't quite as diverse as they are today, and you wouldn't hear him rapping along with Eminem or indulging in a spot of drum and bass with Pendulum.
As it turns out, though, you can't keep a musical genius down. Mozart enjoyed an astonishing resurgence in 2016, despite the fact that he'd been dead for over two hundred years.
The ultimate Mozart album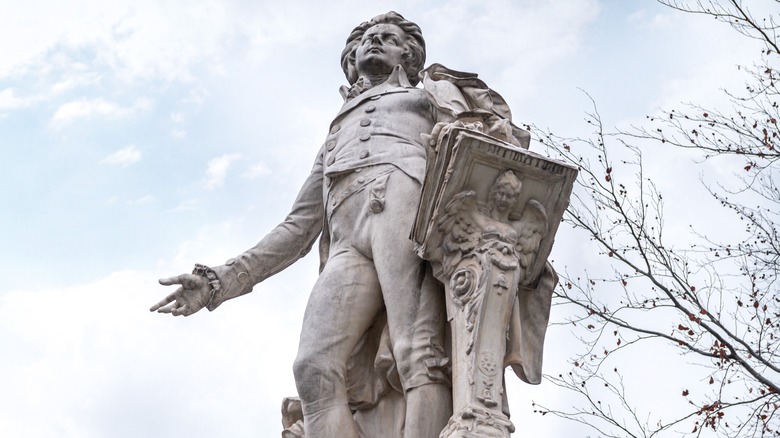 Longfin Media/Shutterstock
2016 was a standout year for music, by all accounts. The 58th Grammy Awards, Billboard reports, celebrated the likes of Ed Sheeran's "Thinking Out Loud," Mark Ronson and Bruno Mars' "Uptown Funk," and Muse's "Drones." Fans of everyone from Justin Bieber to Dr. Dre and The Rodriguez Brothers were catered to, if only with a nomination.
Where did Mozart come into the glorious, varied soundscape of 2016? Incredibly, he actually released one of the year's highest-selling CDs. Technically, in fact, it was a set of 200 CDs, the ultimate and absurdly vast Mozart collection.
That year, Billboard reports, saw the release of "Mozart 225: The New Complete Edition." In an effort to ensure this was truly a definitive release, it was seemingly packed with everything Mozart ever made, comprising some 240 hours (yes, 10 non-stop days) of music. The compilation was reportedly priced at a hefty $480, and released to mark 225 years since Mozart's death (hence the name). It proved to be a sales sensation. Sort of.
Mozart's comeback tour would have been incredible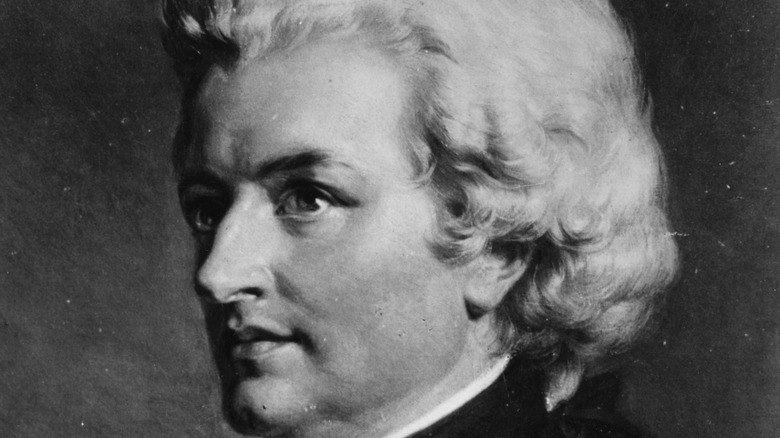 Hulton Archive/Getty Images
Needless to say, this selection was quite the treat for classical music buffs. If orchestras are your thing, it would have been the perfect way to treat yourself. Billboard states that a modest 6,250 people around the world had bought the megabox by early December (following its October release).
Rather niche sales for a rather niche and premium product, you might think. Here's the catch, though. Per Billboard, each of those box sets contained 200 CDs. A little technicality-indulging math later, and suddenly Mozart had sold a remarkable 1,250,000 CDs.
As Forbes stated that December, this topped the sales of the likes of 2016's "Lemonade" from Beyoncé and "Life of Pablo" by the inimitable Kanye West. Given the nature of the sales, it's tough to technically dub Mozart's the highest-selling album of the year, and Forbes goes on to state that declining physical sales and the collectibility of the piece would have been factors too. Nevertheless, any artist making a bold and successful return to the scene after having been gone for over two centuries should be celebrated. Good for you, Mozart.