The Untold Truth Of Eric Andre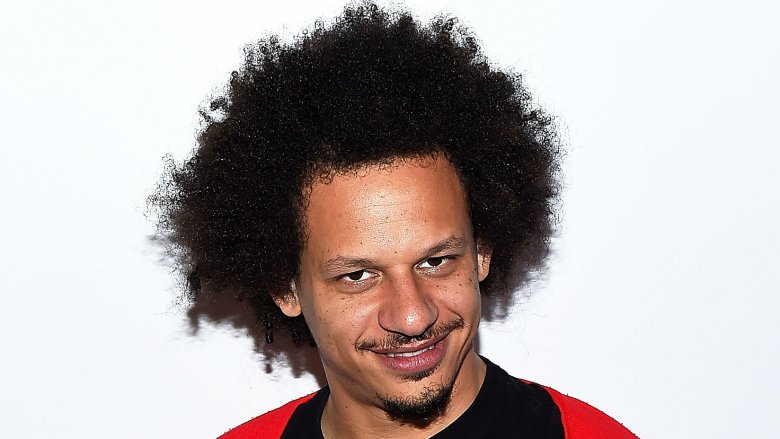 Getty Images
Comedian and actor Eric André is the host, creator, and chief visionary behind the (barely) controlled chaos that is The Eric André Show. Combining elements of other surreal, reality-bending talk, prank, and comedy shows like Space Ghost Coast to Coast, The Tom Green Show, Jackass, and Da Ali G Show, André (along with cohost Hannibal Burress) bewilders and upsets his celebrity guests, along with the victims of his real-world pranks (and anybody who gets in the way when he's destroying the set). Here's a look at comedian Eric André, as well as his wholly unique Adult Swim series The Eric André Show.
Eric Andre studied at an exclusive music school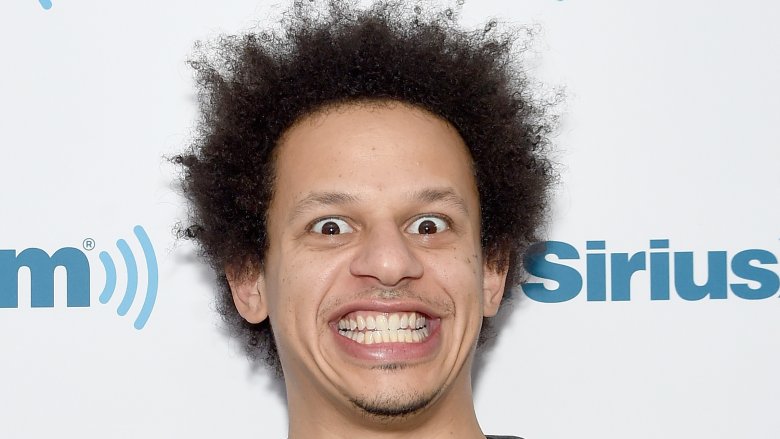 Getty Images
André didn't go to college to become a boundary-pushing comedian, largely because very few colleges offer that as a major, but also because he studied to become a professional musician. André graduated from the quite prestigious Berklee College of Music in 2005 with a degree in fine arts. While that training would make him one of the finest upright bass players in the country today, he also used college as a testing ground for the guerrilla comedy he now gets paid to do. He told Grantland that he'd post fliers around the school announcing that major bands, like Weezer, Phish, and Destiny's Child, were playing secret gigs in the school cafeteria. But the fliers listed the same date and time for all of the bands. "Different walks of life came to the cafeteria at the same time, and when they got here, it was me, 11 bass players, two drummers, and a cellist, just making a bunch of noise," André said.
He was a GEICO Caveman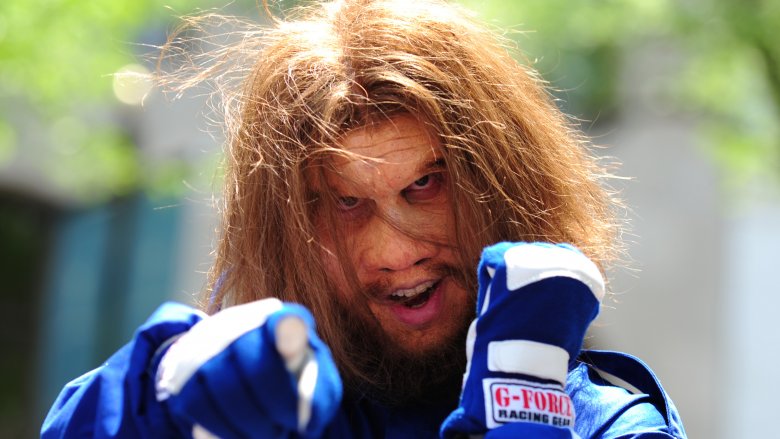 Getty Images
André gets a lot of work as an actor and comedian these days, but he created The Eric André Show as a vehicle for himself because he couldn't find enough work to pay the bills. When Adult Swim first "showed interest" in the show, as André told Spin, he was living on unemployment with only $200 to his name. His main gig right before his show got picked up was as a GEICO Caveman. No, not one of the ones from the series of car insurance commercials depicting fussy, Yuppie cavemen, and no, not one of the ones from the short-lived ABC sitcom based on those commercials. André was a promotional mascot, representing the insurance giant at "hockey games ... Lollapalooza, we did Yankee games. They wanted me to walk around a hunting supply store outside the Super Bowl for no reason." So if you had your picture taken with a GEICO Caveman a while back, it just might have been Eric André in a few layers of heavy makeup.
The unique way he pitched the show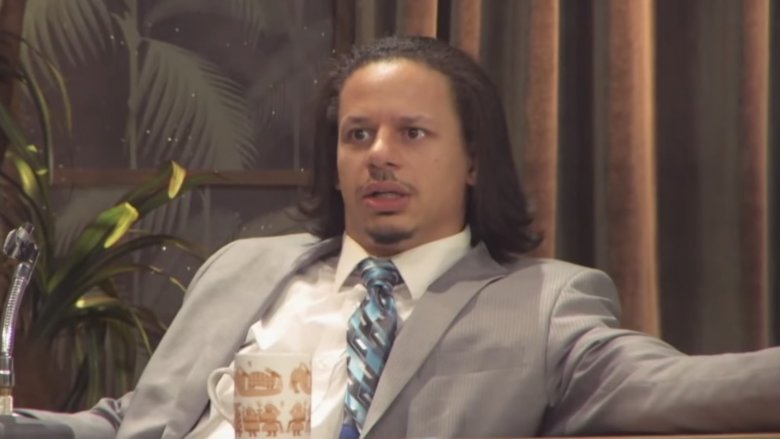 YouTube
Most TV shows are created, pitched, and developed in the same way they have been for decades. Someone gets an idea, pitches it to a production company or TV network, writes a pilot script, and shoots a sample episode. Eric André thought his idea for an "absurdist, stream-of-consciousness" talk show with elements of nihilism, pranks, and paranoia wouldn't really come through in written form. So he filmed a sample episode on his own dime. "We rented out this little semi-abandoned, semi-illegal bodega in the middle of Brooklyn," André told Spin. He said there were "piles of broken glass everywhere and it was super nasty and we just cleaned it up a little bit, threw up curtains." Then he had to edit the thing himself because his vision of what the show should be was so precise. So André taught himself Final Cut, an editing program, and put the show together. André says the whole process took a year. Then he pitched it to a bunch of networks that "all thought it sucked" except for Adult Swim, because really, if there was ever a project tailor-made for Adult Swim, it's The Eric André Show.
What Eric Andre can't do on television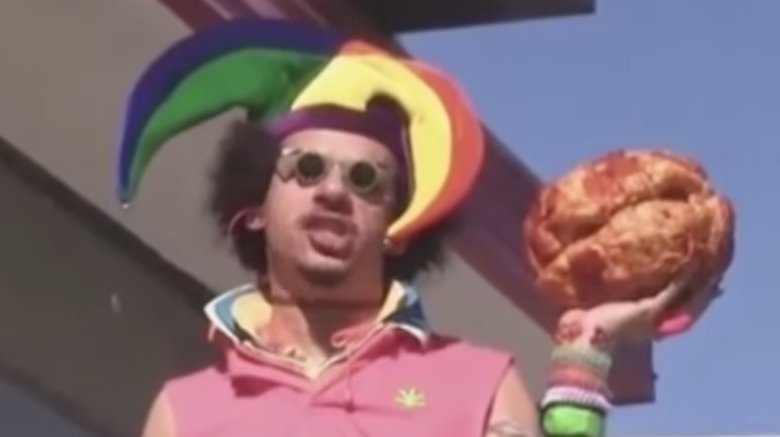 YouTube
While The Eric André Show seems like an "anything goes" kind of place, it's still a product of a TV network controlled by an international entertainment conglomerate that has to answer to advertisers. It can't push the envelope too much, in other words. André told Spin that Adult Swim (a subsidiary of Turner Entertainment) has placed just a handful of restrictions on the show. "Suicide and drug use and making fun of specific gods are like the three [standards and practices] issues that come up," André said. Still, he tries get away with bits that fall into those categories. "I'll just take out a banana and put it in my mouth and blow my brains out and blood will splatter behind me, but that kind of stuff always gets flagged by S&P." André also mentioned a time when those network censors had some suggestions on how to execute a hit where he would "s**t so hard that my organs fall out of my anus." Censors merely instructed that "he can't make it look like he's intentionally doing it." 
As André explained to The Fader, one other segment Adult Swim nixed entirely was a bit which in which a man and woman pretending to be production assistants would "slowly undress and reveal that they have the opposite genitalia than you'd thought that they'd have" before doing what humans do with genitals. For some reason, the executives at a mainstream cable TV network had a problem with that.
He's been thrown in jail because of the show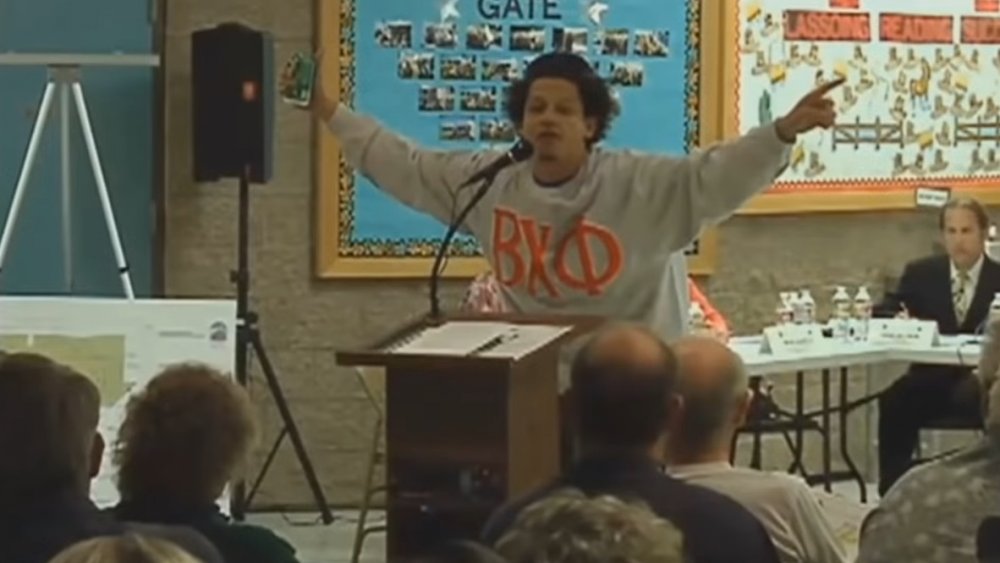 Talk about suffering for your art. For one of the show's pranks staged in the real world in front of unsuspecting bystanders, André crashed a town hall meeting in Rancho Cucamonga, California. As André related on Conan, he "dressed up like a frat boy," rushed the podium, and shouted, "Vote for me for class president and I'll put beer in the water fountains and cameras in the girls' locker rooms! Go Bobcats!" Then he chugged a beer and was led out by a security guard, as he hollered, "Don't taze me, bro." He was taken out of the meeting hall where he claimed his name was John Coltrane. André spent the night in jail. (And he didn't even win the student body election!)
Nobody believed he was really dating Rosario Dawson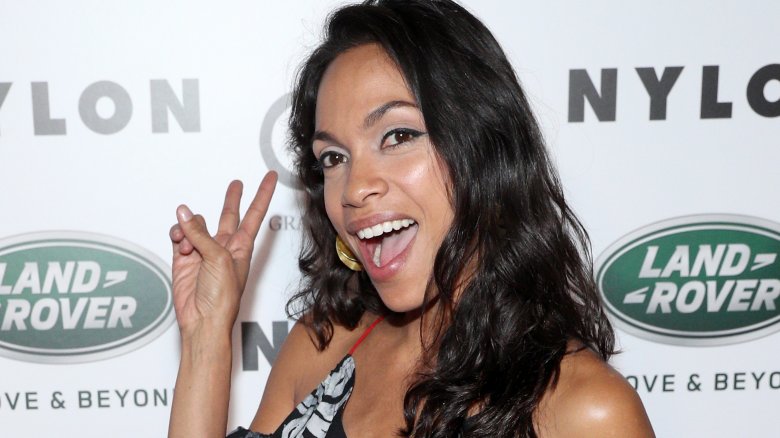 Getty Images
On Valentine's Day 2017, André took to various forms of social media to declare attractive movie star Rosario Dawson his "Valentine" as well as "the undisputed most gorgeous being on the planet." Surely, this was another genius, Eric André stunt-prank. A lot of people thought it was a ruse, including Chance the Rapper, who texted Dawson for confirmation. In response, André tweeted of himself and Dawson putting their lips up against each other's. So yes, the comedian and the actress are the real deal. A couple months later on The Late Show with Stephen Colbert, Dawson once again had to reiterate that yes, she and André are a thing. Dawson said that after she had emergency surgery for a ruptured ovarian cyst, André "took care of me in an adult diaper." (She was wearing the diaper; he wasn't.) "That is love," Dawson added.
ABC didn't want word getting out about his show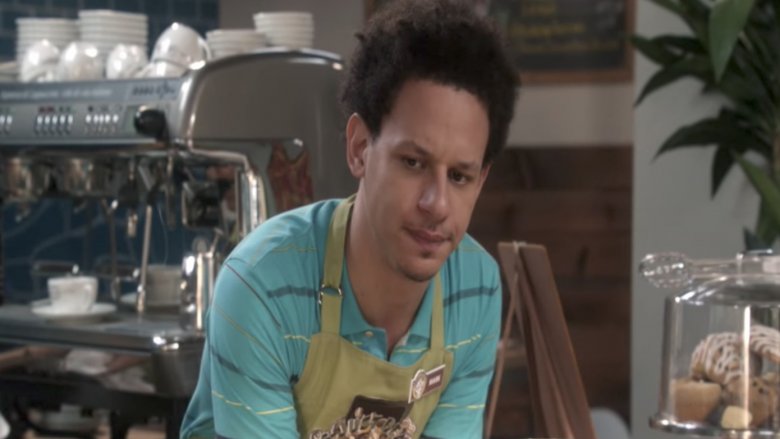 YouTube
While The Eric André Show has run for four seasons and counting, it's still a cult hit that runs late at night on a cable network. That means more people have probably seen André in his role as lovelorn barista Mark on Don't Trust the B in Apt. 23, even though it was canceled after two short seasons. But hey, it was on ABC, a major broadcast network. And even though executives at Disney-owned ABC may have been edgy enough to greenlight a show that had mild profanity in the title ("B" was at one point a word that means "female dog"), they weren't cool enough to dig The Eric André Show. André told Huffington Post that his alphabetic overlords were "not thrilled" with his Adult Swim enterprise. "Sometimes for press releases it was like, 'Hannibal from SNL and 30 Rock and Eric André from Don't Trust the B in Apartment 23 are doing a new show on Adult Swim.' And then like 14 people from ABC flew in on helicopters, were like, 'Don't mention us in the Adult Swim show!'" He added that ABC was okay with his other show "for the most part." After all, they didn't have a problem with his Don't Trust costars guesting on The Eric André Show. 
Eric Andre hurts himself ... a lot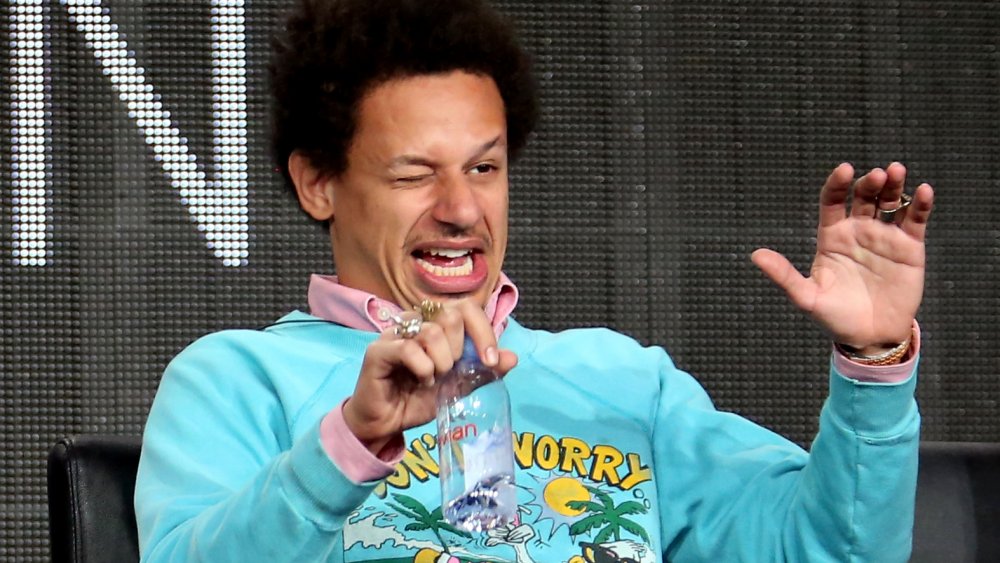 Frederick M. Brown/Getty Images
Destroying desks, jumping through walls, and scaring people on the street is some highly physical, death-defying work. And Eric André has paid the price — he's hurt himself a lot over the course of filming The Eric André Show. His injuries for the sake of comedy include putting a hole in his butt cheek, tearing his back trying to pick up cohost Hannibal's chair, and possibly permanently messing up his knees while crouching in a garbage can. (He was jumping out and scaring people.)
The show actively antagonizes its guests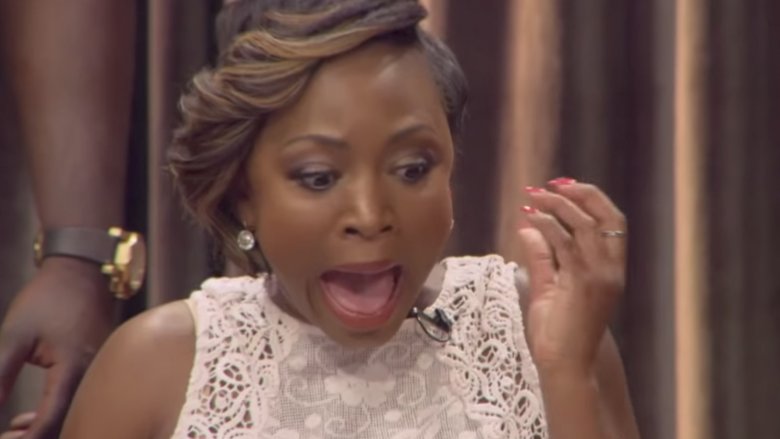 YouTube
The guests on The Eric André Show often seem very uncomfortable. And while André might be playing a character named "Eric André" that isn't quite his real self, the guests aren't necessarily faking it. That's because the show goes out of its way to make guests squirm. Why? Why would André and company risk alienating celebrities, our greatest natural resource? "It's fun seeing guests out of their comfort zones," André told Splitsider. A variety of maddening, guest-upsetting methods have been put to use, including mild electrocution, a "water torture device up above the guest's chair to squirt water down on them, drop by drop," and, maybe worst of all, rotten clams underneath the guest's chair to produce a noxious, undeniable stench.
Guests have bailed during taping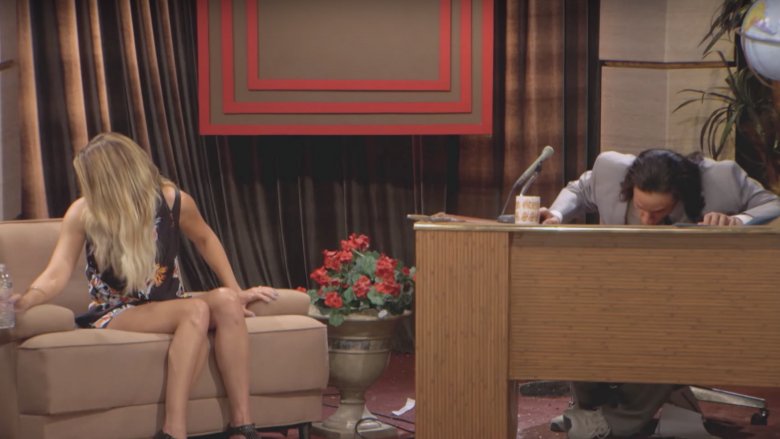 YouTube
All those annoyances and shellfish odors have led a handful of The Eric André Show guests to their breaking point. The Hills star and self-proclaimed lifestyle expert Lauren Conrad didn't really "get it" when she appeared on the show. After André made fun of Conrad's husband, drew a swastika on his forehead, and pretended to eat his own vomit, Conrad walked off the show. André said Conrad's publicity agency exacted revenge by canceling nearly all its other clients scheduled to appear on the show. Rapper T.I. also walked off, with a typically anarchic and partial-nudity-laced taping a bit too much to handle. However, he later expressed regrets, posting a video of the show on Instagram with the caption, "I honestly can say this s**t was NOT amusing at the time of," adding "But it's F**k'n hilarious lookin at it now." TV's Incredible Hulk, Lou Ferrigno, was an almost-walkout. At one point, he indignantly asked André, "Did you bring me on this show specifically to mock me?"
Eric Andre almost wasn't a part of Disenchantment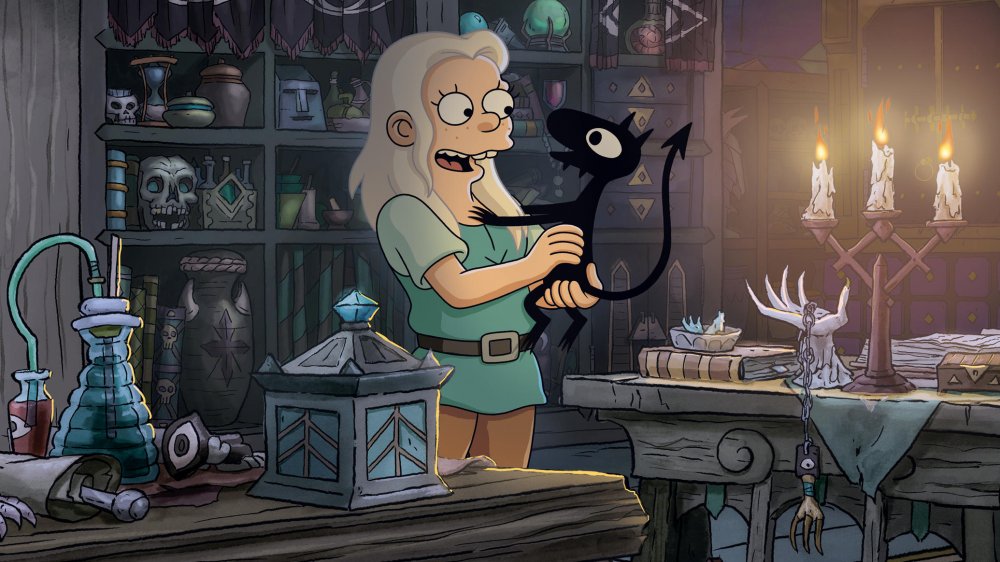 Apart from his work as a superstar in the world of weird, semi-underground, late-night alternative comedy TV, Eric Andre also pops up in more mainstream projects as an actor. Probably his most high-profile TV role of the last few years is voicing Luci, the personal demon to Princess Bean and all-around agent of chaos on Matt Groening's Netflix fantasy comedy Disenchantment. As a prankster who stages public stunts on the street and psychologically attacks guests on The Eric Andre Show, giving voice to a trickster demon isn't all that much of a stretch for Andre, and yet he didn't think he had much of a chance to land the role. 
"I got just an email from my agent, Andre told Decider about the casting of the series. "I saw Matt's name on the project, and I put it off for a while because I thought, 'I never book these things.'" Only at what he called "the last moment" did Andre submit what was ultimately a winning audition tape, which he recorded and sent in himself.
He bought improv comedy to The Lion King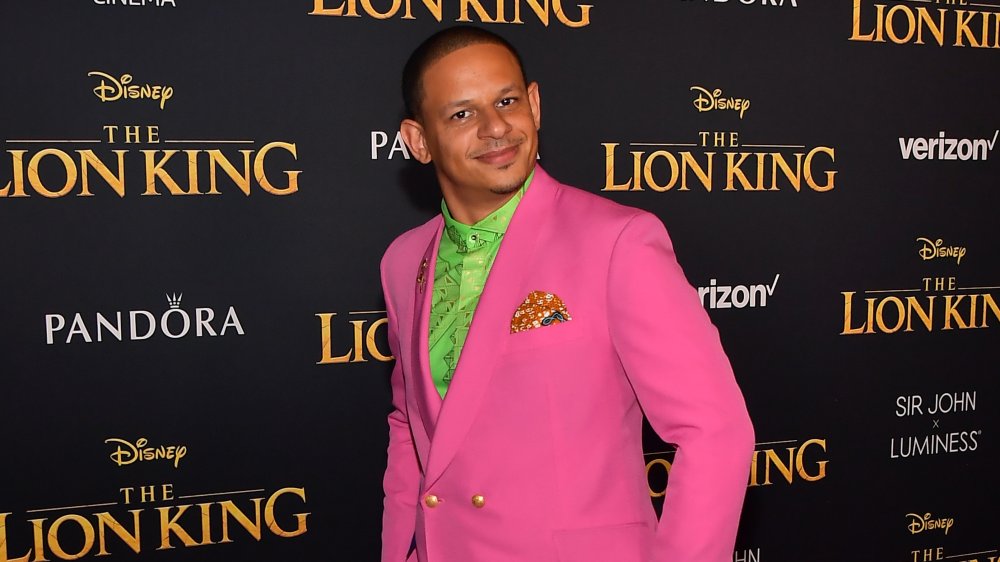 Matt Winkelmeyer/Getty Images
Eric Andre, a guy most famous for alienating celebrities and jumping through the walls of his own TV show set, probably isn't the first name most would associate with "beloved Disney feature film," and yet the comic landed a part in the 2019 CGI-meets-live-animals remake of The Lion King. The original's laughing hyena sidekicks of Banzai and Ed were renamed Kamari and Azizi for the new film, and their characters were elevated to darkly comic secondary villains. After all, they're portrayed by Keegan-Michael Key (of Key and Peele) and Andre, respectively, and for the latter, the role proved somewhat difficult. 
"We had the challenge of injecting comedy into some of the most dramatic scenes in the movie," Andre told MTV News. "We're trying to be the comic relief after Mufasa dies," he added, claiming responsibility because that moment is "so heavy, people need to laugh to break the tension." As both Key and Andre are seasoned comedy professionals, they were allowed to improvise during their shared recording session "until we got it right."
Eric Andre has a strange musical side project called Blarf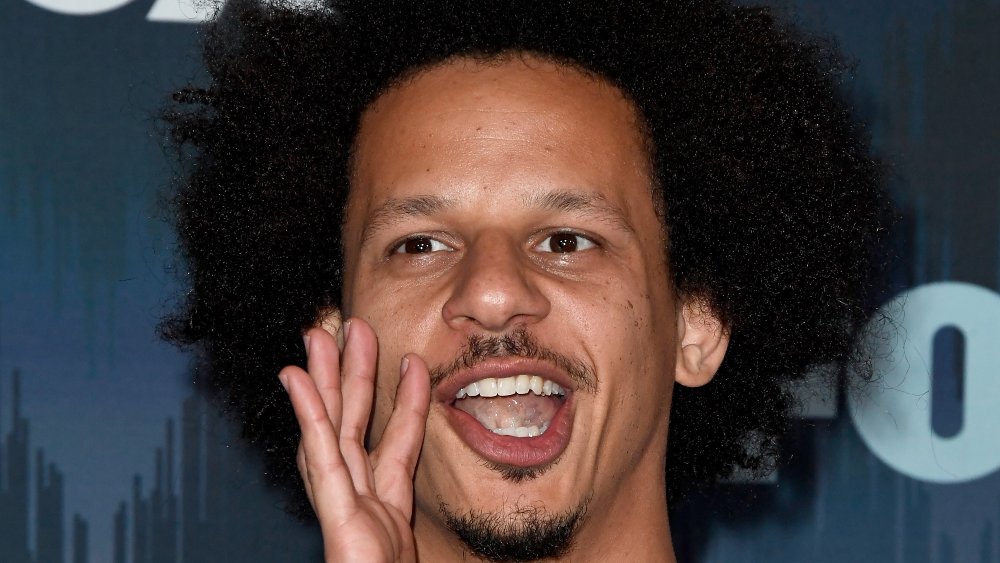 Frazer Harrison/Getty Images
Eric Andre is a classically trained musician, having studied at the prestigious Berklee College of Music. One might think that because he's pursuing acting and avant-garde comedy that he's not really using that degree, but that's just not true. Amidst all of his other gigs, Andre fronts a group called Blarf. It's not so much a band as it is a musical product of the same sensibilities that he explores on The Eric Andre Show. 
Andre started Blarf in college, and he released its first album, Cease & Desist, in 2019. The cover image, taken from an unaired Eric Andre Show sketch, features Andre dressed as a Ronald McDonald-like clown (in front of a McDonald's) making the "shoot me" gesture at his own temple. The nine-track album of experimental, parodical, and ironic music features such songs as "I Worship Satan," "Bada** Bulls**** Benjamin Buttons B***hole Assassin," and "The Me in Me," which Pitchfork likened to "an Oasis song that's been beaten to death and thrown in a quarry."