Fred Ward's Son Looks Just Like The Famous Actor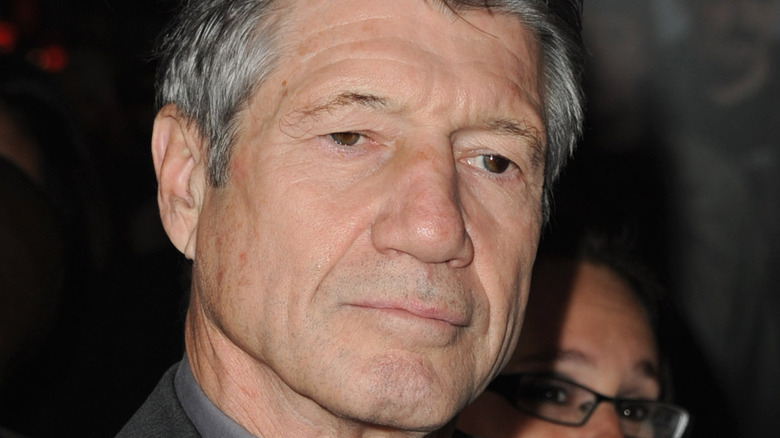 Kevin Winter/Getty Images
Acclaimed character actor Fred Ward has died at the age of 79, according to a statement from his publicist (via CNN). After a roughly four-decade career in acting and producing in both film and TV, Ward is known for roles in "The Right Stuff," "True Detective," and "Tremors" (per IMDb). Many fans will remember his first major part in the Clint Eastwood film "Escape from Alcatraz." No cause of death was given at the time Ward's death was announced.
The late actor is survived by his third wife, Marie-France Ward, and his only son, Django Ward, from his second marriage to Silvia Ward. Fred Ward's first marriage to Carla Yvonne Stewart lasted only one year, as Ontrend reports. It's common for children of stars like Fred Ward to end up in a similar profession. Although Fred Ward's son Django is not an actor, he is a dead-ringer for his dad, and he has also pursued a creative lifestyle of his own.
Django Ward is a musician
Instead of acting, Fred Ward's son, Django Ward, devoted himself to music, specifically a style of jazz called jazz Manouche. This sub-genre was first popularized in the early to mid 20th century by Django Ward's namesake, the acclaimed Belgian jazz guitarist Django Reinhardt, as Jazz Fuel explains. Originating among the Romani people, Manouche jazz captures the romance and atmosphere of pre-World War II Paris.
The group that Fred Ward's son Django plays with is called Biper Swing, and their music can be heard on SoundCloud. More information is available about the group on their website. Few further details are available about Django Ward, such as whether or not he is married, or if he has a family of his own. His band's website is all in French, and pictures from Django's music-based Instagram are tagged in Aquitaine, which is in the southwestern part of the country, so it is probable that the musician resides in France.
Django Ward bears a striking resemblance to his father
What's most notable, though, about Django Ward is how much he looks like his own father. Fred Ward has Cherokee ancestry, and several similar traits in his appearance were passed down to his son, according to the Chicago Tribune. For his part, Fred Ward had a strained relationship with his own dad, who was in prison when Fred Ward was born and Django Ward's grandmother divorced his grandfather shortly thereafter.
Providing some insight into how Fred Ward may have raised Django, in 1985 the later actor told the Chicago Tribune that after divorcing his father, Ward's mother married a man who worked in carnivals. It's to his stepfather that Fred Ward attributes his restless spirit. Nonetheless, Ward committed himself to fatherhood, as he also told the Chicago Tribune, "I am going to do it as well as I can." Little else is known about Django Ward, but a video of the musician playing guitar with Biper Swing is available to watch on YouTube.