What Was Sheikh Khalifa Bin Zayed Al Nahyan's Net Worth When He Died?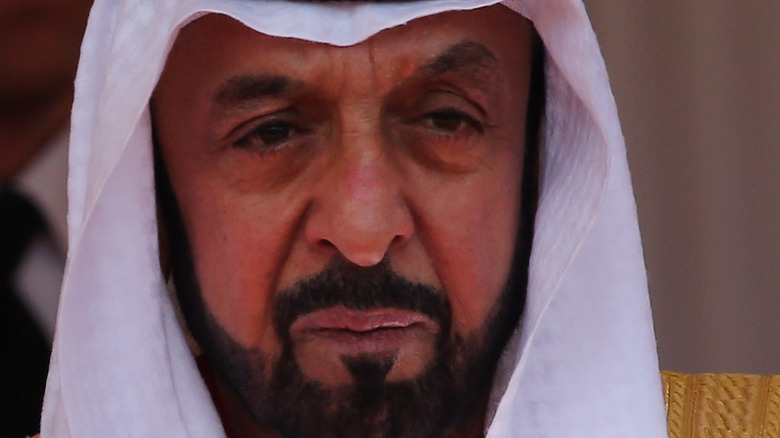 Dan Kitwood/Getty Images
United Arab Emirates (UAE) President Sheikh Khalifa bin Zayed Al Nahyan has died, according to a report from UAE state-owned news organization WAM. He was 73. No cause of death was provided by WAM. Sheikh Khalifa had suffered a stroke in 2014, at which point his duties were unofficially transferred to his brother, Sheikh Mohammed bin Zayed, per CNN. As leader of the UAE, Sheikh Khalifa oversaw nearly 100 billion barrels of oil reserves, and $830 billion in sovereign wealth funds (per Forbes).
All this combined made Sheikh Khalifa one of the world's wealthiest heads of state on the planet, presiding over one of the richest countries in the world, per Culture Trip. Many steps toward modernization for the UAE are also attributed to Sheikh Khalifa, including the strong stand that his country took against radical Islamic terrorism, as Forbes explains. In light of all this, it's natural to wonder what Sheikh Khalifa bin Zayed Al Nahyan's net worth was when he died.
Sheikh Khalifa was only the second UAE President in history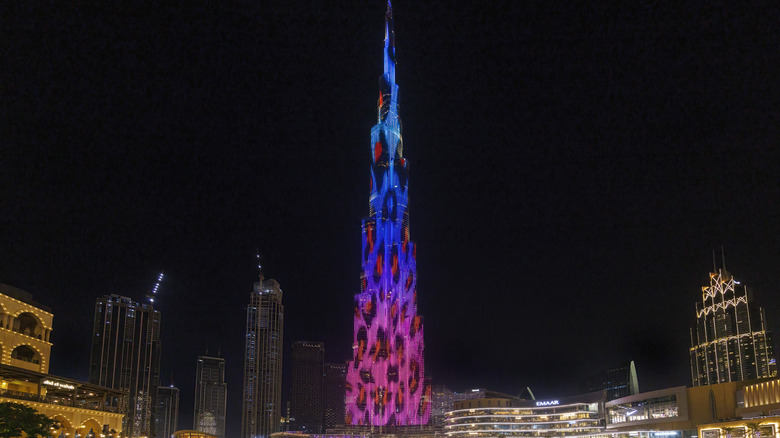 Laszlo Szirtesi/Getty Images
President Sheikh Khalifa bin Zayed Al Nahyan took over the UAE in 2004, although much like what would transpire in the final few years of his own life, Sheikh Khalifa handled affairs of state for his own ailing father for many years prior to taking over the presidency. Sheik Khalifa's father, Sheikh Zayed al Nahyan, died that same year. In addition to his role as President of UAE, Sheikh Khalifa also chaired the Abu Dhabi Investment Authority (ADIA), a sovereign wealth fund with far-reaching international influence.
Sheikh Khalifa was married to Shamsa bint Suhail Al Mazrouei, with whom he had eight children (via Celebrity Net Worth).Throughout the 1970s, Sheikh Khalifa worked his way up through politics in Abu Dhabi, serving as Minister ofDefense and the Prime Minister, among other positions. He was also a sports fan and had a stake in the English Premier League soccer club Manchester City, as well as a number of other athletic and philanthropic pursuits (per CNN). The world's tallest building, the Burj Khalifa (above) in Dubai, also bears his name (per NPR). The building is nearly a half-mile in height.
Sheikh Khalifa's net worth was $18 billion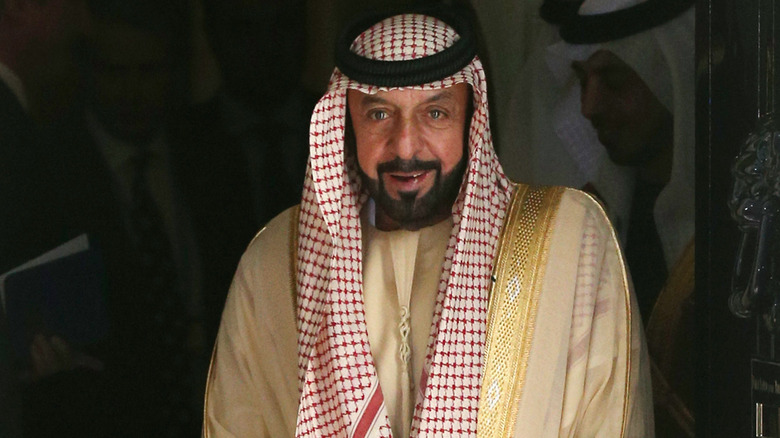 Oli Scarff/Getty Images
At the time that UAE President Sheikh Khalifa bin Zayed Al Nahyan died, his personal net worth was $18 billion, according to Celebrity Net Worth. The wider Al Nahyan family's wealth is measured at approximately $150 billion, reports the BBC. In honor of Sheik Khalifa, the UAE Ministry of Presidential Affairs announced an official 40-day period of mourning with flags flown at half staff throughout the country, and all work suspended in the private sector as well as a number of government offices, agencies, and institutions for three days, according to CNN.
At the time of writing, little is known about who may take over Sheikh Khalifa's duties and responsibilities now that he has died, per The Washington Post. According to the BBC, the federal council, consisting of the leadership of the seven emirates, must meet within 30 days to elect his successor.
In response to the death of Sheik Khalifa, U.S. President Joe Biden said in a statement that Sheikh Khalifa was a true partner and friend of the United States over many decades, both as President of the UAE, as Ruler of Abu Dhabi, and as Crown Prince of Abu Dhabi. "On behalf of the American people, I offer my condolences to Sheikh Khalifa's family and all Emiratis as they mourn this great loss," Biden said.