What We Know About Sheikh Khalifa Bin Zayed Al Nahyan's Successor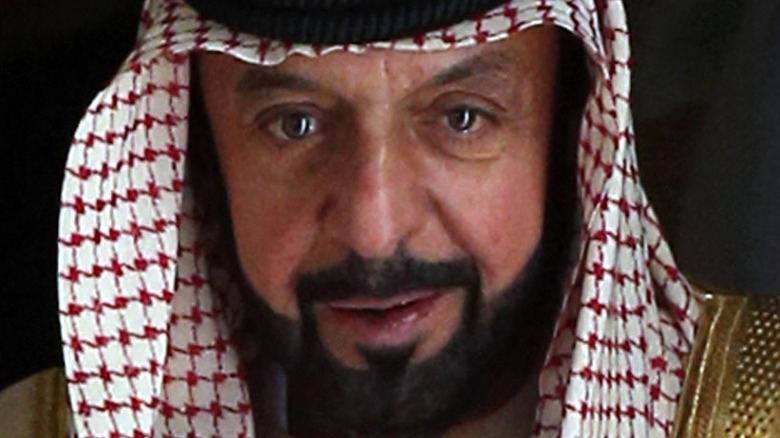 Oli Scarff/Getty Images
On May 13, 2022, Emirates News Agency reported the death of Sheikh Khalifa bin Zayed Al Nahyan, president of the United Arab Emirates (UAE) and emir of its largest constituent state, Abu Dhabi. He was 73. As The Guardian describes, Khalifa (above) was a pioneering figure in the history of the UAE. After succeeding his father, Sheikh Zayed, in 2004, Khalifa restructured the UAE's schlerotic government (per India Today). In 2009, as if to underscore the paternal nature of the country's hereditary, aristocratic government — as well as the massive wealth to be had from oil — the sheikh went on to pay off the federation's foreign debts by himself, loaning billions of dollars to his own government.
Khalifa pressed for major cultural and technological reforms as well. He oversaw the opening of a branch of the Louvre in Abu Dhabi, for instance, and faculties of New York University and the Sorbonne. At the end of his life he was increasingly concerned with sustainability, which may seem cynical for the leader of a country whose wealth came entirely from oil; but Khalifa saw it as a necessary next step, as Emirati oil reserves will not last forever. (According to France24, this could be within 10 years.)
Sheikh Mohammed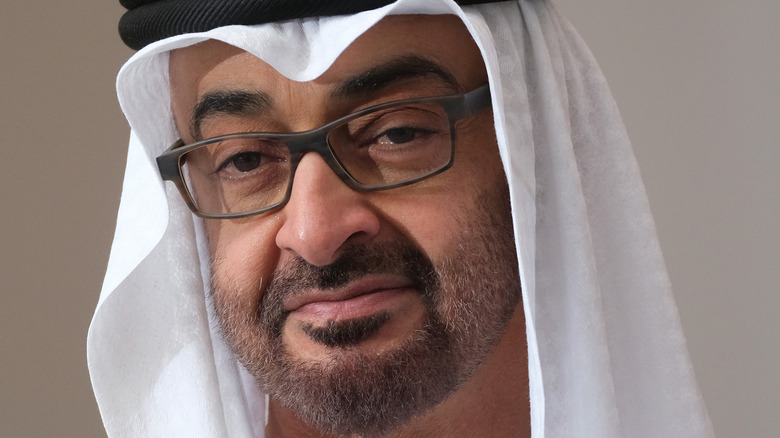 Sean Gallup/Getty Images
On May 14, Emirates News Agency reported that Khalifa's half-brother, Sheikh Mohammed bin Zayed, had been elected as president of the United Arab Emirates. The vote by the Federal Supreme Council was unanimous.
Frequently called MBZ in the media, Mohammed is crown prince of Abu Dhabi, so his succession as emir, or sovereign prince, was perhaps guaranteed. He also has the requisite experience. For at least five years, Sheikh Mohammed had already assumed de facto power as head of state, as Khalifa's health began to deteriorate. 
Born in 1961, according to his official biography, to Sheikh Zayed and his third wife, Fatima Mubarak, Mohammed attended Sandhurst — England's foremost military school — and has cultivated good relationships with Western governments. According to The New York Times, the Pentagon saw him as a "promising partner" during the Gulf War; later, his friendship with Donald Trump made him a perfect instrument of Emirati soft power.
Intelligent but aggressive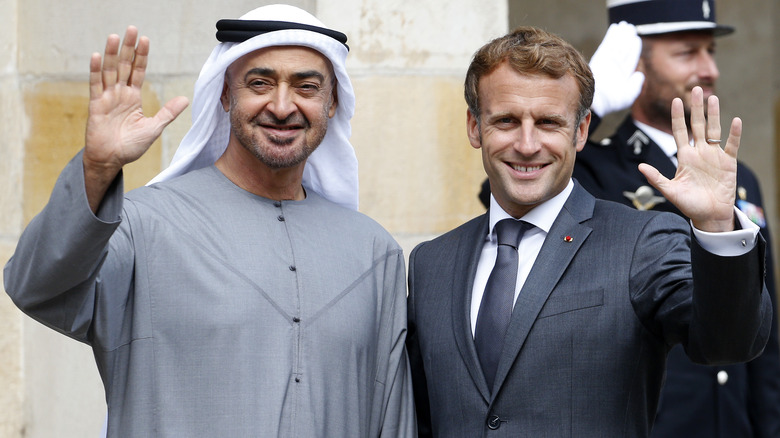 Chesnot/Getty Images
Mohammed — seen above with French president Emmanuel Macron at Fontainebleau – is more of an outward-facing politician than his late brother, who concentrated on internal affairs. The Guardian notes that he drove the UAE's decision to embargo Qatar, the nearby Persian Gulf state. His aggressive stance toward Yemen and Iran, combined with his military education, have pressed the UAE more and more into the Yemeni civil war. In 2019, he convinced Donald Trump to sell him weapons without Congressional approval, per the Times. He also ended up in the special counsel's investigation into foreign interference in the 2016 election: Apparently, he had tried to arrange a personal diplomatic channel between Trump and Russian president Vladimir Putin. 
Mohammed is also something of a liberal. A third of the UAE's cabinet ministers have been women since he took de facto power, and he has promised religious freedom to the UAE's many South Asian foreign workers.
According to Mohammed's state biography, his two great loves are hunting and falconry (a passion he shared with his father) and poetry, especially the native Nabati style. The Times describes him as physically fit and disarmingly charming.