Who Are Alleged Supermarket Shooter Payton Gendron's Parents?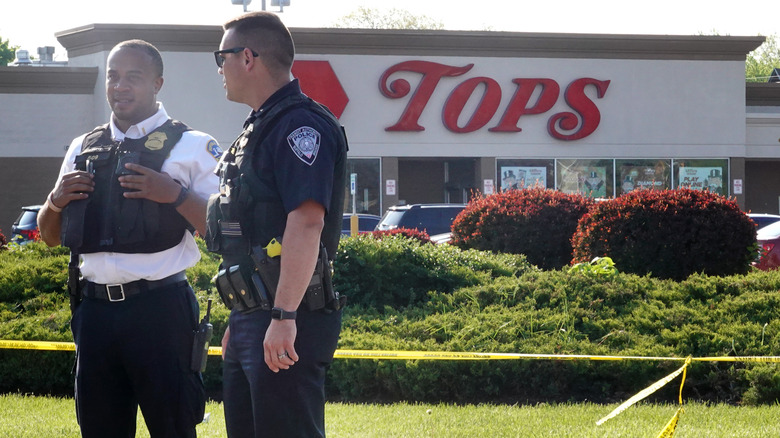 Scott Olson/Getty Images
According to CNN, 10 people were shot and killed at a grocery store in Buffalo, New York on May 14. NPR writes that the alleged shooter is Payton Gendron, an 18-year-old white man from Conklin, New York. The teen reportedly drove over three hours to commit what is now considered to be a racially motivated attack — 11 out of the 13 who were shot were Black (via USA Today). The New York Post reports that the alleged gunman is said to have targeted Buffalo specifically for its large Black population. The suspect is said to have arrived at the Tops Friendly Market fully armed and dressed in tactical gear around 2:30 p.m.
He subsequently began shooting with an assault-style rifle in the parking lot before heading inside the store (per NPR). Security guard Aaron Salter, attempted to stop the gunfire but was fatally shot in the process. Per another article from CNN, it's believed that the attack was streamed for two minutes on Twitch, a live streaming platform. NBC News explains that authorities entered the market and cornered the shooter. Although he aimed the gun at himself, he eventually surrendered.
NPR states the suspect has been charged with first-degree murder and could possibly face a terrorism charge. Prior to the shootings, he allegedly wrote a hate-fueled manifesto in which he explained his reasoning behind the attack. Eerily, this is not the first time that Gendron displayed disturbing behavior.
The alleged shooter previously threatened his high school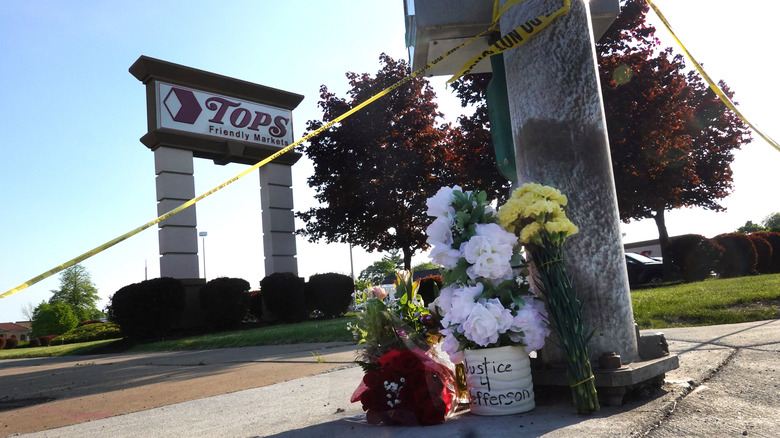 Scott Olson/Getty Images
CNN writes that in June 2021, Gendron made a "generalized threat" while he was a student at Susquehanna Valley Central High School in Conklin, New York. This came after he completed a high project on murder suicides. According to NPR, it's not believed that the threat targeted any specific people. Nonetheless, the remark was a cause of concern to the school as it concerned his fellow classmates. The New York Post writes that it's unknown exactly what the threat was.
However, one unnamed government official told the Buffalo News, "A school official reported that this very troubled young man had made statements indicating that he wanted to do a shooting, either at a graduation ceremony or sometime after." Whatever the case, AP News reports that New York state troopers were called in and took Gendron in for a mental health evaluation. Per CNN, the then 17-year-old was taken to the hospital and was only there for a day and a half.
Independent notes that it's unknown what treatment, if any, Gendron received while hospitalized. At a press conference on May 15, Buffalo police commissioner Joseph Gramaglia stated that this new information only proves that "This is someone who has hate in their heart, soul, and mind." Now, investigators are speaking to Gendron's parents and searching the family home to uncover more evidence and the planning behind the shooting (via Fox News).
Payton Gendron's parents are cooperating with the FBI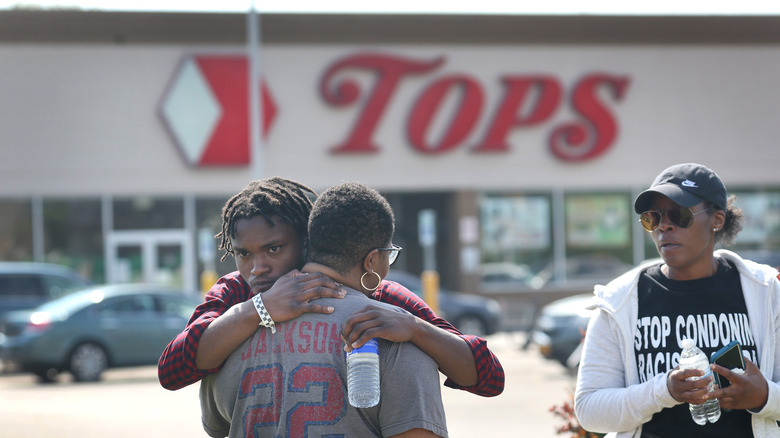 Scott Olson/Getty Images
The New York Post writes that Payton Gendron's parents are Paul and Pamela Gendron. Both are civil engineers for the New York State Department of Transportation. It's reported that Payton wanted to follow in his parents' footsteps and also become a civil engineer. ABC News states that at one point, Payton was enrolled at Broome Community College, a local school.
According to MEAWW, Paul and Pamela have been married since 2001 and have four children, with Payton being the oldest. The family is described as upper middle class. Although not much is known about Pamela, Paul's now-deleted Facebook page stated that he was from New Jersey and was formerly a student at Rutgers University-New Brunswick. CNN reports that two coworkers of Payton's parents, speaking anonymously, said the couple were not known to express extremist views. One of the co-workers said, "I never thought of the family as racist or hateful ... I can't wrap my head around this tragedy."
Neighbors state they are an average middle-class family and have expressed their disbelief at Payton's alleged horrifying actions. Per Independent, Paul and Pamela have been interviewed by the FBI. The details of this exchange are currently unknown. However, it's reported that Payton's parents are cooperating with the police in their efforts. By all accounts, the family is "absolutely distraught and devastated" by their son's actions (per Fox News). Authorities note that they believe Payton acted alone.