The Iconic Gone With The Wind Role Lucille Ball Auditioned For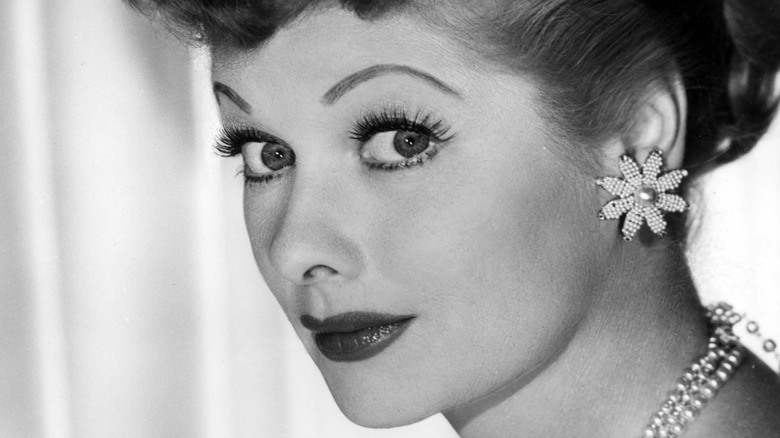 Avalon/Getty Images
There are many popular TV stars in Hollywood history, but a few seem to stick out more than others. And, one such TV star is Lucille Ball. One of the most recognizable redheads in stardom history, Ball is perhaps best known for her iconic role as Lucy in the TV show "I Love Lucy," which aired from 1951 to 1957. The show focused on the conflict between Ball's ambitions in showbusiness and her husband Desi Arnaz's backward beliefs that thwarted her aspirations at every attempt (via Britannica). 
Ball, who died in 1989, led a fairly proliferate and prestigious career, winning 20 awards and racking up 17 nominations, according to IMDb. She also has 70 producer credits, 121 actress credits, and even two directorial credits. With a legacy that large, what more could there be to discover about Ball's life? Turns out that there are a few interesting tidbits about her that some people may not know about, like the time she auditioned for the film "Gone with the Wind," as said by Nylon. 
Gone with the Wind's production had some turbulence
"Gone with the Wind" has continued to be influential and quotable in pop culture today. "The Simpsons" referenced it in an episode, and the phrase "Frankly, my dear, I don't give a damn" has become a memorable and historical quote of its own (via Today). There are also a few factoids about the movie's production that film fans may not know about. 
For starters, there was racial controversy surrounding the script during production. The head of the NAACP at the time, Walter White, urged David O. Selznick, the producer of the film, to put an African American adviser on set to help oversee the handling of sensitive historical matters, according to NPR. Given that the film was set in 1861 Georgia, a time when racial tensions were high, it is understandable why African American activists would be concerned about the movie's handling of such a sensitive time period. The script was originally due to have the N-word in it, however, Selznick was persuaded by an African American journalist at The Pittsburgh Courier to ultimately take the word out, given its offensiveness (via NPR). 
Lucille Ball's hilarious audition for Gone With the Wind
Over the years, "Gone with the Wind" has been recognized as being one of the greatest and most critically acclaimed movies of all time. It has enjoyed high spots on all-time greatest movie lists, according to the BBC. The 1939 film is about Scarlett O'Hara (Vivien Leigh), a Georgian plantation owner's daughter, trying to find love with profiteer Rhett Butler, played by Clark Gable (via IMDb). 
Some people may not know, however, that Lucille Ball once auditioned for the part of Scarlett, which she retold on the Bob Hope show in 1984. At the time, David O. Selznick was looking for actress suggestions for the lead role, and RKO studio suggested 27-year-old Lucille Ball, as reported by The Atlantic. She recounted showing up drunk on four shots of brandy to the audition, along with being soaking wet from the rain. Ball told Bob Hope, "Selznick said 'You were very interesting. Very interesting.' I said, 'I was not and you know it.' And, then I just crawled out of the office on my knees holding onto the sweater trying to keep all the vital parts covered." And, while she never did get the role, she still remained one of America's beloved actresses.