Why Pitbulls Were Used Often In Old Hollywood Comedies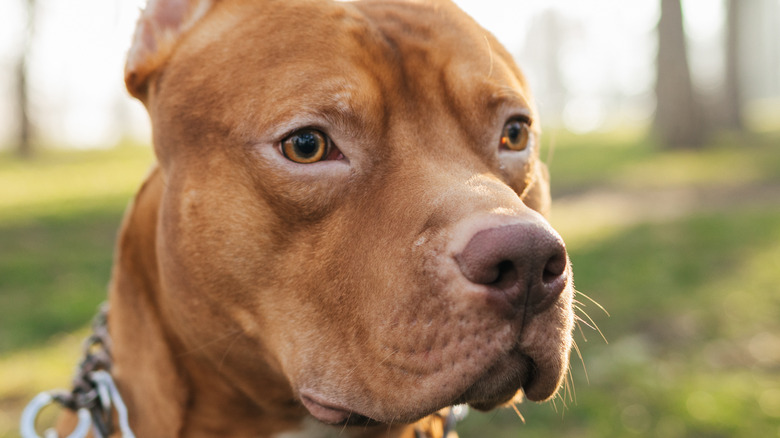 Pulikina Olga/Shutterstock
Some say that a dog's bark is worse than his bite, but what if neither are as bad as we think? For a long time, pitbulls have been regarded as perhaps the most dangerous K-9 breed. There are still various cities across the United States that vehemently enforce restrictions on pit bull ownership with little to no exceptions. Iowa, Kansas, Ohio, Missouri, Wisconsin, Mississippi, Arkansas, Michigan, Louisiana, and Kentucky are among those states that harbor the strictest pitbull laws, so if you're looking to adopt a furry friend of that particular pedigree, check twice on whether or not you're even allowed to (via HuffPost). 
A myriad of animal lovers still argue that the breed is highly misunderstood, though. The campaign for pitbull acceptance has actually been around longer than you'd think. In fact, the dog breed's alleged agreeability even had Hollywood sponsorship back in the early days of cinema, according to NPR. There were several productions throughout that era that utilized pitbulls and their notable talents during sequences involving tricks and stunts leading them to become some of old Hollywood's biggest stars. 
Buster Keaton, Harold Lloyd, and The Little Rascals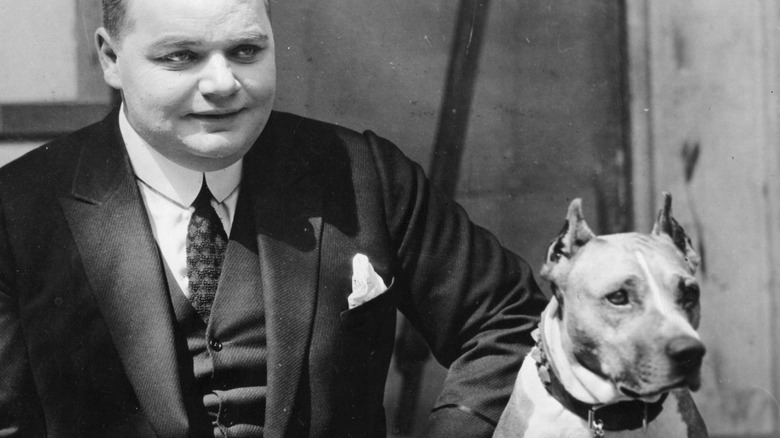 Hulton Archive/Getty Images
Buster Keaton, Harold Lloyd, and Fatty Arbuckle were particularly keen on a personable pit by the name of Luke. Apparently, Luke used to join them on screen for outrageous stunts and goofs that had moviegoers tumbling out of their seats in uncontrollable laughter. He belonged to Arbuckle and his wife Minta Durfee, who adopted him from director Wilfred Lucas. The animal made his first credited cinematic debut in "The Knockout" (1914), and then later linked up with Arbuckle's friend and fellow comedy auteur, the legendary Buster Keaton (via Movie Fit). "The Cook" (1918), "The Scarecrow" (1920), and "The Garage" (1920) were some of the trusty K-9's major feats with Keaton and Arbuckle at his side. Luke would appear in 13 films for which he received credit and two uncredited roles during his Hollywood career (per IMDb).
The lovable canine had a remarkable penchant for learning tricks quickly and taking instructions, making him one of the most famous four-legged figures in the entirety of cinema. Luke lived a rich, fulfilling life up until his death in 1926 at the age of 12 — that's 69 in dog years, in case you were wondering (via Movie Fit). 
Miss Laura Comstock's Bag Punching Dog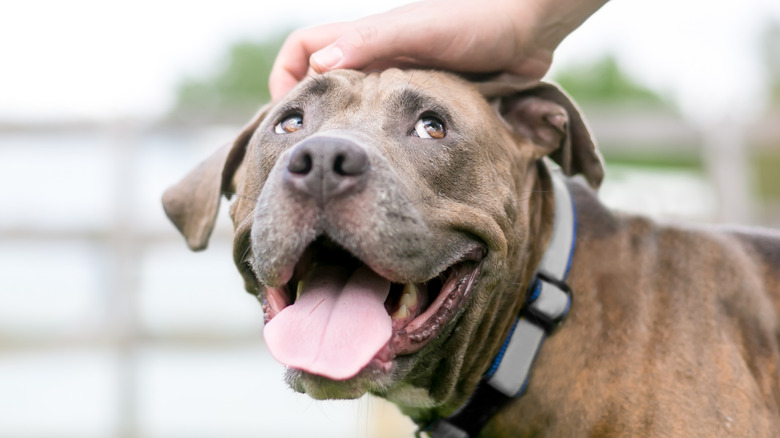 Mary Swift/Shutterstock
While he may have been the most accomplished of his generation, Luke the Dog was not the first K-9 star of cinema. In 1901 "Miss Laura Comstock's Bag Punching Dog" was produced by Thomas Edison Manufacturing Company (per IMDb). The advent of cinema and moving pictures was still in its rudimentary stages, so even seemingly trivial activities appeared astonishingly marvelous when presented onto a screen through a film strip. Enter Mannie, the adorable pitbull and star of Edison's film. The footage, which features Mannie leaping and chomping at a large punching bag for a little under two minutes, probably wouldn't look too riveting to modern audiences. At the time, however, the idea of an animal "behaving" so well for the camera was astounding (per The Dodo). 
"This wonderful dog 'Mannie,' owned by the vaudeville star, Miss Laura Comstock, is a most learned animal. He has been trained to perform all sorts of tricks, and his intelligence is, perhaps, most marked in his latest and most difficult feat, that of punching the bag." Thomas Edison remarked about Mannie. Much like his protégé Luke, Mannie would go on to exhibit his playful talents in a number of different films during his life (via The Dodo).