The Time Sex Pistols' Steve Jones Robbed David Bowie And Rod Stewart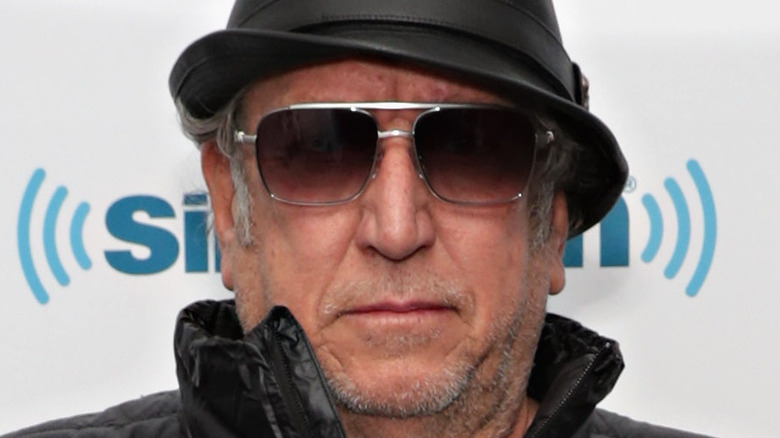 Cindy Ord/Getty Images
Although the Sex Pistols had only one bona-fide studio record, 1977's "Never Mind the Bollocks Here's the Sex Pistols" (via AllMusic), that's all the band needed to secure their place in rock 'n' roll history. In their live performances, on "Never Mind," and through their subsequent live records and compilations, the Pistols defined British punk rock, professing anarchic ideals, a nihilist world view, and championing antisocial behavior. Some particular incidents from Pistols' guitarist Steve Jones' past prove that reckless lifestyle was more than just a facade.
Early on in their history, and before their notorious bass player Sid Vicious, who later died young at 22, even joined the group (via Biography), the two most long-standing Pistols, Steven Jones and drummer Paul Cook, were already living the punk rock lifestyle. With designs on playing music, the only thing the two impoverished friends lacked was the right gear. When David Bowie, among the biggest rock stars at the era, played the legendary Hammersmith Odeon venue nearby where Jones and Cook lived (now called Eventim Apollo), the two down-and-out future rock stars decided to take action.
Bowie's equipment was left out all night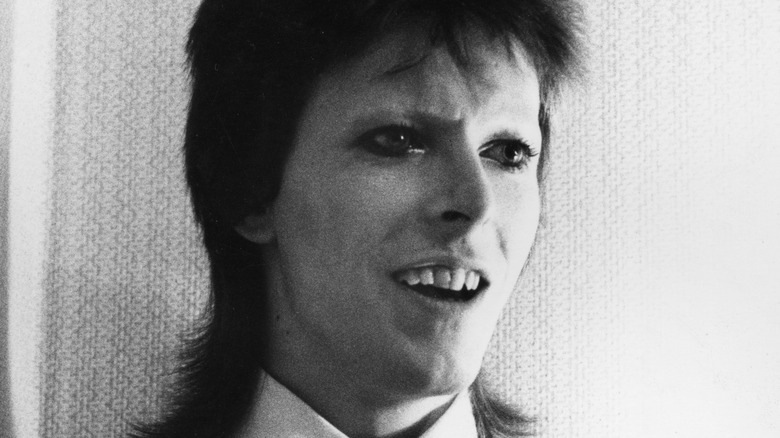 Mark And Colleen Hayward/Getty Images
The final shows David Bowie would ever perform as Ziggy Stardust took place in 1973, according to the Evening Standard. At that point, Jones had a criminal record and a reputation for pilfering whatever it was that he needed, as Farout Magazine notes. As drummer Paul Cook later recalled in a video interview with Loudwire, available to stream now on Youtube, the Hammersmith venue was known to leave a band's equipment set up overnight, and it was no problem at all for two enterprising friends to sneak around back and break in, posing as crew, as Farout Magazine also explains.
While Cook and his friends made off with amps and other equipment, Jones stole Bowie guitarist Mick Ronson's guitar. There's some question whether or not this was truly Ronson's first-ever guitar (some say he stole his first from Paul McCartney while others claim the guitar was stolen from Bob Marley, and still others say it was gifted by Pistols producer Malcolm McLaren, via Farout Magazine). What is known for certain, however, is that Jones plays a cream-colored Gibson Les Paul just like Ronson's in the video for the Pistols classic "God Save The Queen," and in other appearances.
Jones also stole gear from Rod Stewart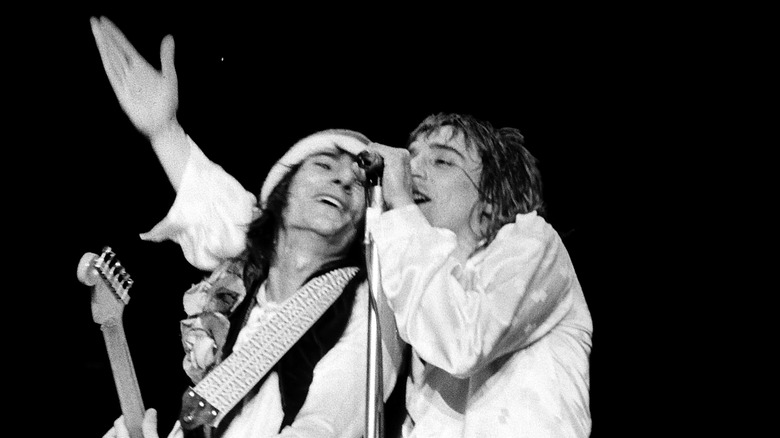 Bruce Alan Bennett/Shutterstock
David Bowie and his band were not the only rock stars to fall victim to future Pistols guitarist Steve Jones' light-fingered ways. Around the same time the Bowie incident took place, Jones and crew were also stealing from one-time Faces frontman Rod Stewart. In an interview with Playboy Magazine (via Contact Music) Jones said he took two guitars from Rod Stewart's home, as well as amps from a BBC studio, and a fur coat from guitarist Ronnie Wood (who played with Steward in the Faces, and later, the Rolling Stones, via AllMusic).
He also took a TV from Keith Richards. Jones admits some regret he didn't steal from the prog rock band Genesis while he had the chance. In a special episode of Jones' radio show "Jonesy's Jukebox" on Los Angeles radio station 95.5 KLOS, Jones spoke of this period, "[A]t this point, I wanted to start a band, and I figured the closest thing I could do to be close to that music was to steal band equipment." Based on Jones' memoir "Lonely Boy: Tales from a Sex Pistol," the six-part FX limited series called "Pistol" tells the Sex Pistols' story, airing on May 31, 2022.