How David Bowie Chose His Stage Name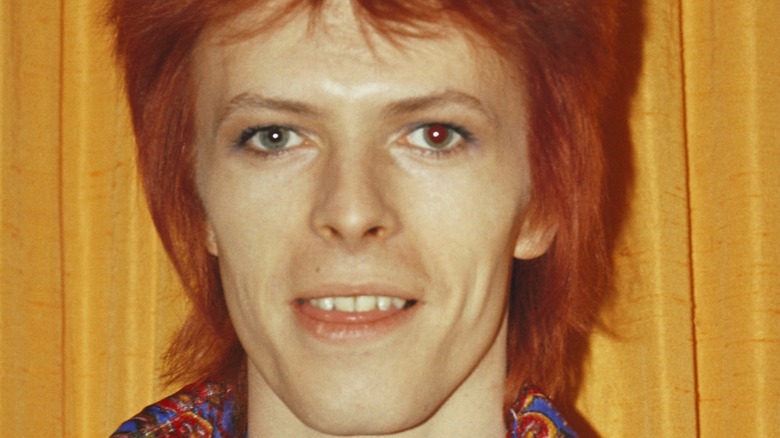 Michael Ochs Archives/Getty Images
Nobody embodied exhibitionism like David Bowie. The "Space Oddity" singer was one of the very first to appear before a crowd clad in vibrant face makeup and outlandish outfits, making theatrical facades as much a part of his brand as the music itself. 
Alongside fellow painted rockers like Alice Cooper and KISS, Bowie exemplified effective showmanship and the profound impression it can leave upon an amphitheater full of screaming fans. Decades later, explosive performance antics amongst musicians endures with acts like Slipknot, Marilyn Manson, and Ghost, but as years pass, we always remember to thank Ziggy Stardust himself for his contributions to the vaudeville world of rock n' roll.
Bowie earned the nickname "Ziggy Stardust" after the release of his 1969 album with the same name. On and off stage, he was famously known to take on the persona of a man exiled into space, and it worked wonders for his brand and reputation as an entertainer (via Biography). However, Ziggy Stardust wasn't the only alias the British-born rockstar sported during his career. Even his official stage name (David Bowie) wasn't actually his name. Originally born David Robert Jones, Bowie decided that a switch to a more enticing name was a good move for his career. The name he ultimately landed on, David Bowie, has origins that might surprise you. He adopted this name from a certain American frontiersman whose reputation was also quite cutting edge (per Google).
Jim Bowie, creator of the Bowie Knife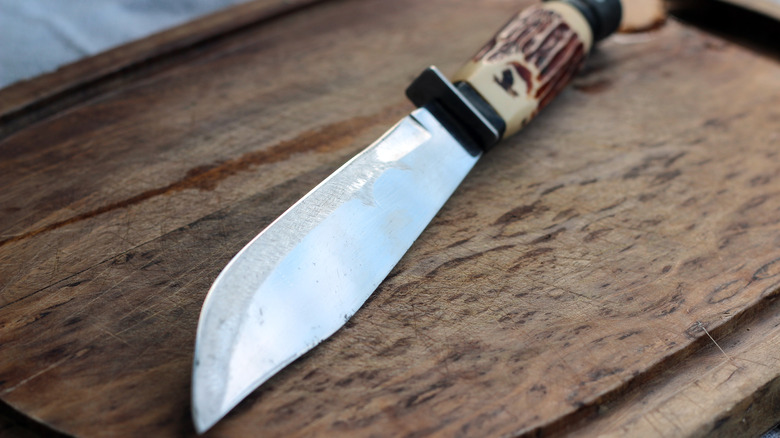 licphotos/Shutterstock
James ("Jim") Bowie was a celebrated Texas war hero who is historically renowned for his acts of valor at the Battle of the Alamo in 1836. He's also credited with inventing the iconic Bowie knife — a massive hunting blade that could cut through just about anything with a strong enough hacking swoop. Certain accounts claim that it was Jim's brother Rezin who actually conceived the idea for the knife, but at any rate, the Bowie knife is aptly named and is still marketed and sold today. 
"I wanted a truism about cutting through the lies and all that," David Bowie once shared. He reportedly took on the name for symbolic purposes that paid homage to Jim Bowie and, after some additional prompting from "Naked Lunch" author William Boroughs, the musician decided that the title suited him (per Google). According to Stacker, he officially became David Bowie in 1966 and named his debut album accordingly. However, it wasn't his first choice for a stage name. He initially opted for one that, to his disappointment, was being used by a fellow musician at the time. 
'David Bowie"'wasn't his first choice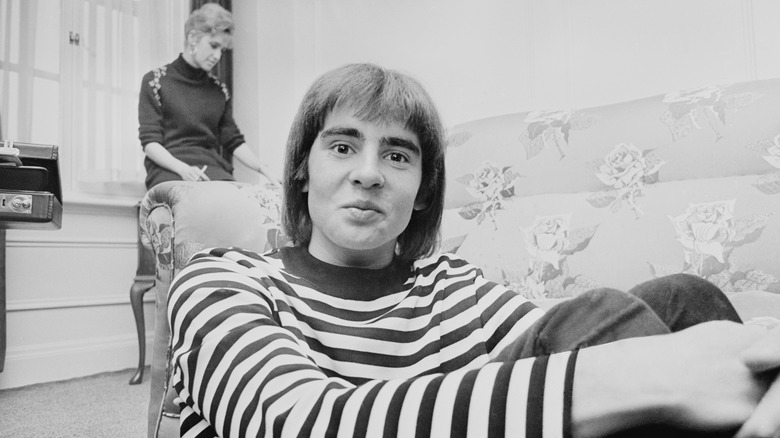 Larry Ellis/Getty Images
Before he was David Bowie, the singer went by a name that was more or less his own: Davie Jones. In fact, he'd already publicly released music under the moniker with his band David Jones and the King Bees, but he soon after discovered that someone else was also going by his name. Davy Jones (not the pirate) fronted The Monkees during the 1960s, and by means of distinguishing himself from the fellow frontman, he humbly changed his own name. Thus, David Bowie was born. However, as few people knew who The Monkees were at the time, Bowie technically beat Jones to it, but he ended up changing his own name all the same to be sure of distinguishing himself (via Ultimate Classic Rock). 
When a certain fan inquired into the matter in 1967, David Bowie had a response holstered at his side like a razor sharp Bowie knife that cut right straight to the heart of the matter: "My real name is David Jones," he wrote. "And I don't have to tell you why I changed it" he replied in a letter.