The Science Behind How Monkeypox Is Transmitted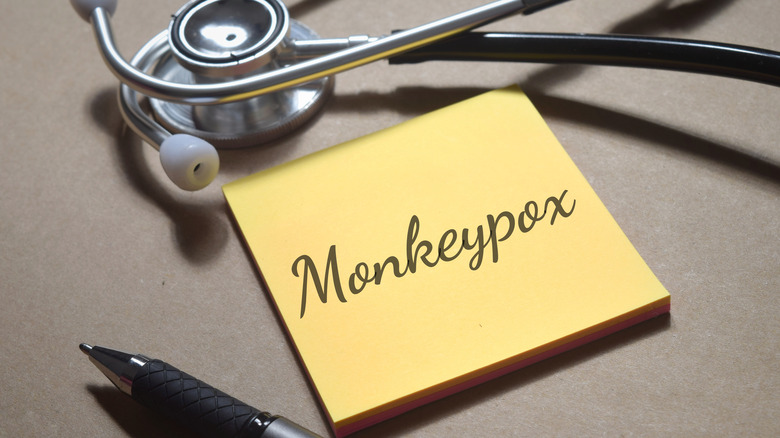 FHPhoto/Shutterstock
On May 18, the CDC announced that a Massachusetts man had a confirmed case of monkeypox, a rare viral disease (via CNN). The BBC reports that he recently traveled to Canada and is in "good condition." However, USA Today states that health officials are distressed by the rising number of monkeypox cases. Besides the United States, other cases have been reported in Spain, Portugal, Sweden, Italy, the U.K., and Canada. Monkeypox, which originated in Africa, is rarely found outside of this continent. Now, it's spreading internationally. Dr. Anne W. Rimoin from the UCLA Fielding School of Public Health told USA Today that this is a "rare and unusual occurrence."
According to NPR, it's unknown exactly how these individuals contracted monkeypox in the first place. Contrary to its name, monkeys don't usually carry the virus. The CDC states that it was discovered and named in 1958 when a group of lab monkeys came down with the disease. In spite of this, rodents are considered to be the major carriers of monkeypox. In 1970, the first human case of monkeypox was detected. Nonetheless, there has never been a substantial concern regarding the virus as it is relatively slow when it comes to reproducing (via USA Today).
Per Reuters, Jimmy Whitworth from the London School of Hygiene and Tropical Medicine explained that "This isn't going to cause a nationwide epidemic like COVID did, but it's a serious outbreak of a serious disease — and we should take it seriously."
Monkeypox is related to smallpox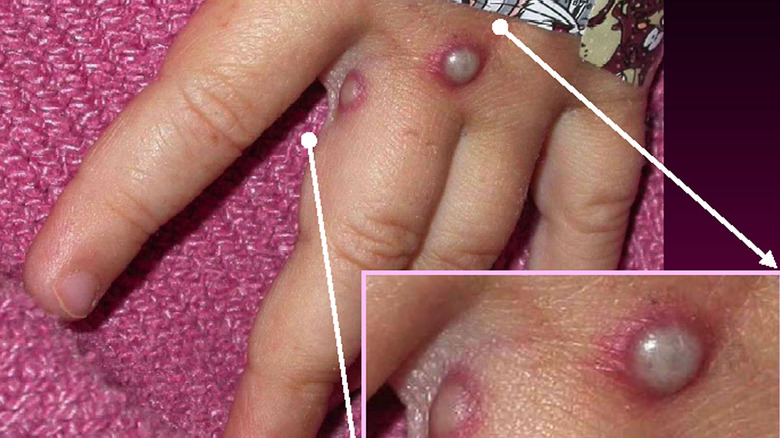 Getty Images/Getty Images
According to Euronews, monkeypox is very similar to smallpox. The latter, however, was eradicated in 1980 and is considered to be deadlier. USA Today reports that symptoms of monkeypox include swollen lymph nodes, fever, chills, muscle aches, and more. Just like smallpox, itchy lesions that eventually scab and fall off can develop on the skin. The CDC explains that the biggest difference between the two is that monkeypox causes the lymph nodes to swell while smallpox does not. NPR writes that one can contract monkeypox from animal bites (especially from squirrels or rats) and from the bodily fluids of animals.
Furthermore, USA Today states that the virus doesn't easily spread among people. It can, however, spread through sneezing, coughing, and other close contact with an infected individual. Currently, there are two variants of the virus: the West African clade and the Congo Basin clade. The West African clade is not as deadly and is believed to be the cause of the current outbreak. 
Euronews writes that there is no treatment for monkeypox. Per the BBC, there is little to do but let the virus run its course. However, it's believed that the smallpox vaccine is effective in preventing monkeypox. Because smallpox has been eradicated for decades, the vaccine is rarely administered to the public (via USA Today).
The transmission of monkeypox is evolving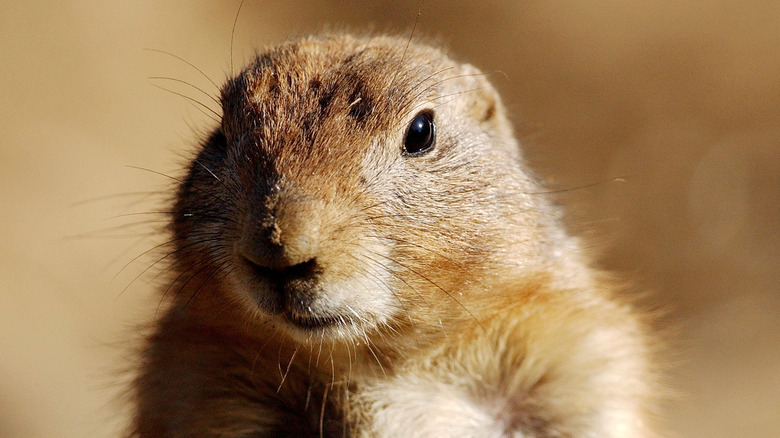 Justin Sullivan/Getty Images
As Euronews reports, one can contract monkeypox from coming into contact with an infected individual through their bedding, clothing, and bodily fluids. Interestingly, transmission through sex was not considered a possibility until now. The UK's Health Security Agency states that a majority of their cases have been seen in bisexual or gay men who have sex with other men. The agency also recommended being wary of any lesions seen on their partner's genitalia. This pattern is being seen beyond the borders of the UK. Other countries, including Spain, note that the cases they have seen also involve men that have sex with other men (via Euronews).
That being said, the CDC released a statement saying that sexual orientation does not matter when it comes to the spread of monkeypox. It can happen to anyone if they come into contact with the fluids or lesions of an individual with the disease. According to NPR, the last major outbreak of monkeypox in the U.S. was back in 2003.
The CDC writes that there were 47 cases across six different states, including Illinois, Indiana, Kansas, Missouri, Ohio, and Wisconsin. The outbreak was caused by prairie dogs that came into contact with infected animals from Ghana that were housed in Illinois. The prairie dogs were then sold as pets. Luckily, everyone who was infected eventually recovered (Per NPR).