SpaceX's Flight Attendant Debate Is Overshadowing Allegations Against Elon Musk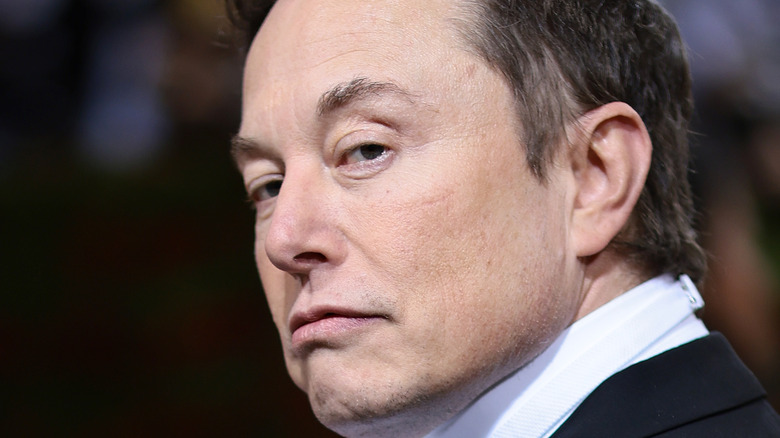 Dimitrios Kambouris/Getty Images
Billionaire and SpaceX founder Elon Musk is no stranger to controversy. Besides being known as the richest man on earth (via Forbes), Vanity Fair writes that he has recently made the news for all the wrong reasons. Per The Guardian, his bid to buy social media platform Twitter has only increased the public's fascination with — and for some, their opposition to — Musk. However, the Tesla CEO has now been hit with serious allegations of sexual misconduct. The incident reportedly occurred in 2016 on a private SpaceX corporate jet flight to London. The accusations state that Musk exposed himself to a flight attendant, among other things
Insider reports that a friend of the flight attendant is speaking up on her behalf. Both women have chosen to remain anonymous. Documents show that the flight attendant was paid $250,000 to keep quiet about her claims. Additionally, she was made to sign a non-disclosure agreement. This payment came after the woman hired a lawyer and revealed her complaint to SpaceX.
In the end, she took action because she felt that her job opportunities with the company were decreasing as a result of rebuffing Musk. The woman's friend told Insider that she was coming forward with the story because she felt that her silence meant that "You do become a part of that machine that allows someone like Elon Musk to continue to do the horrible things that he's done."
Flight attendants were encouraged to become massage therapists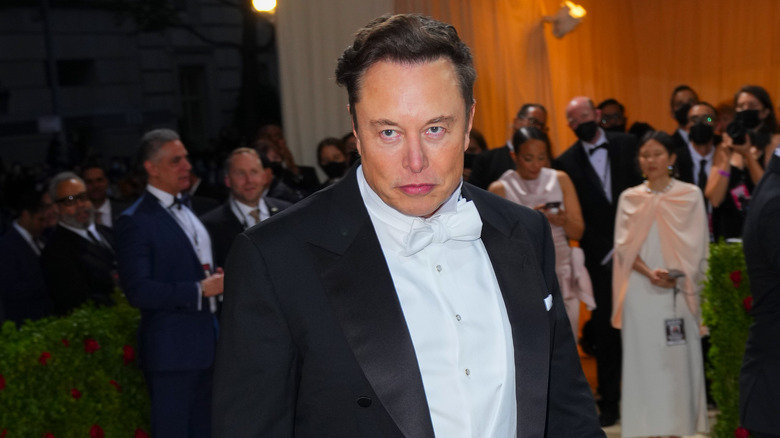 Gotham/Getty Images
According to the New York Post, the unnamed flight attendant alleges that Musk asked for a massage and made sexual advances toward her. Insider reports that she walked into his room and found that he "was completely naked except for a sheet covering the lower half of his body." She claims that he offered to buy her a horse (the woman is an avid horse rider) if she performed sexual acts on him. Moreover, the woman alleges that he touched her without her consent and that he "exposed his genitals." Ultimately, she gave Musk the massage but refused to have any sexual conduct with him.
Insider writes that prior to this incident, the woman was told by SpaceX that she should become a licensed massage therapist. Her friend alleges that the company hinted that she would be chosen for more flights if she did. However, the company said that the training would come out of her own pocket. The friend explained that she thought this was an odd request; as she put it, "You were hired to be a flight attendant. And if Elon likes massages, then he should be paying for you to go to masseuse school" (via Insider).
Previously, Musk's former employees have spoken about massages at SpaceX. One such employee is Josh Boehm. His LinkedIn profile states that he worked at SpaceX as a software analyst from 2014-2015. On Quora, Boehm revealed that employees had access to an in-office masseuse. This is something Insider corroborates, as they also wrote that massages are a special perk at SpaceX.
Other women have claimed to be sexually harassed while working at Musk's companies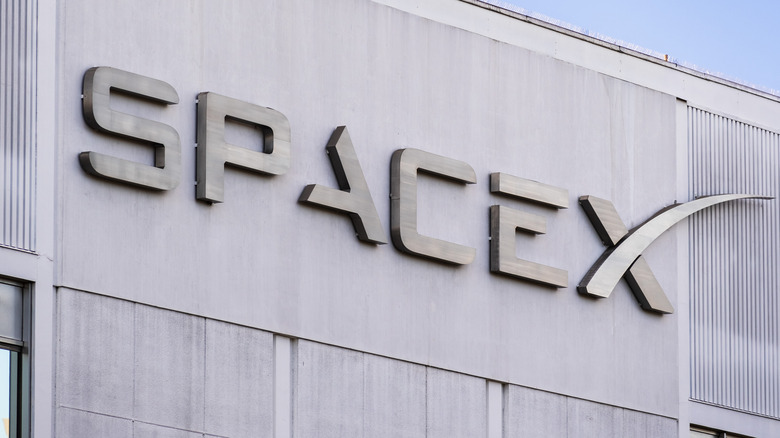 Sundry Photography/Shutterstock
Insider reports that this is the only known claim of sexual harassment to have allegedly been perpetrated by Musk so far. However, the flight attendant's friend notes that she hopes that by coming out with the story, other women will come forward with their own allegations regarding Musk. Meanwhile, the billionaire responded to the claims on Twitter. Musk tweeted that the accusations were politically motivated at best. Moreover, he made a statement to Insider that said "If I were inclined to engage in sexual harassment, this is unlikely to be the first time in my entire 30-year career that it comes to light."
Some internet comments raised the question of SpaceX flight attendants at all, apparently thinking the alleged incident took place during a space flight, rather than on a company jet. One redittor wrote, "Since when did Spacex need flight attendants?" Another mentioned a "starship travel agency."
That being said, both SpaceX and Tesla have endured longstanding rumors of sexual harassment claims. Former SpaceX employee and intern Ashley Kosak wrote an essay on Lioness, dated last December, where she opened up about being sexually harassed at the company. Kosak claims that multiple male colleagues touched her inappropriately and made sexual advances toward her. Despite reporting the incidents, Kosak states that no action was taken. After her essay was published, this sentiment was reiterated on The Verge by four other former SpaceX employees. Some of the women chose to remain anonymous for fear of backlash. SpaceX reportedly chose not to comment on the allegations made on The Verge.