How Elvis' Stage Fright Changed The History Of Dance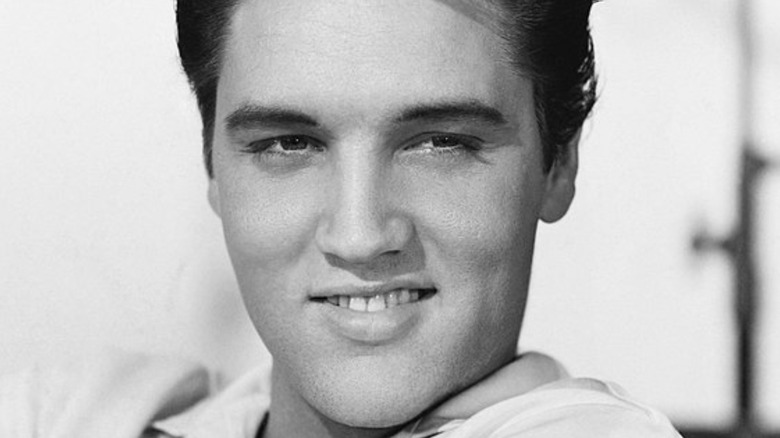 Wikimedia Commons
We have seen Rami Malek as Freddie Mercury in "Bohemian Rhapsody" and Taron Egerton as Elton John in "Rocketman." Now we have Austin Butler as Elvis Presley in the Baz Lurhmann biopic simply titled "Elvis." The film chronicles Elvis' life from childhood to stardom, particularly highlighting his relationship with manager Colonel Tom Parker, who discovered him. Butler perfected the low tone and southern accent of Presley's voice so well that fans were shocked to hear him speak at the 2022 Met Gala (per Glamour), which he attended alongside Presley's ex-wife, Priscilla Presley. Did he method act so much that he cannot stop talking like The King? Or is his voice naturally that deep?
Other than being famous for his voice, The King of Rock and Roll is famous — and infamous — for the way he moved on stage. Many in the general public thought his hip swiveling was too provocative to be done in public. However, more than meets the eye when it comes to Presley's signature moves.
Elvis Presley's legs shook from stage fright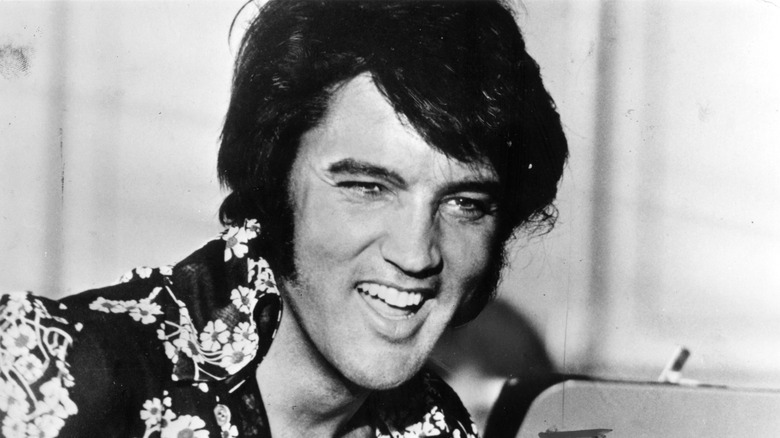 Keystone/Getty Images
Elvis Presley's affinity for music stemmed from his upbringing in a religious Mississippi household. He grew up with gospel music and began performing in high school, where he won a talent show. When an opportunity for a paid performance came along soon after his graduation, Presley was so nervous that his legs kept shaking as he played his guitar. The crowd was enthralled, albeit shocked. The crowd went "wild," according guitar player Scotty Moore, who performed with him that night (via Women's World).
Far Out explains that Presley added more exaggerated leg shaking to hide the actual nervous shaking. Some of his movements could have been influenced by the church services Presley attended as a child as well. Baptist churches in the area incorporated music and dancing into their gatherings. This goes along with the criticism that Presley profited off of African American culture in his music, despite his efforts to give credit where it was due.
Producers were reluctant to book him on TV
Michael Ochs Archives/Getty Images
Elvis Presley's seemingly sensual dancing was not meant to be taken as such. Luckily, his critics did not voice their concerns louder than the screams from the admirers. Presley began performing on television just two years after that first paid gig. When speaking to TV Guide in 1956 (quoted by TV Insider), Presley voiced his contempt for the nickname "Elvis the Pelvis" and stated that, "I'm not trying to be vulgar ... I can't sit still when I sing." ("My pelvis has nothing to do with what I do," he added.)
Some TV producers were reluctant to book Presley on their shows as controversy surrounding his dancing did not wane. However, he soon appeared on "The Tonight Show" hosted by Steve Allen and "The Ed Sullivan Show." It was on the latter that he was famously filmed only from the waist up so that viewers at home could not see how he was moving (via Outsider).
Maybe in some strange way, a nervous tic paved the way for less conservative TV performances. Of course, many performers nowadays are being provocative on purpose. It is easy to compare the uproar over Cardi B and Megan Thee Stallion's performance at the Grammys in 2021 (via Insider) to the uproar surrounding Presley's moves 60 years ago, despite how different the two situations may seem.