The Truth About Travis Barker's Relationship With Mark Hoppus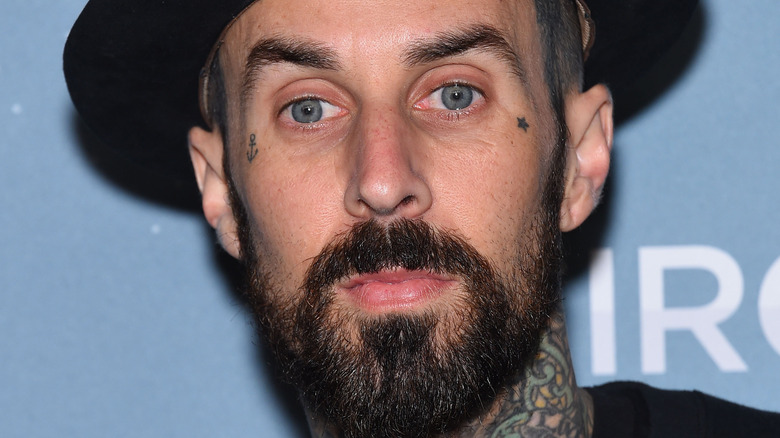 DFree/Shutterstock
In the headlines for a high-profile 2022 wedding to Kourtney Kardashian, musician Travis Barker is perhaps most well known for his time playing drums in the `90s-era pop punk trio blink-182, as AllMusic explains. The original blink lineup split up for the first time in 2005, and singer Tom DeLonge shouldered some of the blame, which he later clarified as being a combination of his own personal issues alongside pressures inherent from success in the music industry, according to E! News.
Nonetheless, blink-182 carried on with Matt Skiba from Alkaline Trio on vocals while Barker and bassist Mark Hoppus remained in their usual roles (via AllMusic). With their new lineup, among a few other variations, blink-182 continues to tour to this day, per Concert Archives. Band turmoil aside, Barker's reaction to Hoppus' health scare reveals just how close the two friends have remained despite their band's upheaval.
Mark Hoppus was diagnosed with cancer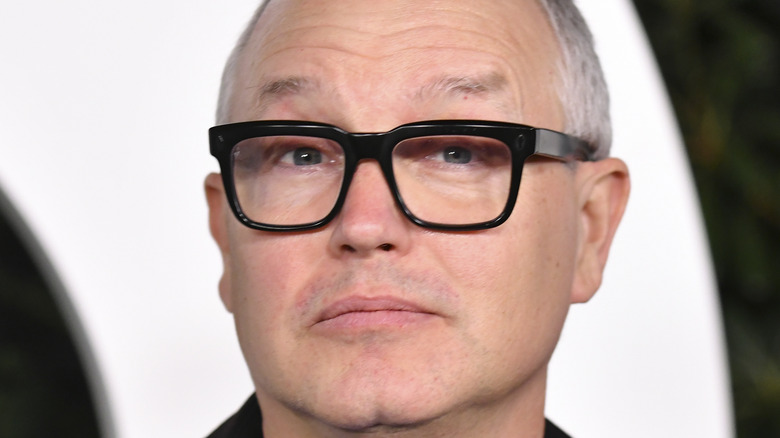 Rodin Eckenroth/Getty Images
The friendship between Travis Barker and Mark Hoppus entered a new stage when Hoppus was diagnosed with stage 4 diffuse large B-cell lymphoma in 2021, based on a Vanity Fair profile of the artist from that same year. Hoppus made the announcement in an Instagram post, which he later deleted, according to Loudwire. In the post, Hoppus shared the sad news and gave details about what his treatment would be like. Hoppus wrote (via Loudwire) "For the past three months I've been undergoing chemotherapy for cancer. I have cancer. It sucks and I'm scared, and at the same time I'm blessed with incredible doctors and family and friends to get me through this."
In response to this breaking news, Hoppus' long-time friend Travis Barker shared his feelings in a statement to E! News. (Former blink-182 lead singer Tom DeLonge also tweeted his support). In it, Barker called Hoppus his brother, adding that he'll always "love and support him." Barker went on to say, "I will be with him every step of the way on stage and off and can't wait for us to play together again soon." In 2022, Hoppus announced that he was cancer-free, and that good news came just in time for the bassist to witness an important moment in Barker's life, as Fox News reports.
Mark Hoppus was at Travis Barker's Italian wedding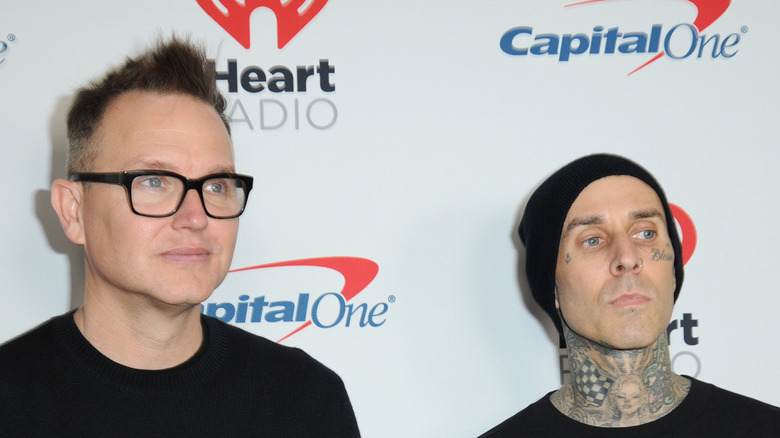 Joshua Blanchard/Getty Images
Travis Barker and Kourtney Kardashian hosted one of three 2022 wedding ceremonies in Italy, which given that fact he was cancer-free, Mark Hoppus was able to attend (via USA Today). On the fact he was able to be there at all, Hoppus said he was grateful. He also shared photos on social media of the beautiful Italian location where the Barker-Kardashian ceremony took place, attended by other members of the Kardashian family as well as a number of other celebrities (via Fox News).
In that post, Hoppus said (via Fox News) "A year ago I was in chemotherapy. Today I'm here. Grateful." Hoppus was able to attend Travis Barker's wedding to Kourtney Kardashian with his wife, Skye Hoppus, as US Weekly reports. For further good news, DeLonge — who rejoined blink-182 some years after the 2005 split, only to leave for good in 2015 — said on "The Late Late Show with James Corden" that it's only a matter of time before he reunites with Hoppus and Barker. That interview is available to watch now on YouTube.