The Truth About Travis Barker's Relationship With Tom DeLonge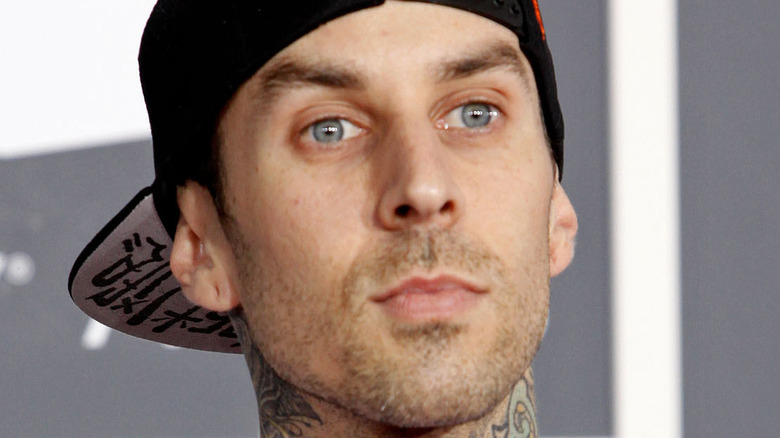 Joe Seer/Shutterstock
Quite a buzz has surrounded drummer Travis Barker due to his perhaps unexpected involvement with a Kardashian. In May 2022, Barker and Kourtney Kardashian tied the knot in Italy with a star-studded guest list that included Machine Gun Kelly, Megan Fox, and the Kardashian matriarch, Kris Jenner. But were any of his former Blink-182 bandmates at the wedding? Though Blink-182 was a trailblazer of the pop-punk genre, the band has a complicated backstory.
The first Blink-182 lineup consisted of Tom DeLonge, Scott Raynor, and Mark Hoppus. Their second album, "Dude Ranch," went platinum in 1997, but they had even more success with "Enema of the State" in 1999, with Barker replacing Raynor on drums. Despite successful tours, DeLonge and Barker began pursuing other projects. DeLonge officially left the band in 2005 and formed the band Angels and Airwaves, while Barker and Hoppus formed the band +44 (per Planet Radio). However, this was not the end of the Blink-182 story.
Travis Barker was in a near-fatal plane crash in 2008
Ant Palmer/Shutterstock
Travis Barker explained that "communication got bad," which led to the breakup of the band. But nothing brings old friends back together like near-fatal experiences. In 2008, Barker suffered second- and third-degree burns from a plane crash that nearly caused him to lose a foot. While recovering, Tom DeLonge sent him a letter and the two reconnected. Barker stated, "My accident definitely made everyone think about things a little more clearly." Blink-182 reunited the following year for a tour and new music (per Daily Beast).
Despite the seemingly heartfelt reunion, the trio did not last for long. According to Radio X, when Barker refused to fly in a plane during the years after the accident, he felt that DeLonge was less than sympathetic. Later on in 2015, DeLonge announced that he wanted to pursue passions outside of music. He insisted that he still loved Blink-182 and his bandmates, but Travis Barker and Mark Hoppus felt blindsided by the abrupt decision.
Tom DeLonge did not attend Travis Barker's wedding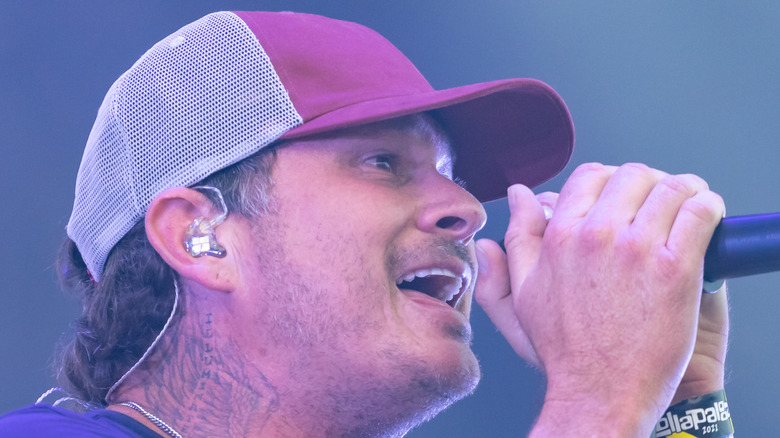 Michael Hickey/Getty Images
Another health scare brought the trio back together in 2021 when Mark Hoppus revealed that he had cancer and would be starting chemotherapy treatments. Tom DeLonge and Travis Barker ended up visiting Hoppus at the same time. DeLonge conveyed that the three of them did not discuss band business and instead focused on being there for Hoppus through his treatment and recovery. This did not lead to a reunion, as had happened after Barker's plane crash. However, when speaking to Audacy, DeLonge did not rule out another reunion.
As for Barker's wedding in Portofino, DeLonge reportedly did not attend. Hoppus and his wife did, as shown by his Instagram posts. Guests took boats to the lavish Castello Brown on the coast for the ceremony, which was followed by a performance by Andrea Bocelli, according to Buzzfeed.
The most recent Blink-182 album was released in 2019, but did not include DeLonge. Though the buzz surrounding the band has waned, Billboard reports that pop-punk has seen a resurgence since 2020. Given that Blink-182 epitomized the genre in its early years, perhaps they should capitalize on this trend with another reunion.