Paul McCartney Claimed This TLC Hit Ripped Off His Song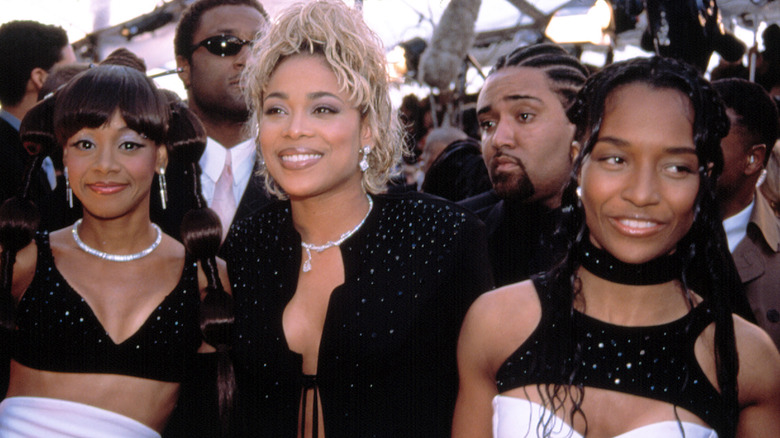 Everett Collection/Shutterstock
TLC was already one of the biggest girl groups of the 1990s. Their second album, 1994's "CrazySexyCool," launched the group — made up of Lisa "Lefteye" Lopez, Rozonda "Chilli" Thomas, and Tionne "T-Bone" Watkins — into the stratosphere.
According to Billboard, "CrazySexyCool" was the first album by a girl group to receive a Diamond certification from the Recording Industry Association of America (RIAA), driven in part by the success of the album's four smash-hit singles, "Creep," "Red Light Special," "Waterfalls," and "Diggin' On You." All four cuts made it to the top five on the Billboard Hot 100, while both "Creep" and "Waterfalls" both hit the top spot for an incredible four and seven weeks respectively. The group's chart dominance cemented TLC's reputation as a force to be reckoned with in both pop and R&B.
But though TLC's second coming was also greeted with almost universal critical acclaim, not everyone in the music industry was entirely happy with the group's incredible success. One perhaps unexpected voice of disdain came from the veteran Beatles songwriter Paul McCartney, who in the mid-1990s was a quarter of a century into his own acclaimed solo career.
McCartney's criticism of TLC
The singles from TLC's second album have since gone down in history as some of the greatest songs of the 1990s, and have enjoyed longevity in the 21st century thanks to near-continuous radio play more than 25 years after they were first released.
But ex-Beatles Paul McCartney once suggested in a 2007 interview with The A.V. Club that part of their success should be credited to him. According to McCartney, what Billboard describes as TLC's signature song, "Waterfalls," was lifted directly from his own song of the same name, which was released in 1980 (video above). In the interview, McCartney mentions the song in answer to a question regarding which of his singles deserved to be a bigger hit. McCartney describes the song as "nice," before adding: "In fact, somebody had a hit, a few years ago, using the first line ..."
The opening line of McCartney's song is as follows: "​​Don't go jumping waterfalls, please stick to the lake," which undoubtedly bears a striking resemblance to the chorus of TLC's "Waterfalls": "Don't go chasing waterfalls, please stick to the rivers and the lakes that you're used to." When asked by The A.V. Club whether he thought whether TLC's songwriters — in the case of "Waterfalls," Marqueze Etheridge and production group Organized Noize — had ripped him off, McCartney said he believed they had. "It's like, 'Excuse me?'" said McCartney, describing his reaction to first hearing the TLC hit.
McCartney's changing attitude to 'borrowing'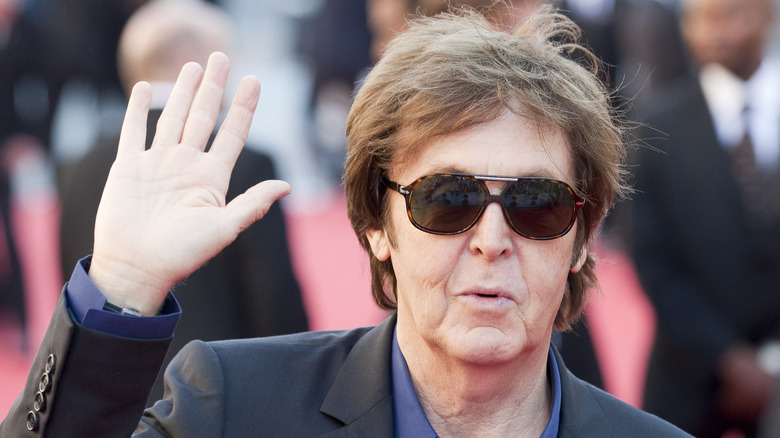 John Phillips/Getty Images
Though Paul McCartney felt strongly enough about TLC's blatant lift of his "Waterfalls" lyric that he was happy to describe it as a "rip-off," it is notable that McCartney never publicly repeated the claim, nor does it seem that he ever took steps to legally challenge the credited songwriters on the TLC single to get the source of the lyric officially acknowledged.
Perhaps McCartney had a rush of blood to the head during the A.V. Club interview, or, perhaps, with younger artists increasingly in the spotlight, he was making a one-off attempt to remind readers of his pervasive influence over the new generation of songwriters. For as many outlets including Rolling Stone have noted, The Beatles and McCartney himself are no strangers to a good lift, having taken musical parts from various artists who came before them, including rock guitarist Chuck Berry and British jazz trumpeter Humphrey Lyttleton.
Elsewhere, McCartney has discussed his ease with other artists sampling his work. In 2011, when Danger Mouse was making waves with his project "The Grey Album" — a mash-up of The Beatles' "The White Album" with Jay-Z's "The Black Album" — McCartney explained that he was in support of the record, and described it as a "tribute," according to Music Radar. The same source notes that in a contemporaneous interview, McCartney described how "When you hear a riff similar to your own your first feeling is 'rip-off'. After you've got over it you think, 'Look at that, someone's noticed that riff.'" Let's hope that this is how he has come to view the reappropriation of "Waterfalls."