How Iggy Pop Got His Name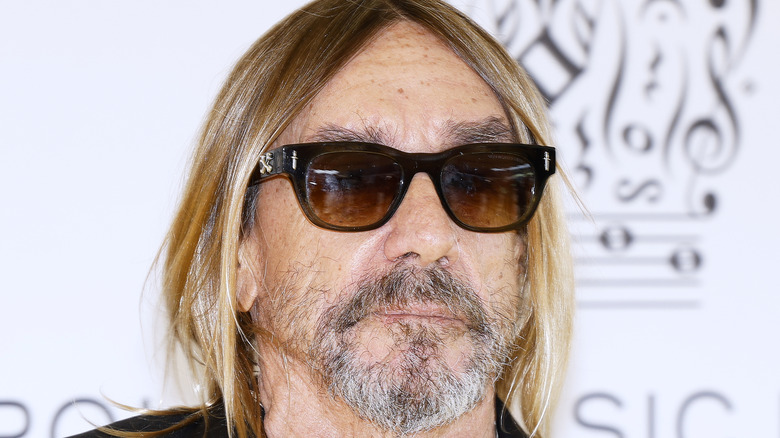 Michael Campanella/Getty Images
Years before punk rock really became a thing, the spirit of the genre was very much alive in late '60s Detroit, where bands like the MC5 and the Stooges specialized in a rawer flavor of rock that was more about attitude and aggression than radio-friendly hooks. The latter band was led by a frontman named Iggy Pop, who, of course, would become an influential figure in the punk scene for years to come. Fans may also know him for his friendship with David Bowie and their combined efforts to beat their personal demons and go back to creating great music once again. But where did he get his stage name anyway?
Getting the obvious out of the way, the Godfather of Punk was not born to Mr. and Mrs. Pop and given the name Iggy (or Ignatius, or something similar) on his birth certificate. He was born on April 21, 1947, as James Newell Osterberg Jr., the only child of James Sr. and Louella Osterberg. Growing up in Ypsilanti, Michigan, James Jr. was musically inclined from a young age and started playing the drums in the fifth grade (via The New Yorker). It was only several years later — just one year before the British Invasion changed the game in popular music — when he formed his very first band, and that's where the story of his stage name really begins.
Iggy Pop's name was inspired by that of his first band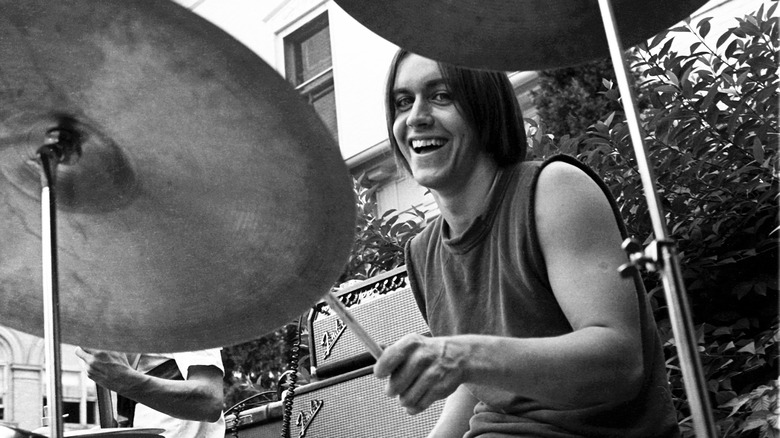 Tom Copi/Getty Images
Before he became Iggy Pop, young Jim Osterberg did not fit the profile of your average teenage rock musician. As quoted by The New Yorker, former Stooges guitarist (and later bassist) Ron Asheton recalled his future bandmate as someone who "hung out with the popular kids that wore chinos, cashmere sweaters, and penny loafers" and, believe it or not, didn't have any vices ... yet. By 1963, Osterberg formed his first band, the Iguanas, where he played drums and covered songs from the popular bands of the era. During his time as a college student at the University of Michigan, he quit the Iguanas and joined the Prime Movers, but it seemed that people mostly remembered him as the guy who banged the skins for the Iguanas.
While working at Discount Records, the store's manager, Jeep Holland, was one of those who liked referencing the would-be Godfather of Punk's first band, as he would yell "Iguana alert!" each time Osterberg emerged from the basement stockroom. The young musician's friends (and future Stooges bandmates) Ron and Scott Asheton and Dave Alexander apparently caught wind of this nickname while randomly causing trouble outside of Discount, though for convenience's sake, "Iguana" was soon shortened to "Iggy."
As for the second half of Osterberg's soon-to-be-iconic stage name, that came from someone he knew named Jimmy Popp. As noted by poet John Sinclair for Detroit Artist Workshop, it was the guys from the Stooges who were responsible for the "Pop" part of Osterberg's new name.
New name, new image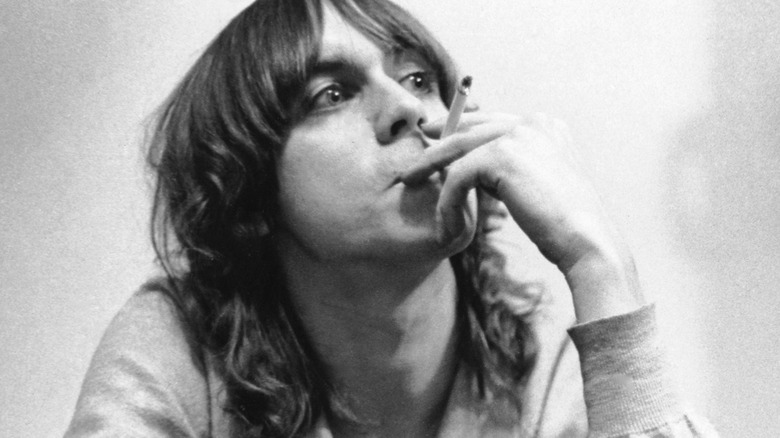 Leni Sinclair/Getty Images
By the time Iggy Pop joined forces with Ron Asheton, his drummer brother Scott Asheton, and bassist Dave Alexander to form the band then known as the Psychedelic Stooges, he already had quite the resume as an up-and-coming musician, having spent eight months in Chicago jamming with some of the city's biggest names in blues (via Detroit Artist Workshop). He also utilized some "creative acting" during his draft examination, avoiding deployment to Vietnam by pretending he was mentally disturbed, as he recalled to The New Yorker. 
With the draft out of the way, Pop focused most of his energy on his new band, drawing inspiration from no less than the Doors' legendary frontman Jim Morrison and eventually getting into psychedelic drugs. As it seemed, clean-cut Jim Osterberg's transformation into the wild, unhinged Iggy Pop was nearing completion. "You can't believe how dirty and destructive and lazy and just untenable these people were," Pop told The New Yorker about his early days with the Stooges. "Meanwhile, I was crazy as a loon myself."
On March 3, 1968, at the Grande Ballroom in Detroit, that transformation was completed as Pop fronted the (still-Psychedelic) Stooges in their first-ever live gig. Decked in a white nightshirt, a rubber swim cap, golf shoes, shaved eyebrows, and white face paint, Pop looked more like a performance artist than a conventional rock frontman. You wouldn't expect anything less from a man with the unusual name of Iggy Pop, though that was obviously just the tip of the iceberg when it came to the outlandish stage act he would soon become famous for.