The Untold Truth Of Iggy Pop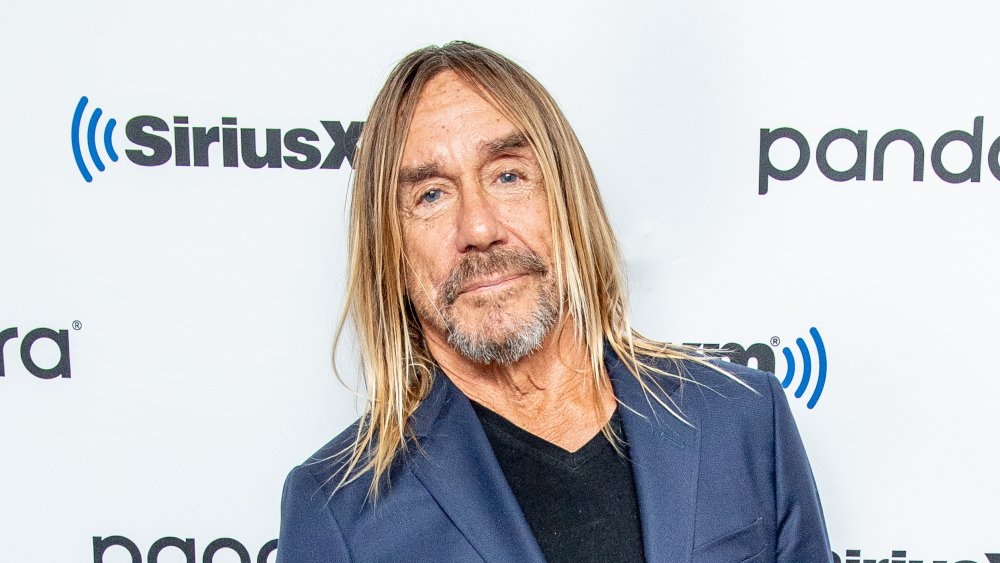 Roy Rochlin/Getty Images
There are many fascinating characters in the history of rock music, but Iggy Pop takes things to the next level. The "Godfather of Punk" is one of the most dangerous and unpredictable performers in the history of popular music. Apart from his distinctively raspy voice, it can be a challenge to even determine his musical genre, apart from the word "rock" followed by a general, swooping gesture. If you know him by the ominous, borderline atonal proto-punk of his days with the Stooges, few things could prepare you for the oddly funky sound of his debut solo work, The Idiot. Even if you consider yourself something of a Pop aficionado, you might still be surprised to find him working with Sum 41, or perhaps crooning a dirty sea shanty on the Son of Rogues Gallery compilation album. 
Born in 1947 as James Newell Osterberg Jr., it wasn't until the 1960s that he became the artist Iggy Pop. Over the years, he has worn many hats — all of them without doubt Iggy Pop, yet vastly different from each other. It's high time we took a look at this often shirtless, always evolving artist and performer. This is the untold truth of Iggy Pop.  
Iggy Pop's early years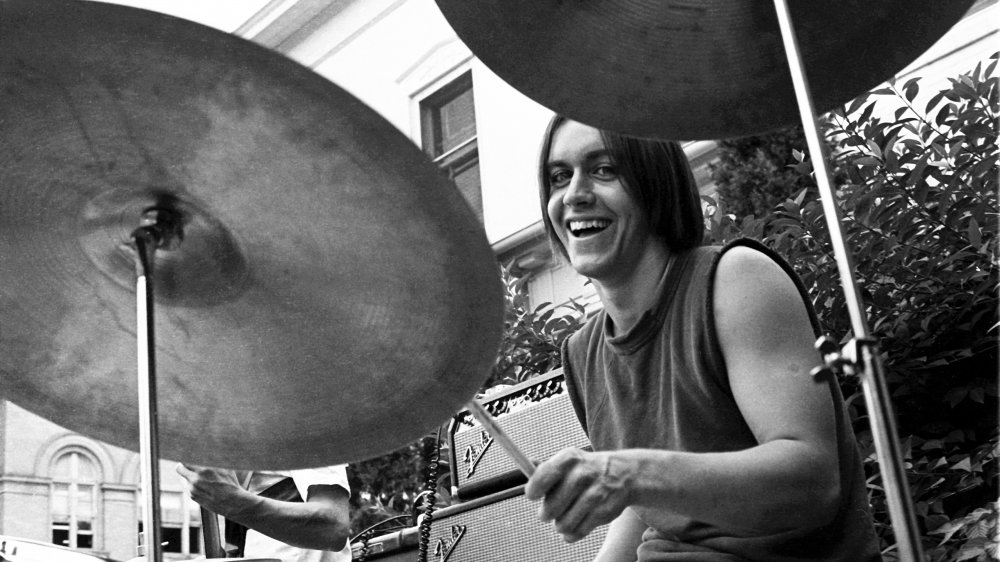 Tom Copi/Getty Images
Iggy Pop didn't pop into existence as a fully formed rock icon. As Deutsche Welle tells us, he was born on April 21, 1947, as James Newell Osterberg, Jr. According to the New Yorker, the rock star spent his formative years living in a trailer park in Ypsilanti, Michigan, and harbored an intelligence and ambition that would prove handy during his creative career. Pop himself has told Classic Rock Revisited that he wanted to be the President of the United States when he grew up, but reconsidered after John F. Kennedy was assassinated. 
At first, the kid who in some strange parallel reality might have become President Osterberg certainly acted the part. He hung out with preppy, popular kids of the cashmere sweaters and chinos variety. He didn't smoke a single cigarette, let alone indulge in other excesses of the youth. However, music was slowly but steadily taking over his life. Pop started playing drums in fifth grade, and his parents supported his ambitions to the extent that they allowed him to set his small drum kit in their master bedroom. By age 15, Pop was drumming and singing for the Iguanas, and eventually left them for a blues band known as the Prime Movers.
In 1966, Pop briefly left Michigan to hover in the blues circles of Chicago, where he learned that he "wasn't going to be Howlin' Wolf's drummer." However, he would soon find his musical direction.
How Iggy Pop became Iggy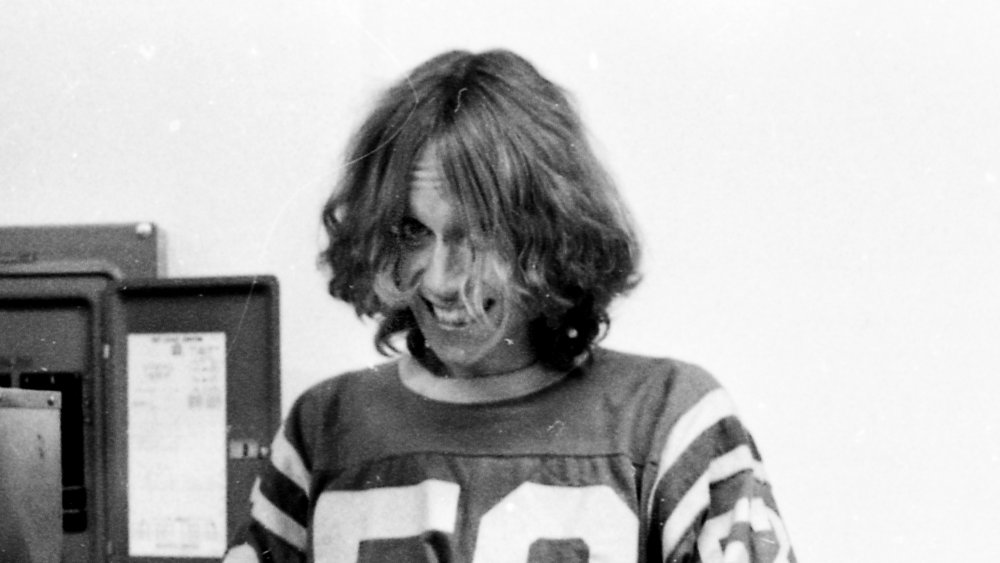 Leni Sinclair/Getty Images
Iggy Pop went to high school in Ann Arbor, Michigan. As Michigan Daily tells us, he was pretty far from the wildman he'd soon become, and his hobbies included gymnastics and golf. He was also quite self-conscious about his trailer park accommodations and tended to avoid telling people where he really lived. 
According to Scott Morgan, a musician who went to the same high school, Pop's innate Iggy-ness manifested during high school talent shows. In one of them, he performed a pantomime comedy act that was pretty similar to his future stage presence. "He played this character named Hyacinth,"  Morgan says. "He didn't talk, and he just kind of acted funny. I don't know how to put it, but it was a look at what he would do later with the Stooges."
In the mid-1960s, Pop played in bands and got a job at a local record store, Discount Records. According to the New Yorker, this is where he acquired his famous nickname. He played with the Iguanas at the time, and whenever he'd walk out of the stockroom, the manager of the store yelled: "Iguana alert!" Eventually, "Iguana" became "Iggy," and after borrowing the "Pop" part from an associate known as Jimmy Popp, young James Newell Osterberg, Jr. had a name fit for a rock star. 
The building blocks of Iggy Pop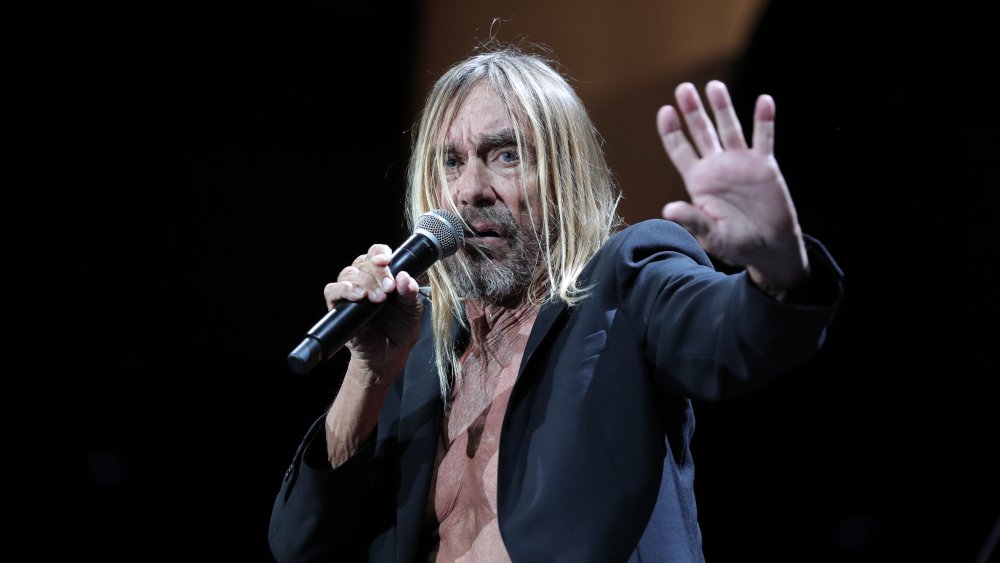 Neilson Barnard/Getty Images
Iggy Pop's unique stage presence and mannerisms have no doubt influenced more than a few frontmen, and as a young man, he was also greatly impressed by a very particular vocalist. In an interview with Classic Rock Revisited, Pop revealed that the guy in question was none other than Jim Morrison — an extremely fitting role model for the rabble-rousing performer Pop would eventually become.  
Pop was lucky enough to see the Doors in two different concerts. the first one was when they were in the process of hitting it big with "Light My Fire." Though the band's sound left a lot to be desired, Pop was incredibly impressed by the leather-clad Morrison and the way he dealt with the rowdy crowd. The Lizard King, who Pop says was "out of his head on acid," was extremely confrontational and started deliberately insulting the crowd. This made Pop think. "If they've got a hit record out and they can get away with this, then I have no f****** excuse not to get out on stage with my band," he described his Doors-induced epiphany. "It was sort of the case of, 'Hey, I can do that.'"
Oh, and the other time he saw them in concert? At that point, the Doors were a big band, playing on a huge stage and sounding like a million bucks. While Pop concedes that Morrison still had plenty of stage presence, he felt that the polished experience was less interesting.
Iggy and The Stooges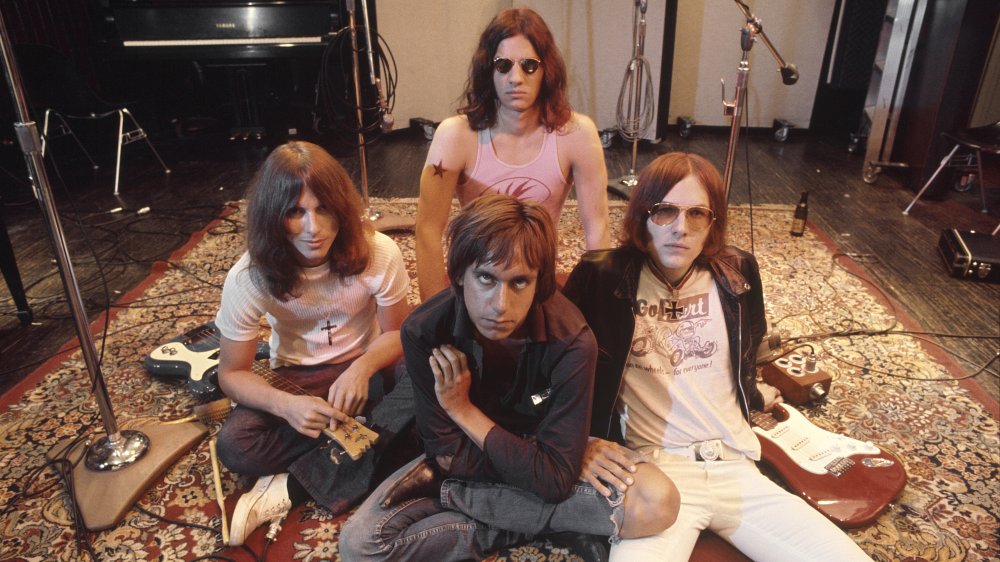 Ed Caraeff/morgan Media/Getty Images
As Deutsche Welle tells us, Iggy Pop rose to fame as the frontman of the Stooges. They started out as the Psychedelic Stooges but shortened their name after signing a contract with Elektra Records. Per the New Yorker, the group started out as a chaotic act that had little interest in things like melody. In their first public concert at Detroit's Grande Ballroom in 1968, Pop took to the stage in a strange, nightshirt-style costume and a headpiece fashioned from a swimming cap and some aluminum foil strips. The band played a droning noise that featured "instruments" such as oil drums, hammers, blenders, and vacuum cleaners.
The primal approach eventually shifted from avant-garde to a wild proto-punk, but the band's brutal sound and Pop's wild stage presence captivated the audiences. In 1969, the Stooges released their debut album and became known as a dangerous and destructive band, often hopped out on drugs and with a tendency to push boundaries. While they inspired future luminaries like Television and Sonic Youth, most fans and critics of the era thought that the Stooges' antics were sheer, distilled madness. Amidst weak record sales and pressures from Elektra to take their act to a more commercial direction, the band broke up in 1974 and wouldn't reunite until 2003.
Iggy Pop's brutal stage presence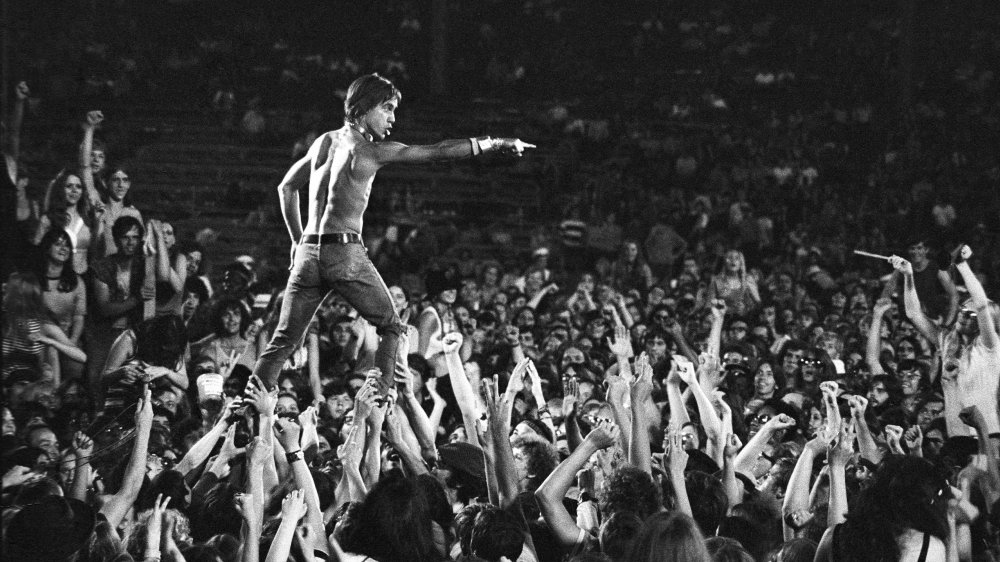 Tom Copi/Getty Images
If you're only familiar with the Iggy Pop of the last couple of decades or so, you probably know him as a sinewy, old guy with an intense, piercing stare, an unpredictable move set, and a distinct lack of shirt. You know, the kind of character who basically screams "old-school rock star" with his very presence.  
The thing is, that intense man is actually the mellow version of Iggy Pop. As the New Yorker tells us, the Pop of yesteryear used to be a much more dangerous figure — and not in a metaphorical way, either. During his early days with the Stooges, the singer was a bloody, nasty performer who made sure that anything could happen when he was onstage. Apart from the obligatory stripping, Pop was known to throw up, draw blood by cutting into his own chest with broken glass, and perform dangerous stage dives. He'd deliberately provoke unsavory people. He'd smear himself with peanut butter that he'd then throw at folks. He'd walk among the crowd, and, occasionally, walk on the crowd. 
It was fearsome, irresponsible, and often unhealthy. In other words, it was pure, unadulterated early-stage Iggy Pop. 
Iggy Pop and David Bowie had musical adventures in Berlin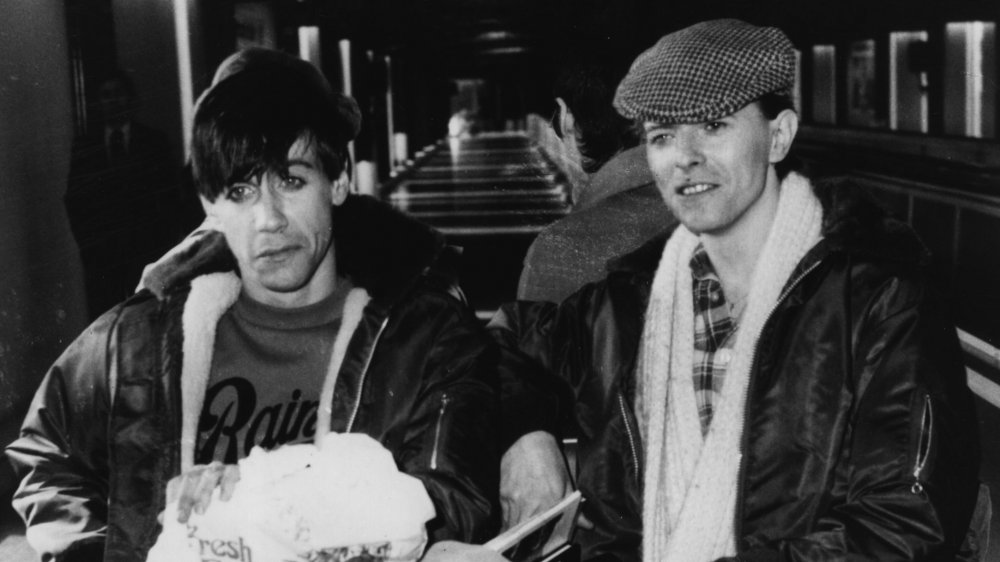 Evening Standard/Getty Images
If you look at the liner notes of Iggy Pop's early solo work, you might be surprised to find a name that's even more famous than the artist himself. As NME tells us, that name is David Bowie, and the friendship between the two titans gave the world some of the very best rock music the late 1970s had to offer. 
In 1976, Bowie invited Pop to travel with him on the massive tour for his Station to Station album. Their shenanigans in various locations were pretty much what you'd expect from the ex-Stooges vocalist and Bowie in full Thin White Duke mode, and involved an arrest for marijuana possession in Rochester, NY. 
In late 1976, Bowie decided that the pair should hit Berlin, and the location proved perfect for their creative juices. That year, Bowie helped Pop write and release the latter's classic solo albums The Idiot and Lust for Life. The pair developed a distanced collaboration system where they often worked in the studio without the other one present. This curious, competitive system caused Pop to write, record, and mix the second album in a mere eight days. "See, Bowie's a hell of a fast guy," Pop once explained. "I realized I had to be quicker than him — otherwise, whose album was it gonna be?" 
Iggy Pop had a huge drug problem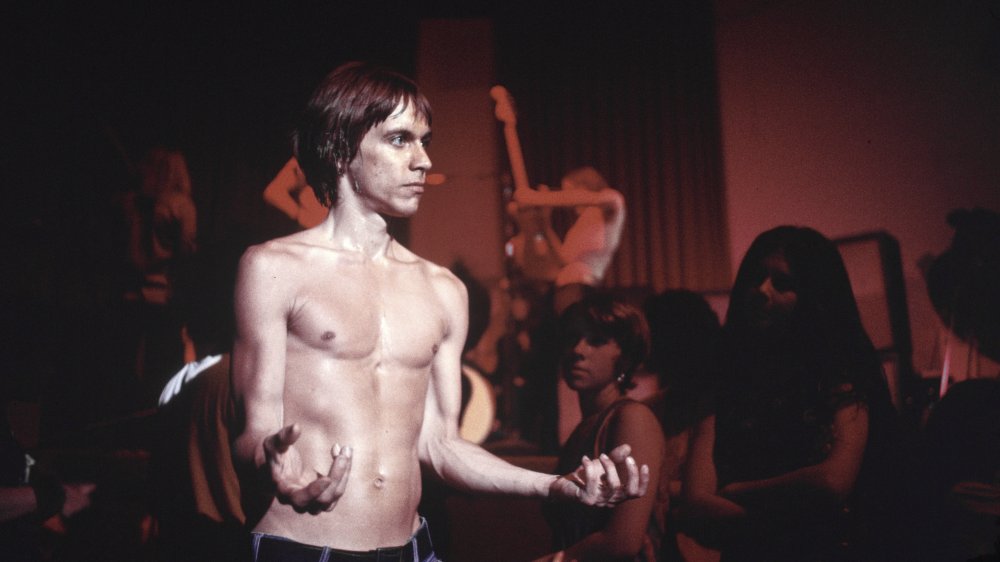 Ed Caraeff/morgan Media/Getty Images
Like many rock musicians of his generation, Iggy Pop used to be very, very fond of drugs. As Deutsche Welle reports, the Stooges' implosion in 1974 was partially caused by their frontman's heroin addiction, and that same year he even checked himself into a psychiatric ward to deal with his issues. Unfortunately, he still had a long way to go. 
At the height of his mid-1970s substance abuse, his drug cocktail included LSD and cocaine, and as NME reminds us, he was also arrested for marijuana possession with his friend, David Bowie. In a 2017 interview with Rolling Stone, a much older, clean-living Pop described how terrifying his drug habit was. "Going back, I had a binge on MDMA in the 1970s," he said. "And at a festival called Goose Lake in Michigan, I was snorting something they said was coke but I learned later was ketamine. I couldn't remember who I was for about 12 hours." He also remembers that he had a less than pleasant experience smoking crack, which he describes as "frightening." 
Combined with his tendency to barely eat and to harm himself onstage, this might've spelled doom for Pop, but fortunately, he was eventually able to clean up his act. As The Hollywood Reporter noted in 2016, old Iggy Pop's biggest vice is the occasional glass of wine, and he appears to be at least as anti-drugs as young Iggy Pop was pro-drugs.
Iggy Pop is worth a pretty penny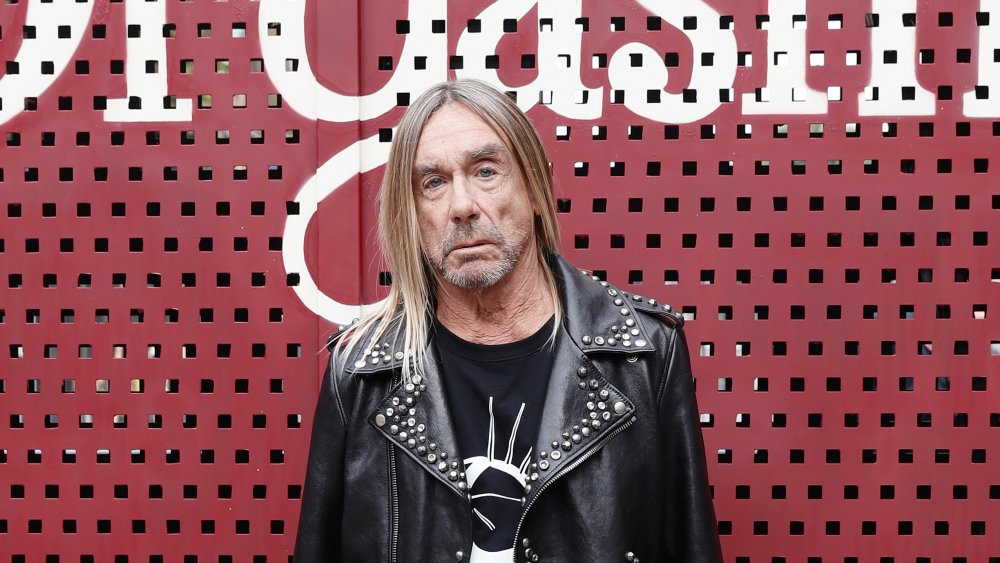 Vittorio Zunino Celotto/Getty Images
Iggy Pop has never been a huge chart-topper. In fact, his solo career's only entry on the Billboard 200 is 1990's Brick by Brick, which peaked at 90. To be fair, his songs have still earned him a decent payday or two. Rolling Stone notes that in 1983, David Bowie had a huge hit with "China Girl," a song he and Pop co-wrote during their Berlin days. There's also the time in 1996, when "Lust for Life" reached new heights of lucrativeness after Danny Boyle used it in the famous opening scene of Trainspotting.  
In an interview with Rolling Stone, Pop has said that he managed to become "barely solvent" in the late 1980s and had very little in the 1990s. "I remember spending the winter of 1990 freezing because there wasn't much heat," Pop reminisced. "But everything changed in the 21st century. It's a nice story arc." 
Pop's fortunes truly changed when the Stooges reformed in 2003, and he suddenly found himself at the front of a popular festival headlining act. After that, his financial sailing has been considerably smoother, to the point that wealth estimation site Celebrity Net Worth guesstimates the rocker at a very respectable $20 million.
Iggy Pop's obsession with cars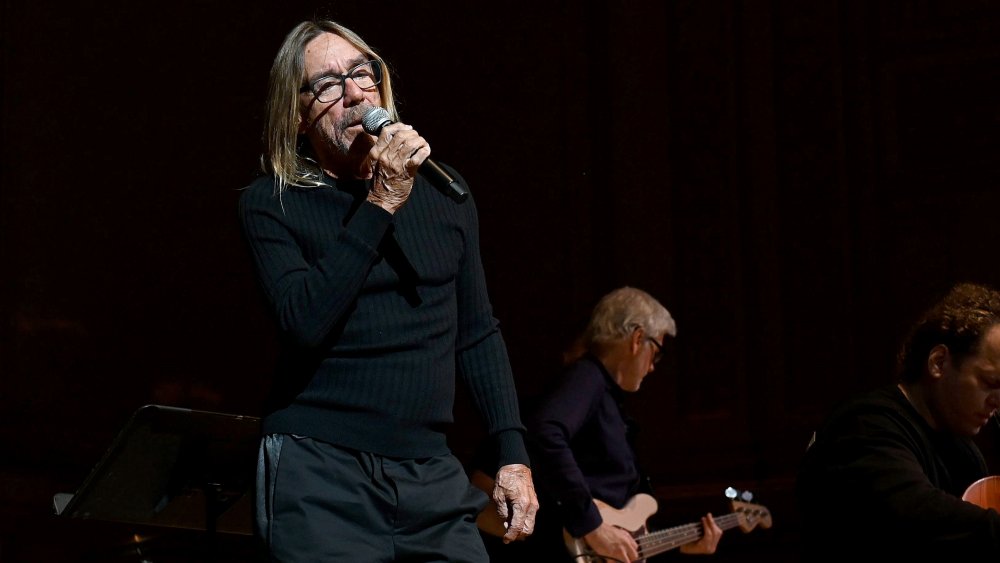 Ilya S. Savenok/Getty Images
Some artists are famously huge car aficionados, but you wouldn't necessarily expect Iggy Pop to be one of them. After all, NME reminds us that Pop's lyrics for Lust for Life standout "The Passenger" were partially inspired by the way David Bowie had to drive him around Europe and North America because Pop didn't have a car or even a driver's license. Fast forward a few decades, however, and things look rather different.
As the New Yorker reported in 2019, the artist came across as a bit of a car guy whose ride was an ultra-smooth 2016 Rolls-Royce Phantom Drophead coupe. He was also perfectly happy to discuss his previous vehicles, which included a red and white 1968 Cadillac DeVille, and a blue 1984 Ferrari 308 GTS that was speedy but had an unfortunate habit of bursting into flame. "That one caught fire every once in a while," Pop said. "You'd see the paint bubble first. I had a rag that I used to beat it out with." 
Despite his wealth in later years, Pop noted that he likes to buy used cars because he hates the questions and paperwork that come with buying a new one. 
Iggy Pop and the Death Is Certain Club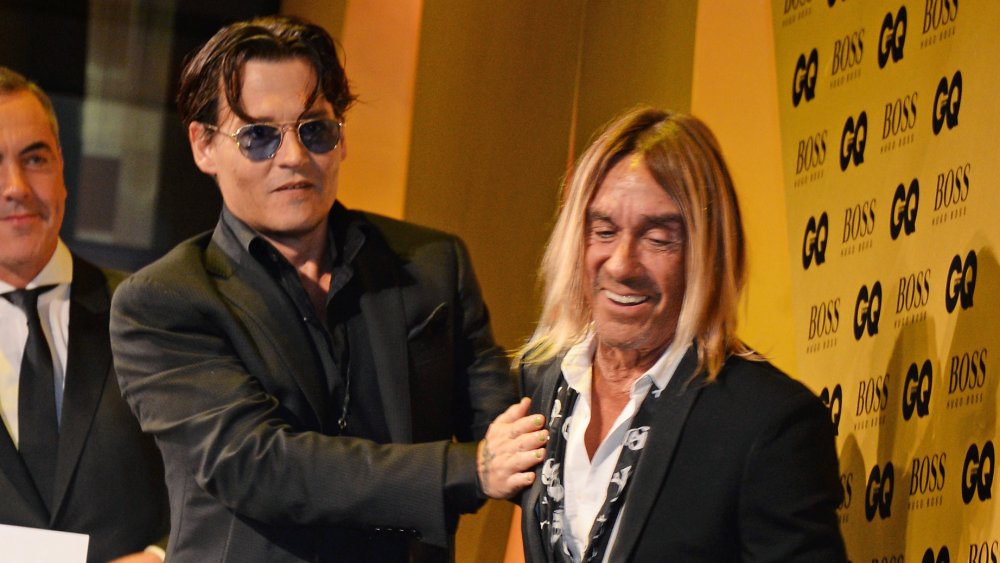 David M. Benett/Getty Images
Someone who's been in the entertainment industry as long as Iggy Pop is bound to make a few celebrity friends. As Rolling Stone explains, Pop even has a bit of a posse, which includes actor Johnny Depp, director Jim Jarmusch, and tattoo artist Jonathan Shaw. In an article Shaw wrote for the Telegraph, he revealed that the gang used to call themselves the Death Is Certain Club. 
According to Shaw, the group got its name when they were leafing through his collection of old tattoo designs, and Pop found a skull-and-bones design with the words "death is certain" around the image. One thing led to another, and the four friends started to discuss getting matching tattoos and skull rings as a sign of friendship. Unfortunately, things didn't go quite as planned. Shaw says that while all four have the ring, Pop never actually ended up getting the tattoo.
Iggy Pop's surprising side gig as an actor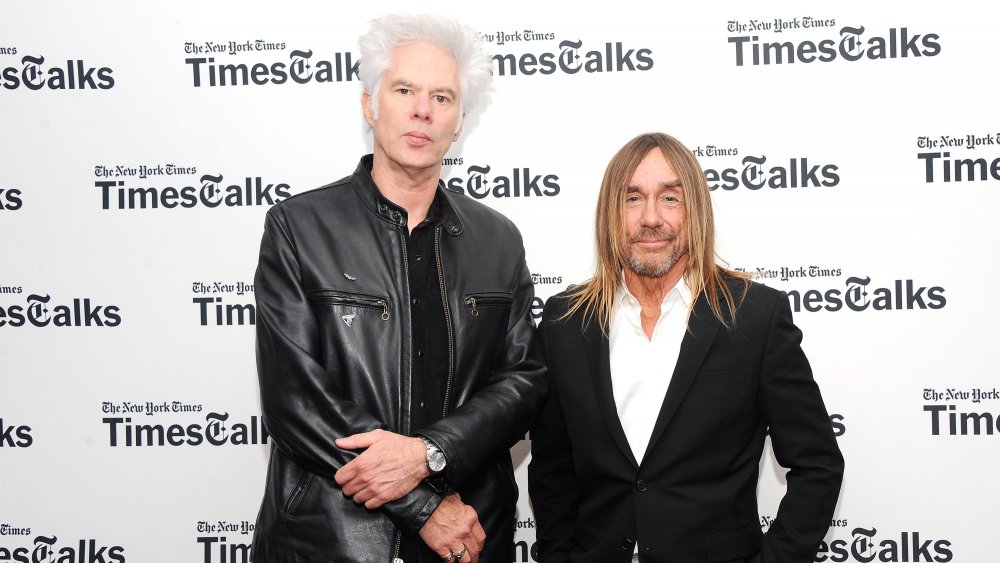 Desiree Navarro/Getty Images
Iggy Pop might be most famous as a musician, but as BTR Today notes, he's also a pretty prolific actor. Pop's IMDb page is full of acting roles big and small. His first major role was in the 1990 John Waters movie Cry-Baby, in which Johnny Depp plays the main character, and Pop provides capable fire support as his amiable older relative, Belvedere Rickettes.
Pop often works with director Jim Jarmusch, who has cast the musician in no less than three of his movies. In 1993, Pop and fellow music legend Tom Waits discussed quitting smoking over a cup of coffee in the short Coffee and Cigarettes (Somewhere in California), which won the Cannes Film Festival's short film Palme d'Or that year and eventually became a part of 2003's Coffee and Cigarettes anthology film. In 1995, Pop rejoined forces with Depp in Jarmusch's peculiar Western Dead Man, the rocker plays a rather peculiar fur trader while Depp once again handles the main role duty. 
The most recent fictional Jarmusch work Pop has featured in is the 2019 zombie horror-comedy The Dead Don't Die, where the musician returns to a coffee-themed role ... by playing a coffee-obsessed zombie.  
Iggy Pop has astonishingly chill touring rituals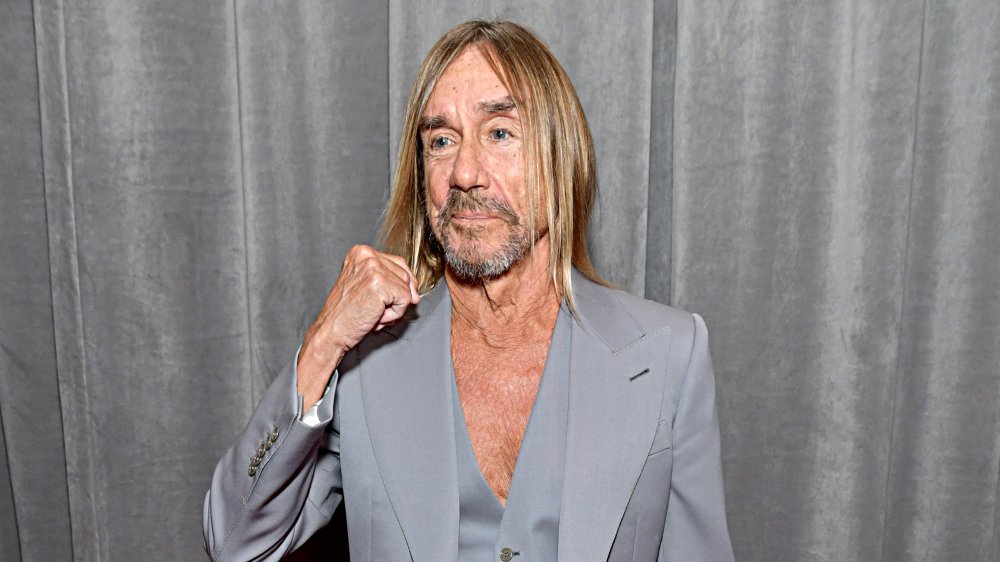 Emma Mcintyre/Getty Images
Young Iggy Pop was a notorious and often dangerous force of nature onstage. These days, the rock star likes to keep it mellow, at least when preparing for his shows. In a 2019 article in the New Yorker, we found out that Pop's pre-show rituals take around eight or nine hours, and involve significantly less running around shirtless than you might expect. "I wake up, cup of coffee, stay in bed, clear my mind, don't think about the show," he described as his typical preparations. "I'm not going to talk to anybody about anything." 
A few hours before the show, Pop likes to lie down on the floor and employ a deep-breathing technique called wu chi for 30 minutes or so. After that, he "lightly visualizes" the beats of the upcoming show in order to keep everything in mind, and does some Qigong exercises to get his physique ready. 
To be fair, the final step of his preparation ritual is closer to something you'd imagine Iggy Pop's manic onstage persona doing: He likes to take a hot shower and then turn it cold.