The Stolen Money That Became A Windfall For Joel Osteen's Plumber
Chance Yeh/Getty Images
Joel Osteen, known by some as "the smiling preacher" for his friendly, cheerful demeanor and style, is one of the most well-known televangelists and megachurch pastors in modern American culture. As is often the case with televangelists, a mystery concerning money within his church, the nondenominational Christian charismatic Lakewood Church of Houston, Texas, arose in the course of the pastor's rise to fame. Per Britannica, Osteen was born in 1963, four years after his parents had founded Lakewood, with his father, John Osteen, serving as pastor. Joel left Oral Roberts University after one year of study in 1981 to work as a producer for his father's national television ministry. As reported by Heavy, Joel married Victoria Illof in 1987; they have two children, Alexandra and Jonathan. 
When John died in 1999, Joel took over as pastor, and soon the Lakewood Church had the largest and fastest-growing congregation in the United States. Osteen engaged in a media blitz, and his weekly television show was soon broadcast in over 100 countries. In 2004, he published "Your Best Life Now: 7 Steps to Living at Your Full Potential," the first of many best-selling books. The Lakewood Church bought Houston's Compaq Center in 2005, and in-person attendance grew to over 50,000 people by 2016. Per Osteen's personal website, Victoria Osteen serves as co-pastor of Lakewood Church with her husband, and son Jonathan Osteen is a leader of the church's youth ministry. Over 200 million American households access the Lakewood Church broadcast and over 2 million people have attended the Osteens' Night of Hope events.
A shocking find in a bathroom wall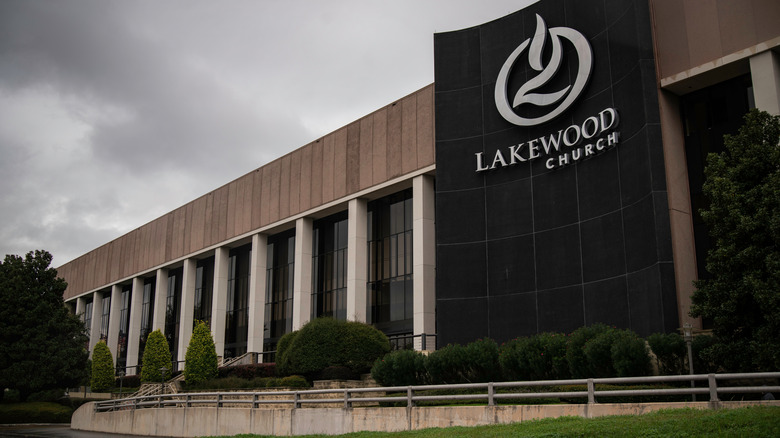 University of College/Shutterstock
In March 2014, as reported by the Houston Chronicle, Lakewood Church leaders sent an email to more than 40,000 church members announcing that over $600,000 dollars had been stolen from the megachurch, including $200,000 in cash, $400,000 in checks, and envelopes containing members' credit card information. The money and information was taken from a safe and the church noted that everything stolen had been donated to Lakewood during church services that took place on March 8 and March 9. A church employee noticed and reported the missing funds on the morning of Monday, March 10. There was no online data breach, and as Lakewood explained in a statement, "The funds were fully insured, and we are working with our insurance company to restore the stolen funds to the church." The Houston Police Department declined to comment further.
Over seven-and-a-half years later, the Houston Chronicle again reported on the case, which had gone cold in the preceding years. On the morning of Thursday, December 2, 2021, a plumber only identified as "Justin" called in to a talk show on Houston country radio station 100.3 The Bull and discussed on-air the recent discovery he'd made while doing some work in Lakewood Church: around 500 envelopes hidden in a bathroom behind tiles and insulation. "I think it was about four weeks ago I was doing some plumbing work at the Lakewood Church and I discovered money in the wall that was stolen back in 2014," claimed the caller.
The Good Samaritan was rewarded for his deed
Per CNN, Justin Cauley (above) went on to tell the 100.3 The Bull disc jockeys that he'd turned the money in to the maintenance supervisor. On November 10, officers from the Houston Police Department went to Lakewood Church to investigate Cauley's discovery, releasing a statement confirming that evidence suggested the 2021 discovery was connected to the 2014 robbery. The statement went on to note that the found money was inventoried and documented and left at Lakewood Church, as it was discovered on its premises. Houston station KPRC 2 reported that Cauley was disappointed that no one from Lakewood Church had contacted him to thank him for turning in the money, quoting his statement: "I wanted to hear [Joel Osteen] say, 'You know, Justin, what you did was right. We understand what you did and what you could have done.' I feel like, at this point, I should have heard something. I'm just a little upset."
According to NBC News, local organization Crime Stoppers Houston decided to reward Cauley for his good deed. At the time of the robbery in 2014, Crime Stoppers and the Lakewood Church had teamed up and offered a reward of $25,000 to anyone who came forward with information. Years later, no one had come forward and Lakewood Church donated their portion of the reward, $20,000, to Crime Stoppers. In 2021, Crime Stoppers asked the church's permission to donate that $20,000 to the "Good Samaritan" who'd returned the money. The church agreed, and Cauley received the reward.