The Truth About Josephine Baker's Relationship With Grace Kelly
In April 1975, Parisians packed into the Theatre Bobino to see the comeback performance of one of the early 20th century's greatest stars: Josephine Baker. The performance celebrated the 50th anniversary of her debut appearance in Paris (via ThoughtCo.). The audience included celebrities like Sophia Loren and Baker's long-time friend Grace Kelly, Princess of Monaco. Kelly, along with her husband and Jacqueline Kennedy Onassis, had helped fund the performance, according to Monaco Residents Magazine. It was far from being the first time Kelly had helped Baker.
The two might have seemed like unlikely friends. Kelly was 23 years younger than Baker, and their upbringings had been radically different. Baker was born into poverty in St. Louis in 1906. Her father had left the family. Baker was working by age 8 and left school permanently at age 13. By 19, however, she had already been on Broadway and was making waves in Paris (via Biography).
Kelly, on the other hand, was born to a wealthy Irish Catholic family in Philadelphia. Her father was a millionaire and Olympic champion, while her mother was the first person to coach women's athletic teams at the University of Pennsylvania. Two of Kelly's uncles worked in the world of theater and encouraged her interest in acting (via Biography). Despite their different backgrounds, the two women's paths crossed in 1951.
The Stork Club
Baker had come back to the U.S. after 26 years in Paris and was in New York City to receive the Woman of the Year award from the NAACP, according to Connexion France. Kelly, at the time, was a rising star thanks to her performance in the film "High Noon." The two were both dining at the famous Stork Club restaurant on the same night.
Versions of the story differ, but Baker was either ignored or denied service outright because of her race. According to Grace Influential, the club's owner asked, "Who let her in?" Baker called a friend at the NAACP to discuss the insult. Kelly saw what was happening, and — again, depending on the story — she and others left the restaurant with Baker to protest the situation. Baker also alerted the press to what was happening (via Connexion France). By the next day, people were protesting outside the club, and the NAACP was organizing picket lines. Baker filed charges against the club, accusing them of racism (via Grace Influential).
Baker's later life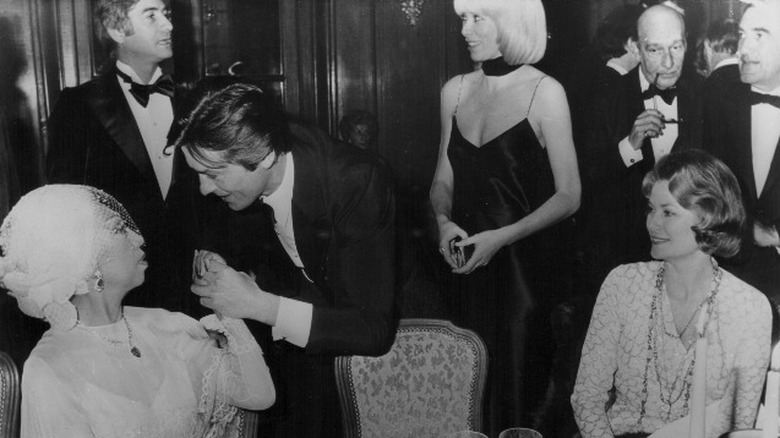 Keystone/Getty
After that night, the two women were friends. Kelly married Prince Rainier III in 1956 and became Princess of Monaco. Baker went back to living in France with her husband Jo Bouillon and 12 adopted children. She owned a castle in the southwest of France called "Les Milandes," but in the late 1960s, deeply in debt, Baker was evicted from her home.
Kelly's intervention couldn't prevent the eviction, so instead she invited Baker and her children to live in Monaco. She enlisted the Red Cross to help provide for Baker's children, according to Grace Influential. She and Brigitte Bardot also raised money to help Baker, according to Monaco Residents Magazine. Kelly offered Baker a villa in Roquebrune-Cap-Martin, France, near Monaco, in which Baker and her family could live (via Connexion France).
Baker died on April 12, 1975, not long after the comeback concerts Kelly had helped finance. Baker's funeral was held in Paris, and she was the first American woman to receive French military honors. However, she was buried in the Cimitière de Monaco in Monte Carlo, with Princess Grace presiding over the burial, according to Grace Influential. A square in Monaco is now named in Baker's honor (via Connexion France).