What Was The Last Film Veronica Lake Appeared In Before She Died?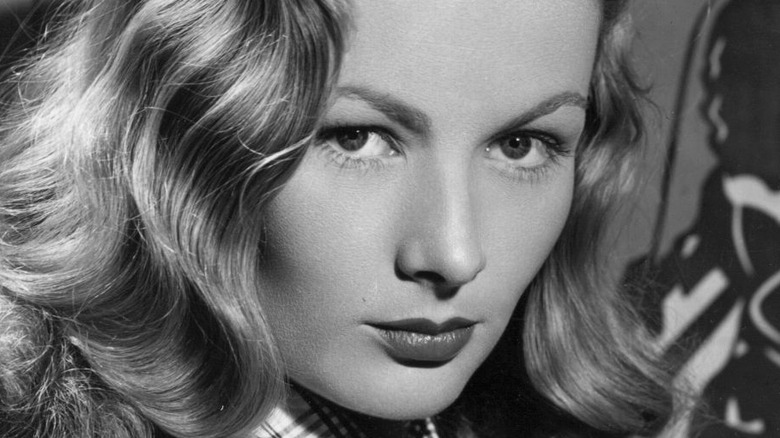 Hulton Archive/Getty Images
Veronica Lake's signature glamorous look, featuring long, wavy blonde hair, often arranged into a "peekaboo" style dipping over one eye, may be more recognizable to today's average modern movie fan than her many film roles. She was one of the most famous women in Hollywood in the 1940s. Clearly one of the models for cartoon screen siren Jessica Rabbit and a key part of the plot of the 1997 hit film "L.A. Confidential," in which Kim Basinger played Lake-alike Lynn Bracken and won an Oscar for the role, Lake was a film noir favorite, often appearing as a femme fatale opposite actor Alan Ladd. 
Born Constance Ockelman in Brooklyn, New York on November 14, 1919, per Turner Classic Movies, her family moved around the United States throughout her childhood. After winning some local beauty pageants while living in Florida, Ockelman and her family relocated to Beverly Hills, California. She enrolled at the Bliss Hayden School of Acting. According to Eddie Muller, a Turner Classic Movies host who wrote an introduction to Lake's autobiography (1971's "Veronica"), "She had a very aggressive stage mother who pushed her towards show business against her will" (via the New York Post). She was signed by RKO and made her debut in 1939's "Sorority House" under the name Constance Keane. She appeared in a series of bit roles and acted in some plays. In 1940, she took time off to marry art director John Detlie and give birth to her daughter, Elaine.
The hairdo that captivated a nation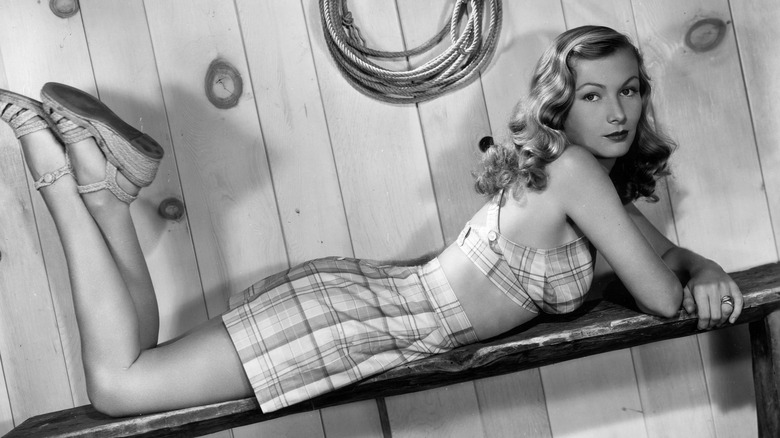 Fox Photos/Getty Images
That same year, per Diabolique Magazine, producer Arthur Hornblower Jr. saw footage of Constance Keane in a theater production and brought her in to test for a role in the movie "I Wanted Wings." He had been looking for an unknown actress to play the part of a sultry nightclub singer, and she fit the bill. He signed her to a long-term contract at Paramount and renamed her Veronica Lake, supposedly wanting a first name that suggested a classic beauty, according to Turner Classic Movies, and a last name inspired by her very blue eyes. During filming, Lake's hair accidentally fell over one eye in the middle of a take, giving rise to her trademark and a resulting national trend. As reported by The Vintage News, Lake was eventually asked by the United States government to change her look when women took up factory work during World War II and risked workplace accidents because of hairstyles that dipped over one eye and impeded workers' vision. The result were victory rolls; Lake even filmed a tutorial to demonstrate how to create the safer hairstyle that swept hair away from the face and kept it back. 
"I Wanted Wings" made Lake a star, and the 19-year-old quickly made five films in a row, including the Preston Sturges classic "Sullivan's Travels," in which she played a character known just as "The Girl" who serves to enchant and inspire a film director who's taken time off to live life as a houseless traveler in order to experience "real life." 
Veronica Lake rose quickly and fell hard
Potter/Getty Images
Per Diabolique Magazine, Veronica Lake followed up "Sullivan's Travels" with "This Gun For Hire," in which she also played a nightclub singer and was paired for the first time with actor Alan Ladd. Ladd became a star due to his performance as the movie's gun for hire, and the chemistry between him and Lake made the movie especially beloved by audiences. They would appear onscreen together a total of seven times. The comedy "I Married A Witch" followed, which highlighted Lake's glamorous, otherworldly presence by casting her as, yes, a witch, and it remains perhaps her most well-known role alongside The Girl from "Sullivan's Travels." In 1942 she appeared in "Star Spangled Rhythm," in which she sang a song about herself, according to Turner Classic Movies, and in 1943 the war drama "So Proudly We Hail," in which she played a traumatized Army nurse with a dramatic death scene.
Despite her obvious star power, Lake had a reputation for being hard to work with and difficult on movie sets, and several of her co-stars either refused to talk about her to the press or openly complained about having to work with her. The flop of her 1944 film "The Hour Before Dawn" was blamed on her and her performance was trashed by critics. Her second son was born prematurely and died, she divorced her first husband, and began drinking heavily. Her last role was in 1970's "Flesh Feast," a schlocky horror movie in which she played a doctor using maggots as an anti-aging treatment. She died in 1973.
If you or anyone you know is struggling with addiction issues, help is available. Visit the Substance Abuse and Mental Health Services Administration website or contact SAMHSA's National Helpline at 1-800-662-HELP (4357).