Jackie Robinson Called Out The New York Yankees For A Sad Reason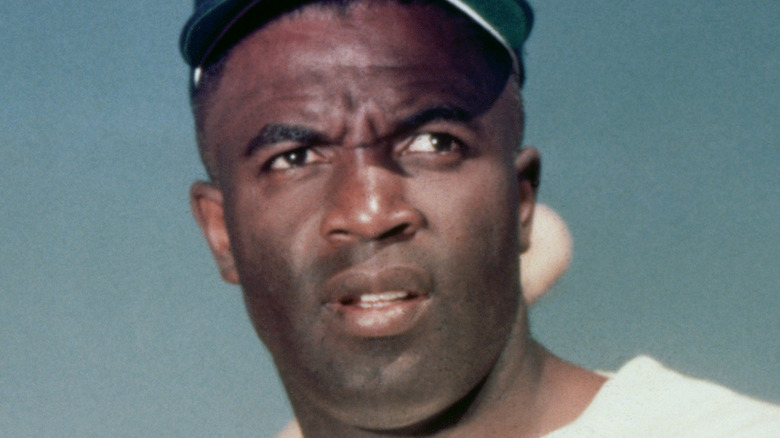 Photo File/Getty
In 1952, Jackie Robinson was one of the most successful stars in baseball, (via Pinstripe Alley). Five years earlier, he had integrated the game when he became the first Black player on a Major League Baseball team: the Brooklyn Dodgers. With his incredible offensive stats, he led the Dodgers to six National League pennants and one World Series championship. He was Rookie of the Year in 1947 and National League MVP in 1949. He did all this while facing racism from baseball fans and even teammates (via the Baseball Hall of Fame).
Robinson was no stranger to standing up for himself. While in the Army, he had refused to move to the back of a segregated bus and was court martialed for it. However, he was acquitted and honorably discharged, according to the Baseball Hall of Fame.
On November 30, 1952, Robinson appeared on the NBC New York daytime show called "Youth Wants to Know." He was asked about the lack of Black players on the Yankees, and he didn't hold back in his answer.
The Yankees' history of discrimination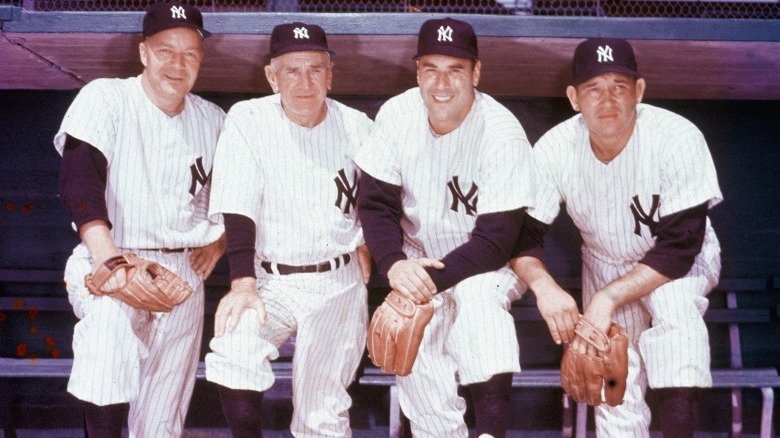 Photo File/MLB Photos via Getty Images
Robinson told "Youth Wants to Know" that racism was the reason the Yankees had no Black players. He noted that the executives, not the players, were the problem. He called the Yankees' players "​​fine sportsmen and wonderful gentlemen" (via Pinstripe Alley).
He had plenty of evidence to back up his statements. The Yankees' general manager, George Weiss, had made several negative statements about having Black players on the team. The same year as Robinson's TV appearance, Weiss commented that black players might draw the wrong kind of crowd to the stadium and "offend boxholders from Westchester," as Sports Illustrated notes.
Weiss also said "The Yankees are not going to promote a Negro player to the Stadium simply in order to be able to say that they have such a player. We are not going to bow to pressure groups on this issue." According to Sports Illustrated, he passed up a superstar minor-leaguer, Black Puerto Rican Vic Power, for a lesser-known white player, and was clear that one reason he'd done so was Power's tendency to date white women. That was all in addition to the Yankees' fear of losing the $100,000 they made per year from renting their stadium out to a Negro Leagues team, should that league cease to exist.
Elston Howard joins the Yankees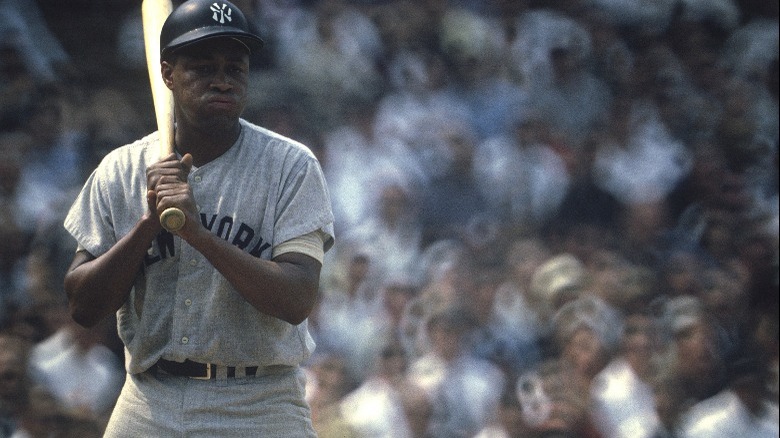 Focus On Sport/Getty
In 1955, two and a half years after Jackie Robinson's interview, the Yankees finally called a Black player up from their Minor League system for the first time. That player was the heavy-hitting catcher Elston Howard. The Yankees were the third-to-last team to integrate and had passed up on future hall-of-fame players Ernie Banks and Willie Mays. Howard was immediately popular, and an outstanding player, making 12 All-Star teams and winning two Gold Gloves, four World Series, and the 1963 American League MVP (via Pinstripe Alley).
Like Robinson, he achieved all that while dealing with racism from members of the Yankees' organization, including his manager, Casey Stengel, calling him racial slurs, according to Sports Illustrated. He was popular with his teammates, however. They did their best to make him feel welcome. Mickey Mantle even said Howard was one of the only teammates he would consider rooming with (via Pinstripe Alley). Howard became one of so many Yankees legends, with his number being retired in 1984. 32 years after Robinson's criticism, the Yankees were trying to do better.