The Reason Jackie Robinson Was Court-Martialed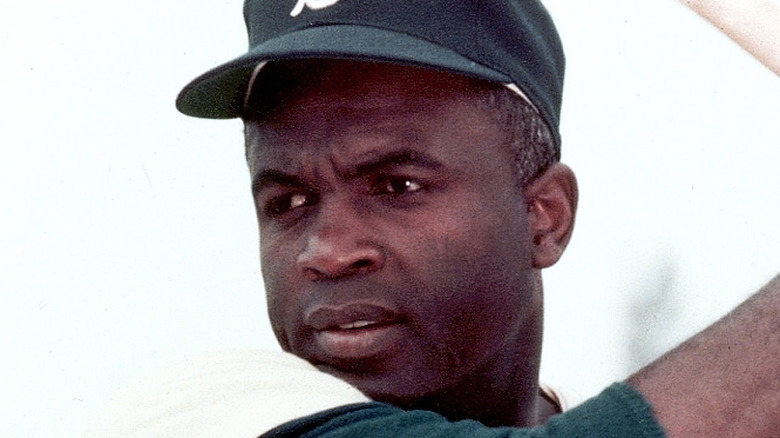 Photo File/Getty Images
Jackie Robinson has already gone down in history as one of the most barrier-breaking professional athletes to have ever lived. The first Black Major League Baseball player of the modern era (two Black men briefly played professional baseball on white teams decades before Robinson did), Robinson went on to win the Rookie of the Year Award, the MVP Award, and take his team to six World Series appearances (including one championship), according to PBS. All the while, he endured racism from the fans, from his own teammates, and from other teams.
What many people may not know about #42 is that before he endured racism in baseball, he, like almost all other Black servicemen and -women, endured the same thing while a member of the armed forces. Specifically, Robinson was serving in the U.S. Army when, one day, he happened to be in the wrong place at the wrong time, stood up for himself when faced with open racism, and wound up facing a military court for it. Had the outcome of Robinson's court-martial been different, the baseball world might never have known one of its greatest players ever.
Jackie Robinson was court-martialed for refusing to move to the back of a bus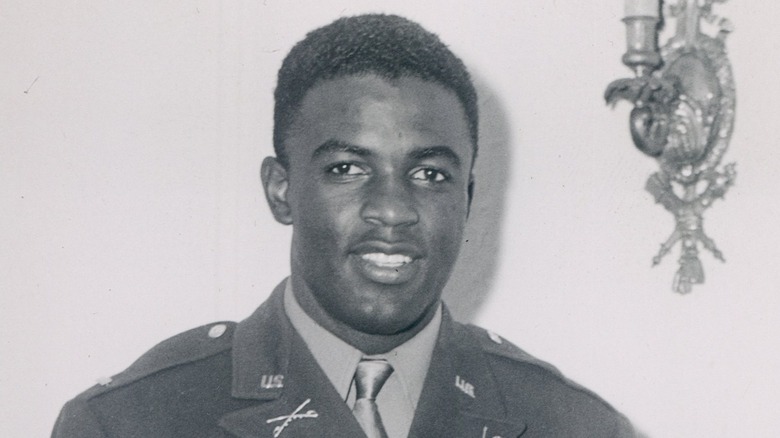 Sports Studio Photos/Getty Images
You are no doubt familiar with the story of Rosa Parks, the Black woman who, in 1955, famously refused to move to the back of a Montgomery, Alabama bus, sparking off one of the seminal moments in the Civil Rights movement. What you may not know is that, a decade before, Robinson did the same thing.
Specifically, as PBS reports, on July 6, 1944, Robinson, then a Second Lieutenant in the Army, was riding an Army bus from the "the colored officers club" when he made the decision to sit next to a woman he knew. The bus driver thought the woman was a white woman, and ordered Robinson to the back of the bus. The young officer refused, and what followed was some back-and-forth between the two men, with the driver at one point calling Robinson a word that will not be reprinted here, and it ended with Robinson being removed from the bus in handcuffs.
Robinson was then charged with two counts, both related to his alleged disrespect of a superior officer, and was soon facing a jury of nine men, eight of whom were white. Fortunately, at least four of the jurors saw Robinson's side and he was found not guilty on all charges.
A few years later, then-President Harry S. Truman would sign a law effectively ending racial discrimination in the U.S. military.