The Real Reason REM Wouldn't Play This Hit Song Live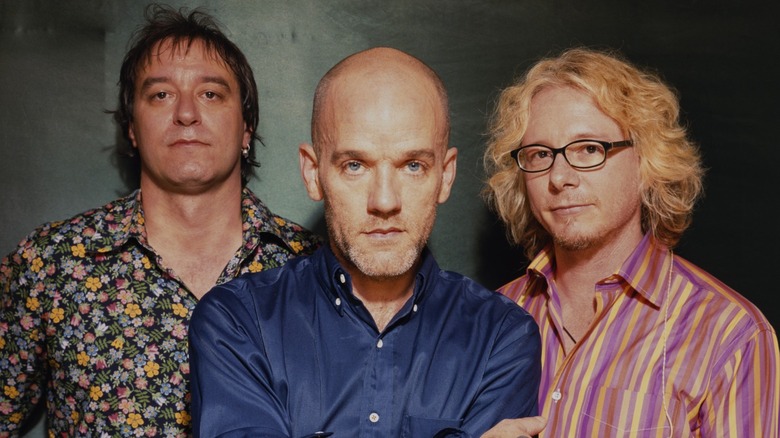 Tim Roney/Getty Images
R.E.M. was one of the most popular bands of the '90s, and throughout their decades-long career, they released 15 albums, won three Grammys, and were inducted into the Rock and Roll Hall of Fame in 2007. In 2011, after 31 years together, R.E.M. announced their amicable breakup, per Rolling Stone. Some of the band's most popular hits include "Losing My Religion," "Everybody Hurts," and "The One I Love," among others. There's one hit song, however, that didn't resonate well with some fans, and the band's lead singer, Michael Stipe, wasn't too fond of singing it as well.
"Shiny Happy People" was released in 1991 and was included in R.E.M.'s seventh studio album titled "Out of Time." The album itself was a departure from the band's prior works, as Farout Magazine reported, and their fanbase was divided when it came to "Shiny Happy People." Despite the mixed reception, the song peaked at the No. 10 position on the Billboard charts and was the band's last song to reach the top 10. In an interview with The Quietus, Stipe admitted that he was a little embarrassed that the bubblegum pop song became as popular as it did.
How the song came about
Jeff Vinnick/Getty Images
Michael Stipe and guitarist Mike Mills stated that R.E.M. didn't want to release the same types of songs repeatedly, as noted by The Sun. Referring to the album "Out of Time," they said that it was the outcome of the band trying something different, and the song "Shiny Happy People" was "the odd man out." Stipe recalled his bandmates playing him parts of bubblegum pop music, and he wasn't going to back out of the challenge. He wrote lyrics that he thought would go well with the music and said that it was purposefully written to be "absurdly, ridiculously pop."
The title also has an interesting backstory. As reported by Ultimate Guitar, the song was inspired by a Chinese propaganda poster during the Tiananmen Square incident of 1989. The uprising was a result of the Chinese wanting less censorship and more political freedom. Crowds of protesters gathered at Tiananmen Square in Beijing, and at one point, the number reached a million (via BBC). The Chinese government released a propaganda poster that read, "shiny happy people holding hands" to hide the real reason behind the large gathering.
Record producer John Keane recalled how the band reacted to Stipe's lyrics to the music. Upon hearing Stipe sing the words "shiny happy people," Peter Buck and Mike Mills looked at each other and burst into laughter, Keane told Tidal.
Michael Stipe didn't like to sing it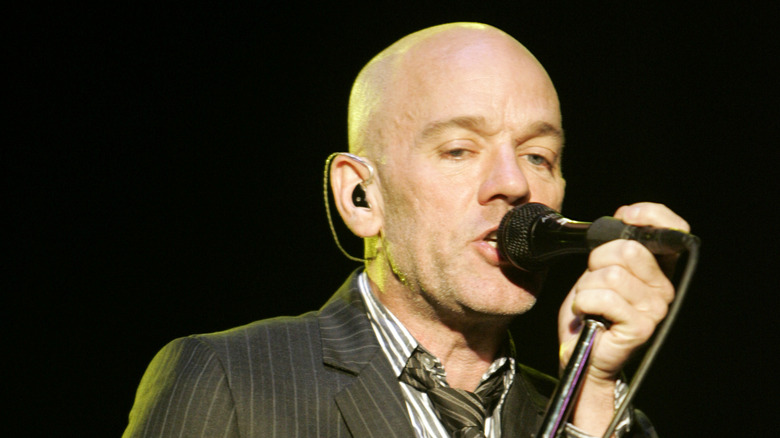 Northfoto/Shutterstock
"Shiny Happy People" was such a fun, upbeat song that it was supposed to be the theme song for the hit TV series "Friends." However, R.E.M. declined the offer, and The Rembrandts were commissioned to write "I'll Be There for You" instead, per Farout Magazine.
R.E.M. only performed "Shiny Happy People" twice — on "Saturday Night Live" and the Spanish music shows "Rockopop" — both in 1991. The song was also featured in a 1991 episode of "Sesame Street," where R.E.M. sang with the Muppets but changed the lyrics to, "furry happy monsters" instead. In interviews throughout the years, Michael Stipe has been asked a few times about why they didn't like to perform the song live. In a 2016 interview with Mojo magazine, Stipe said that he wrote the song as a challenge but thought it was the "stupidest song." He also said that although he did not hate "Shiny Happy People," he didn't want to sing it because, for him, it didn't have a lasting appeal. "It's a fruity pop song written for children ... If there was one song that was sent into outer space to represent R.E.M. for the rest of time, I would not want it to be 'Shiny Happy People'," he said (via Musicoholics).