What AC/DC's Bon Scott Really Thought Of Brian Johnson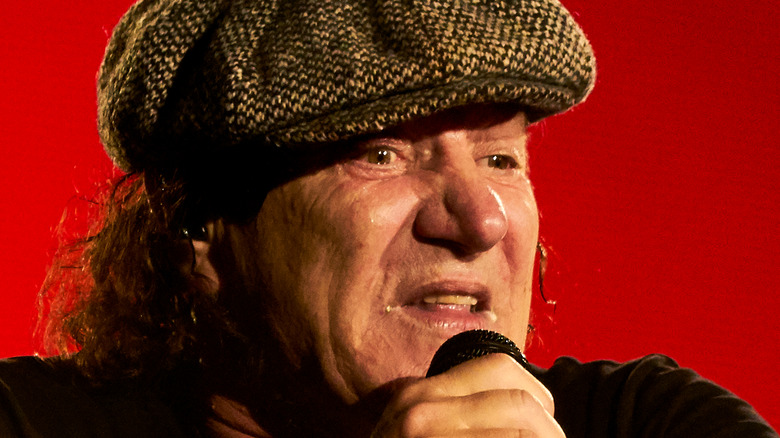 Photography Stock Ruiz/Shutterstock
You can count on one hand the number of times an iconic rock frontman has been replaced and the result has been a success. But undoubtedly, the story of AC/DC's Brian Johnson, who took over from the singer Bon Scott after his death in 1980, shows that with the right choice of personnel a much-loved group can thrive even in the wake of tragedy.
For many AC/DC fans, debate still rages about which era — Scott's or Johnson's — is the band's greatest. But despite the rivalry in fans' imaginations, it seems that Scott may in fact have given his blessing to his replacement in the band, through comments he'd made to his bandmates about Johnson years before his tragic death. In a 2021 interview promoting the critically-acclaimed comeback album "Power Up!", AC/DC guitarist Angus Young explained:
"Bon told the story, [that] he was saying he was listening to [Johnson's band] performing and listening to Brian, and then he heard this screaming ... He said it sounded like Little Richard was on the stage. He said this guy was howling and yelling. And then he said then he saw the guy on the floor" (via Society of Rock).
Scott told his bandmates that, that night, Johnson put on one of the best shows he had ever seen, and that he was undoubtedly a great rock singer. But there was one intriguing detail about Johnson's performance that Scott didn't know about.
The tragic death of Bon Scott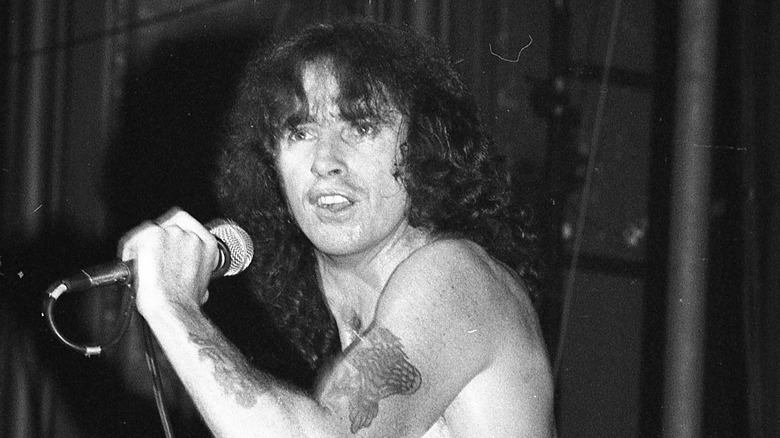 Linda D. Robbins/Getty Images
The death of Bon Scott was a tragedy that shook the world of rock and sent AC/DC's massive fanbase into mourning for one of music's great singers and showmen.
The details of Scott's death were especially sad and distressing. According to Louder, Scott's lifeless body was discovered in a Renault 5, parked in the East Dulwich area of South London, on February 19, 1980. He was just 33. In the decades since, speculation has run rife about Scott's exact cause of death, though most commonly his death has been attributed to alcohol poisoning.
Per Rolling Stone, Brian Johnson recalls that he received a cryptic phone call at his home in Newcastle, U.K., shortly after news broke of Scott's death. It was a woman's voice, inviting him to audition for a band in London. Johnson, who at the time was fronting a similarly heavy band called Geordie, was low on money, and unwilling to waste what little he had traveling to audition for a band he didn't know. However, after extracting the information from the woman on the line that the band was the legendary AC/DC, he decided to make the trip.
Five months after Scott's death, a Johnson-fronted AC/DC released "Back in Black," a critically acclaimed release that went on to become one of the bestselling albums of all time. Johnson's introduction had been an overwhelming success.
The truth of Bon Scott's reaction to Brian Johnson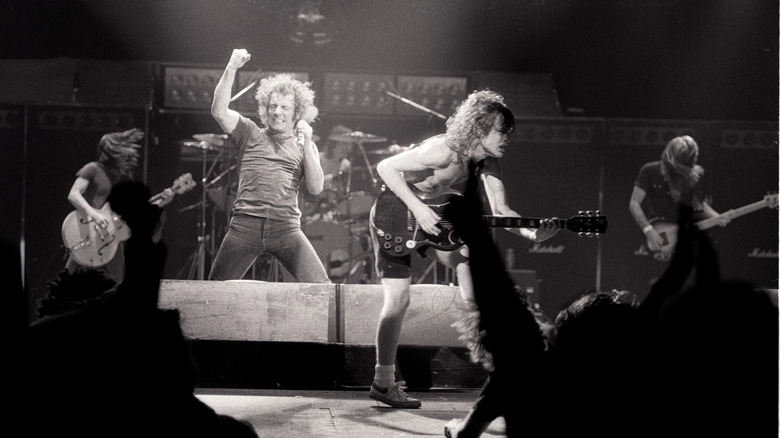 Michael Putland/Getty Images
However, there was a rather comedic twist to Bon Scott's lionization of Brian Johnson. Luckily, Johnson had already passed the AC/DC audition with flying colors when the truth came to light — but then again, was there anyone else who could possibly have taken over from Scott in such a fashion as Johnson did in 1980? Unlikely.
Johnson recalled: "I met Bon in 1973 or 1974. His band was supporting my band, Geordie. I had a terrible case of appendicitis and I went down on my side, kicking and going, 'Ooh!' But I kept on singing. Apparently, he told the boys when he joined AC/DC, 'I saw this guy Brian Johnson sing, and he was great. He was on the floor, kicking and screaming – what an act!'" (via Blabbermouth) 
However, as Angus Young recently explained, Johnson's histrionics were no intentional performance; the singer was suffering from acute appendicitis at the time, and was in severe pain throughout the gig — the true reason for his wailing and gyrating. ​
"It wasn't an act. I was really ill," Johnson added.