Seals And Crofts' Summer Breeze Appeared In A Movie You Would Not Expect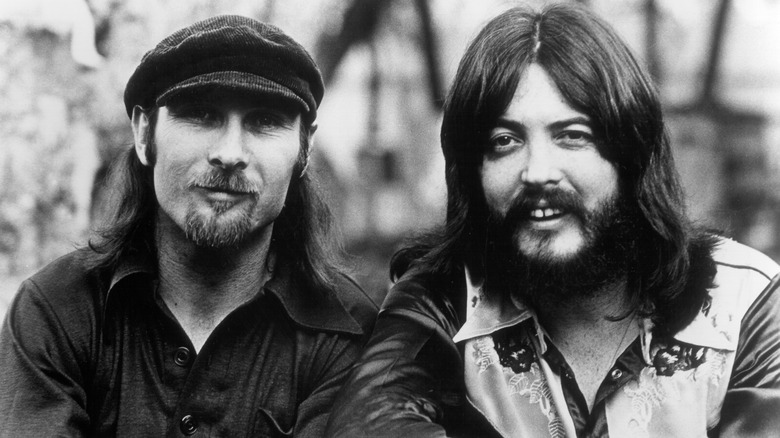 Michael Ochs Archives/Getty Images
For many, news of the death of musician Jim Seals from the yacht rock duo Seals & Crofts more than likely brought to mind the song "Summer Breeze," which is definitely among the group's most enduring hits. Seals was 80 years old when he died, and as of this report, no cause of death was given, per Variety. Written along with his songwriting partner, Darrell George "Dash" Crofts, "Summer Breeze" first appeared on the band's 1972 breakthrough album, also called "Summer Breeze" (via AllMusic).
The track's smooth harmonies, tight musicianship, and light subject matter typified the soft rock sound which Seals & Crofts would come to be known. In the early '90s, though, the song "Summer Breeze," which charted for Seals & Crofts, was covered in a style that couldn't be more different from the original by a group that few would expect to be fans of soft rock. The cover version also appeared on a movie soundtrack for a film with a far different tone than the music of those '70s hitmakers.
Type O Negative covered Summer Breeze in 1993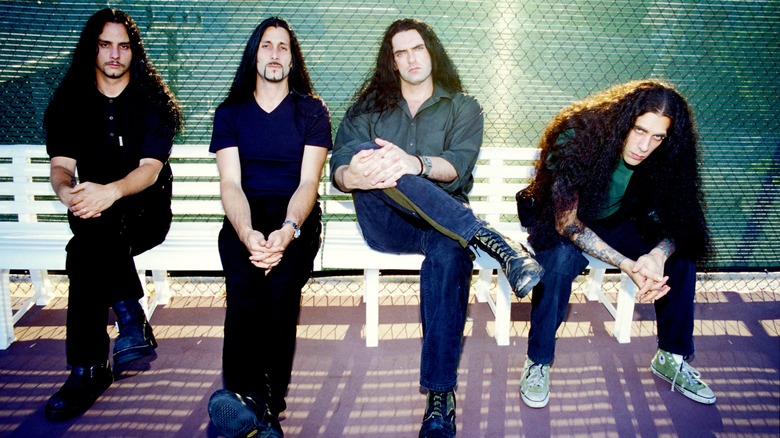 Jim Steinfeldt/Getty Images
The band that covered the Seals & Crofts soft rock anthem "Summer Breeze" was none other than heavy industrial band Type O Negative, and the song appeared in 1993 on one of Type O Negative's most successful releases, "Bloody Kisses," as AllMusic explains. Suiting Type O Negative's much darker sound, original lyrics mentioning "little music" were at first changed by Type O Negative singer Peter Steele to "devil music," among several other examples, which gave the music a much harder edge, as Revolver reports.
Recalling the unusual cover, Monte Conner, an A&R man for Roadrunner Records on which the Type O Negative version was released, said that Seals & Crofts were not pleased with the revised words and did not grant their permission to release the cover. At that point, Type O Negative recorded a more standardized take that would end up on their album. The official version of Type O Negative's cover is available to stream now on YouTube. The banned version can also now be heard on YouTube.
Type O Negative's 'Summer Breeze' appeared on a horror movie soundtrack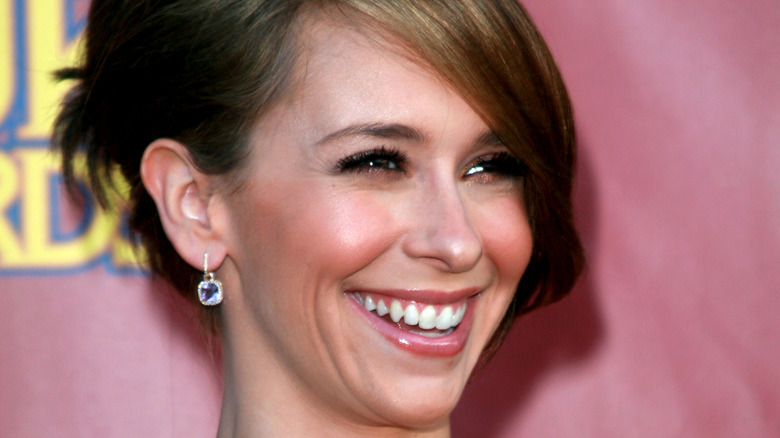 Tina Gill/Shutterstock
Some four years or so after Type O Negative's cover of Seals & Crofts' "Summer Breeze" was released on their album "Bloody Kisses," that much more sinister version found its way to the soundtrack of "I Know What You Did Last Summer," a blockbuster horror film released in 1997 starring Jennifer Love Hewitt (pictured) and Sarah Michelle Gellar, among others. The movie, following a group of friends as they try to escape a killer armed with a hook, was also a significant departure from Seals & Crofts' laid-back persona.
In terms of the song's two different versions, it's a close call as far as which one will be most remembered, although Seals & Crofts' rendition is unlikely to be displaced in the minds of music fans anytime soon. The album "Summer Breeze," on which the song first appeared, sold 2 million copies alone, as Rolling Stone notes. The duo's 1974 "Greatest Hits," on which the tune also appeared, went on to match that number. For their part, Type O Negative's "Bloody Kisses" moved roughly 1 million units, as Louder Sound notes, not to mention the additional copies sold of the soundtrack, which was ranked by Buzzfeed among the best soundtracks of the era. For this reason, which version of "Summer Breeze" you prefer might just come down to your generation.