Disturbing Details Found In Mary Lou Arruda's Autopsy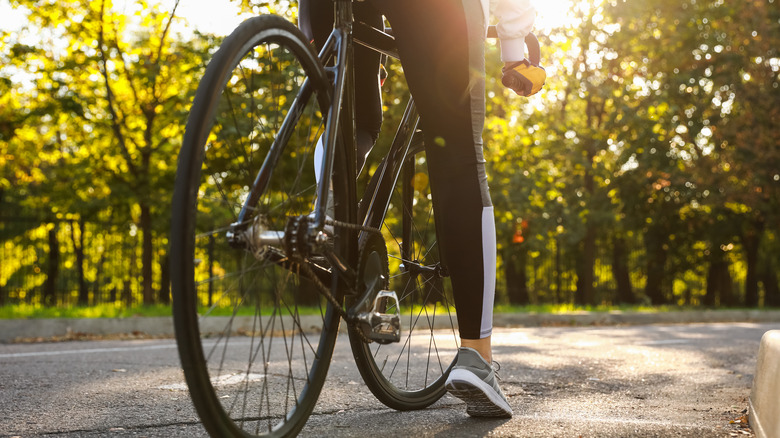 Pixel-Shot/Shutterstock
Born and raised in Raynham, Massachusetts, The Cinemaholic writes that Mary Lou Arruda was a high school student and a beloved friend and daughter. On September 8, 1978, the 15-year-old decided to go on a bike ride around her neighborhood. When she didn't make it back home, her alarmed parents called the police. Immediately, an intense search began for the teen but she was nowhere to be found; it was as if she had vanished without a trace. Shortly after, Arruda's bike was found on the side of the road (per Find a Grave).
According to FindLaw, the bicycle led authorities to several clues. It became clear that Arruda had been abducted. There were tire and acceleration marks near the road where the bike was found. Furthermore, there was also a Benson & Hedges cigarette close by. Witnesses later revealed they had seen a distinct green vehicle with stripes in the area around the same time Arruda had gone missing. They were able to provide the police with a sketch of the suspect. Within days of Arruda's disappearance, the sketch was released and police had a name; James Kater (via Find a Grave).
Kater had an uncanny resemblance to the sketch and also drove a green car. Per FindLaw, he did not have a solid alibi for the day Arruda went missing. Moreover, he had left the country in the days after her disappearance. Kater also smoked Benson & Hedges cigarettes. Two months after her disappearance, on November 11, Find a Grave reports that Arruda's remains were found in the Freetown State Forest.
Mary Lou Arruda died the same day she went missing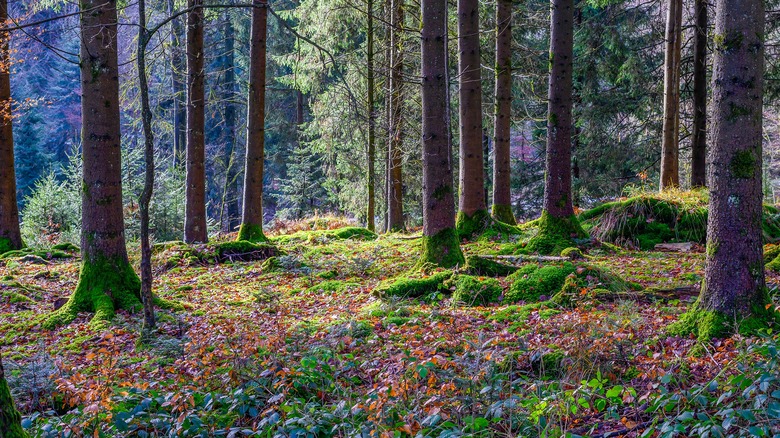 Dmitry Demkin/Shutterstock
Arruda was fully clothed and tied to a tree when her badly decomposed remains were discovered two months after her disappearance, per FindLaw. An autopsy revealed that she had either died from strangulation or asphyxia. In addition, it was uncovered that Arruda was alive when she was tied to the tree and that she had died the same day she had been abducted. Medical examiners believe that she died when she became unconscious from a ligature around her neck. Ultimately, this caused her to suffocate.
According to The Cinemaholic, authorities zeroed in on Kater. Although he claimed he was innocent, the evidence said otherwise. Besides his shaky alibi, the cigarettes, and the green car, the police were able to determine that his car's tire marks matched the ones found next to Arruda's bike. Moreover, there was a mark on the car that police theorized had resulted from Kater bumping into Arruda's bike. Perhaps the most damning indication that Kater had murdered Arruda was a previous crime he had committed. In June 1968, Kater abducted Jacalyn Bussiere, a 13-year-old from North Andover (via FindLaw).
Like Arruda, Bussiere was riding her bike in her neighborhood when she was approached by Kater. FindLaw explains that Kater grabbed the girl and drove her to the forest. Once there, she fought back and Kater tied her to a tree and attempted to strangle her. However, Bussiere did not die; she woke up and sought help.
James Kater's had multiple trials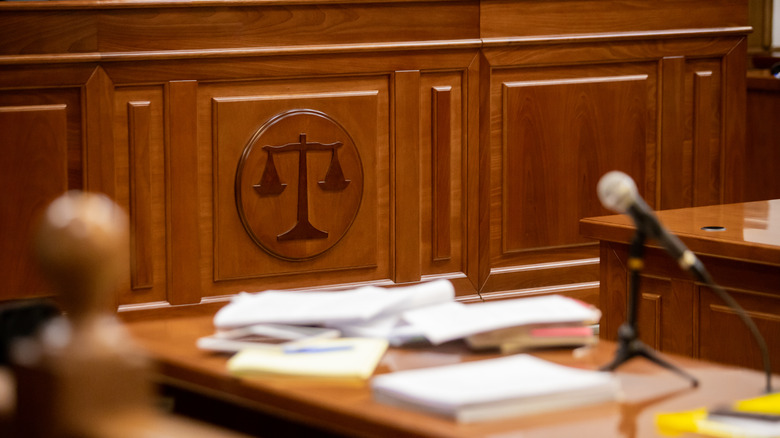 Salivanchuk Semen/Shutterstock
In 1968, FindLaw writes that Kater pled guilty to abducting and assaulting Bussiere. He was subsequently sent to prison. According to Find a Grave, he was released in January 1976. Despite the atrocious similarities between Bussiere's attack and Arruda's murder, Kater maintained that he was not involved in Arruda's death. Nonetheless, he was charged with her murder soon after (per The Cinemaholic). Although he pled not guilty, Justia Law states that Kater was convicted of first-degree murder and abduction in 1979. However, he appealed this decision and was given a retrial. In 1986, he was once again found guilty.
The Cinemaholic reports that Kater's conviction was overturned again on claims that some of the testifying witnesses had been hypnotized. Kater asserted that this had meant that he was not given a fair trial (via FindLaw). 1992, his third trial began. Per Justia Law, it ended in a mistrial. In October 1996, Kater's fourth and final trial began. He was ultimately found guilty of kidnapping and murder in the first degree. Kater was sentenced to life in prison without the possibility of parole.
According to WCVB, James Kater died on January 26, 2016, from cancer. Upon his death, residents from Raynham admitted that they were still haunted by Arruda's senseless death. Others said they felt relief that he was now gone (via Wicked Local). Arruda's mother, Joanne stated that "A bullet would have done the trick" and added that "He was a piece of scum."