John Cena's WWE Debut Happened At The Last Minute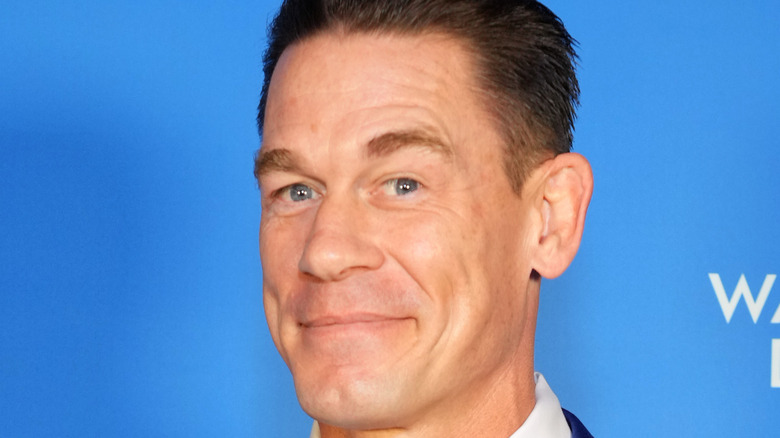 Kevin Mazur/Getty Images
When most people think of the WWE (which is an acronym for World Wrestling Entertainment), the first thing that may come to mind is the fact that WWE wrestling matches are fake. They are staged for entertainment purposes only. However, famous faces have emerged and seen success outside of the ring, such as John Cena. Cena won 16 WWE world championship titles, which ties him with Ric Flair for most championships won. His rivalry with Dwayne "The Rock" Johnson was a notable aspect of his wrestling career as well. In a fashion similar to Johnson's post-WWE career, Cena has spent more time in acting and hosting, appearing in the ninth installment of the "Fast and Furious" saga, "The Suicide Squad," and hosting the TBS reboot of the reality competition show "Wipeout." 
Cena's entrance music and catchphrase "You can't see me!" remain legendary, particularly through the proliferation of memes that reference these trademarks. However, his WWE career did not begin in a straightforward manner.
John Cena's first WWE match was against Kurt Angle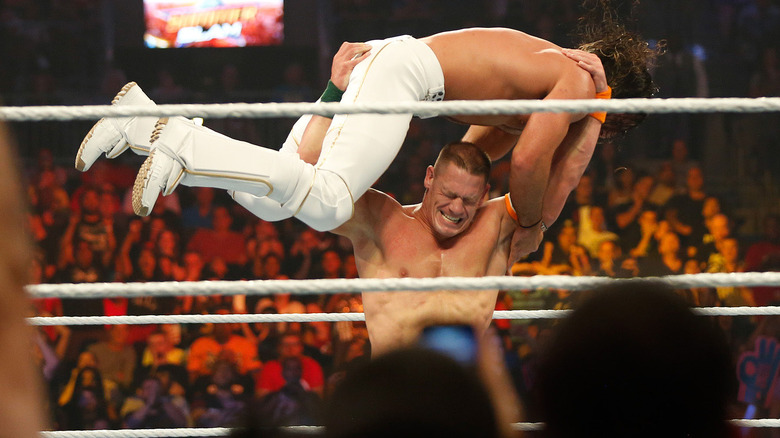 Jp Yim/Getty Images
John Cena's debut wrestling match in the WWE was not supposed to occur when it did, or against who he ended up wrestling. In 2002, Cena competed in his first match, wherein he went up against Kurt Angle. Angle was the gold medalist for wrestling at the Atlanta 1996 Olympic Games, despite competing with a broken neck. He went on to wrestle for the WWE in 2000. Angle sent out an open challenge on an episode of Smackdown, which Cena answered. Cena lost the match (if fake wrestling matches can actually have a true winner of loser), but the match gave insight into what was to come for his career in the WWE (per Atletifo). 
At Florida SuperCon in 2021 (posted on YouTube), Cena revealed that he was added to the show "because they had no other options." Cena explained that the reactions to his display of talent, even though he lost, were genuine. Other wrestlers backstage congratulated him on his debut, even Angle himself.
John Cena stars in the show Peacemaker
Bill Watters/Getty Images
Despite tying Ric Flair for most WWE championships and choosing to pursue more acting opportunities, John Cena might not be done with wrestling. As of January 2022, he stated that he has not retired from the scene, but he did not compete at WrestleMania in 2022 or 2021, an event at which Cena was a regular since his first appearance there in 2004. He was too busy filming for "Coyote vs. ACME" during 2022's WrestleMania (per SportzWiki). The film is about the Looney Toons character Wile E. Coyote's vendetta against ACME and is set to be released in 2023.
Cena's other 2022 projects include another season of the HBO series "Peacemaker," which may eventually include an appearance from Dwayne "The Rock" Johnson. He will also continue to cohost the reality game show "Wipeout." He has been busy off-screen as well. After splitting with fellow wrestler Nikki Bella — a relationship well-documented on her reality show "Total Bellas" — he married his wife Shay Shariatzadeh in October of 2020 (per Parade).