The Charlie Chaplin Shoe-Eating Scene That Landed Him In The Hospital
Born in London in 1889, Charlie Chaplin is remembered for his slapstick comedy and his awe-inspiring silent films (via Biography). At the age of 5, History reports, he made his stage debut when his mother, a singer, lost her voice in the midst of a performance. Chaplin was shoved on stage and finished the show. From there, his aspirations for stardom only grew. By 1907, PBS writes, Chaplin was touring the United States with a theater group. His work on a "Sherlock Holmes" production caught the attention of Mack Sennett, a film producer. Sennett gave Chaplin a studio contract and the rest, as they say, is history.
NPR states that in 1914 Chaplin debuted his iconic "Little Tramp" character in the film "Kid Auto Races at Venice." Known for being a likable and laughable personality who gets himself into odd situations, the character became a hit. Ultimately, it turned Chaplin into an international celebrity and a beloved figure. He subsequently made several renowned films, including "The Gold Rush" (per Biography). According to Sierra College, the film has been chosen as one of the American Film Institute's 100 greatest films ever made. Per the San Francisco Silent Film Festival, Chaplin himself stated that "This is the picture that I want to be remembered by."
The Gold Rush took 17 months to complete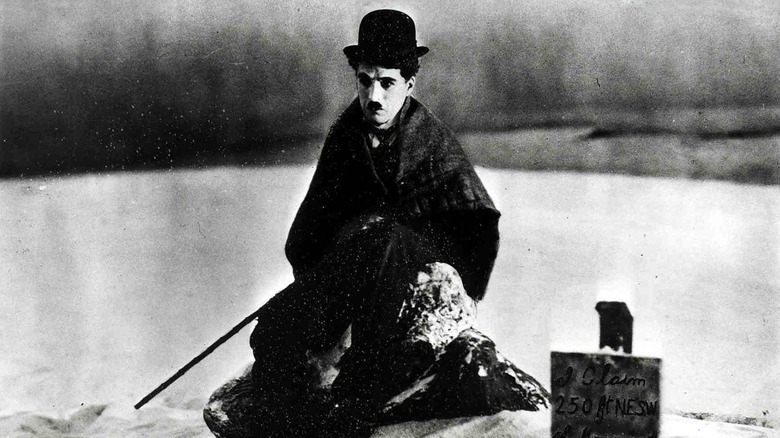 United Archives/Getty Images
Britannica explains that "The Gold Rush," released in 1925, centers on Chaplin's Little Tramp character as a gold miner. Set in the late 1800s, the lone prospector, as he's called, makes his way through Alaska while he encounters danger, starvation, and of course, love (per Smithsonian Magazine). According to the San Francisco Silent Film Festival, Chaplin was inspired to write the film when he saw photos of the Klondike Gold Rush at the home of fellow stars Mary Pickford and Douglas Fairbanks. Additionally, he was said to have been inspired by the Donner Party after reading a book about the incident.
Both of these moments in history led Chaplin to write a film that demonstrated the horrors that one sometimes endures on the road to success (per Sierra College). Nevertheless, he did it by using comedy and adding a happy ending. Filming "The Gold Rush," however, was grueling and expensive. Chaplin's love interest became pregnant and had to be replaced by another actress. Filming took place in rural Truckee, California, to provide authenticity.
In a time when films were finished in one month, The Donner Summit Historical Society writes that "The Gold Rush" took a year and a half to complete. All in all, it cost nearly $1 million and was considered to be one the most expensive films made in the silent-film era (via Smithsonian Magazine).
The shoe was made of licorice
United Archives/Getty Images
According to Biography, Chaplin was known to be a demanding perfectionist. Attention to detail, per PBS, was incredibly important to the actor and filmmaker. "The Gold Rush" displays just how dedicated Chaplin was to his craft. According to Smithsonian Magazine, he hired 600 extras to film a scene that involved climbing a mountain pass.There's also the iconic shoe-eating scene. In the film, the lone prospector decides to eat a boiled shoe (via The Criterion Collection). He shares the shoe with Big Jim McKay, played by Mack Swain (seen above).
The Donner Summit Historical Society explains that the prop was made of licorice by an English company. To get the scene just as he wanted, Chaplin did 63 takes in three days. This resulted in him being hospitalized for insulin shock. Chaplin was also forced to get his stomach pumped. Moreover, biographer David Robinson stated that both Chaplin and Swain suffered "inconvenient laxative effects" (via Mental Floss).
Besides this unfortunate incident, Sierra College reports that several crew members and actors became sick with the flu in the frigid mountain weather. Nevertheless, the hard work paid off. "The Gold Rush" premiered at the Egyptian Theater in Hollywood in June 1925. It was both a critical and financial success.