Where Are Humphrey Bogart's Ashes?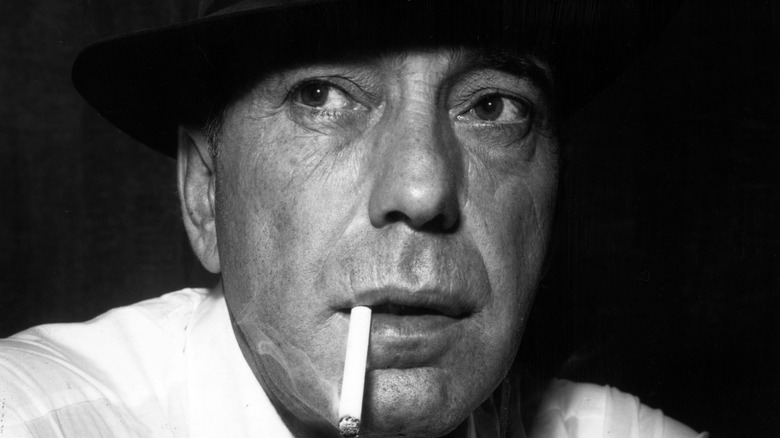 Mitchell/Getty Images
Listed as the American Film Institute's greatest male actor of all time, Humphrey Bogart was and is a Hollywood legend. With films like "Casablanca" and "To Have and Have Not," he cemented the notorious tough-guy persona that he is still revered for today (via Biography). Born in 1899 to a wealthy family in New York, Bogart was a lousy student who ended up in the Navy. Upon his discharge in 1919, he ventured into stage acting. His first role, per Bogart's Biography, was as a Japanese waiter. It was then that he knew that he wanted to act for the rest of his life.
According to Britannica, Bogart had a successful Broadway career before making the switch to the silver screen. Although his first films failed to make an impression, that would all change in 1935. That year, Bogart returned to Broadway and starred in "The Petrified Forest" as a deranged killer. This led him to reprise the role for the film adaptation of the play. 
Bogart's career took off, but with a price; he was typecast as a criminal. Tired of playing the same role in different films, he took a break from acting. When Bogart returned to the screen in the early 1940s, he starred in "The Maltese Falcon" and "Casablanca" (per Biography). Both of these films made him an icon and a leading man.
Humphrey Bogart's battle with cancer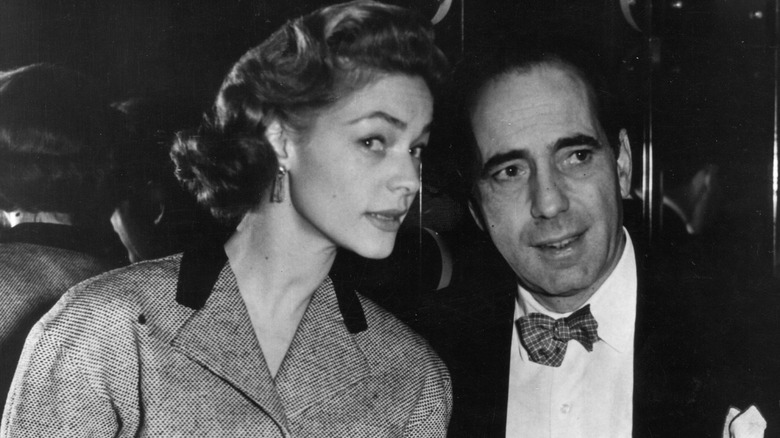 Victor Drees/Getty Images
Britannica writes that the success of these films led him to be cast in "The Big Sleep," "Key Largo," and many more, and he earned an Academy Award for best actor for his performance in "The African Queen." In 1944, Bogart's Biography writes that he met actress Lauren Bacall on the set of "To Have and Have Not." Although they had a 25-year age gap (via HuffPost), the pair fell head over heels for one another. Per Biography, Bogart was married four times. After he divorced his third wife, Mayo Methot, he subsequently married Bacall. They later had two children, Stephen and Leslie.
In 1956, Bogart was in the prime of his career when he was diagnosed with esophageal cancer (via Biography). The Oral Cancer Foundation cites years of chain smoking as the cause of the disease. According to The Week, Bacall later recounted Bogart's diagnoses and treatment in her 1985 memoir "By Myself." Despite having a cough and throat pain, he was hesitant to visit a doctor. Once he did, they discovered a cancerous growth in his esophagus.
Bogart proceeded to have an excruciating nine-hour surgery that left his young wife in shock. Bacall later wrote that "he looked so unlike Bogie — still mercifully unconscious ... enclosed in another world, protected not by me, but by those raised bedsides, with those bottles and tubes sustaining life" (via The Week).
Bogart's final resting place is an iconic Los Angeles cemetery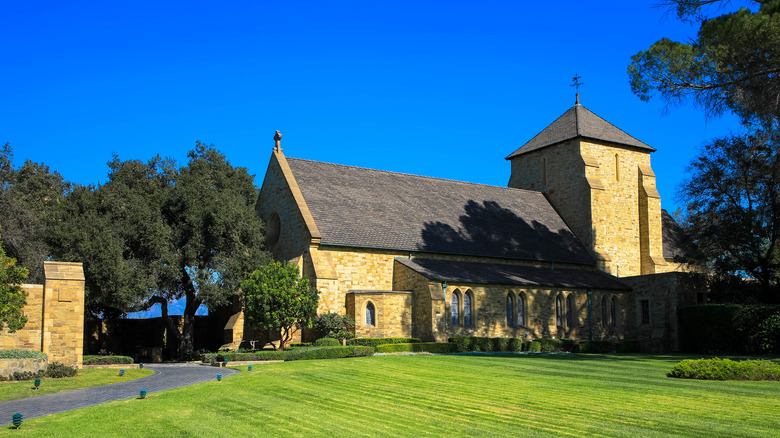 U. Eisenlohr/Shutterstock
The Week reports that cancer quickly deteriorated Bogart's body. Friends were mortified to see how ill and thin he had become. According to a 1957 article from The Desert Sun, his weight plummeted from 160 pounds to 125. Bacall wrote in "By Myself" that one friend audibly "gasped" when she saw Bogart. Per The Oral Cancer Foundation, he seemed to be doing well after his surgery but quickly went downhill. It's noted that doctors knew that he likely wasn't going to survive. Bogart suffered complications from the scar tissue in his throat and the cancer later spread throughout his body.
Humphrey Bogart, then 56, died on January 14, 1957 (via Biography). According to Bogart's Biography, the actor requested he be cremated. Bacall held a memorial service days later at All Saints' Episcopal Church in Beverly Hills. A 1981 article from Sports Illustrated explains that Bogart owned a boat called the Santana. He loved it so much that he named his production company after the boat.
As he was cremated, Bacall placed a glass model of Santana where the casket would have been at his memorial. Per Find a Grave, Bogart's ashes were then placed in a niche in a columbarium at Forest Lawn Memorial Park (seen above) in Glendale, California. When Bacall died in 2014, her remains were also placed in a niche at the same cemetery. Other notable burials at Forest Lawn include Walt Disney, Clark Gable, Jean Harlow, and many more (per Curbed Los Angeles).