A Lost Wedding Ring And How It Was Found Wrapped Around A Carrot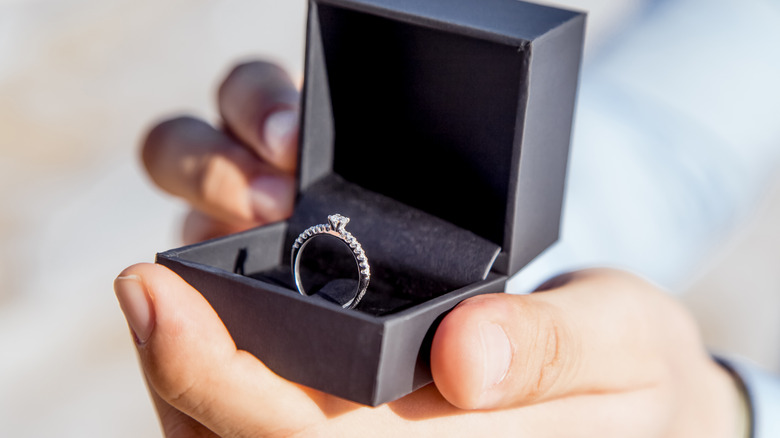 Irina Montero/Shutterstock
Engagement rings and wedding rings can be very pricey indeed. According to Hello!, in 1956, Grace Kelly was given an exquisite ring by her husband-to-be: a Cartier ring worth a remarkable $4 million.
Naturally, this is an outlier. The iconic Kelly was marrying Monaco's Prince Rainier III, after all, and no expense was spared. For those of us who aren't royalty and/or Hollywood royalty, that kind of extravagance is just a little out of reach. The Wedding Report states that in 2021, the average cost of an entire wedding in the United States was $27,063.
With the ceremony, as with the ring itself, it's about so much more than just the money spent. It's the occasion, the commitment, the bond. Wedding rings, for millions around the world, symbolize all of this, and have just as much sentimental worth as they do material. The loss of such a ring, then, can be utterly devastating. In one peculiar case, it seems that a lost engagement ring returned to a delighted wife, after a humble carrot saved the day.
Grown underground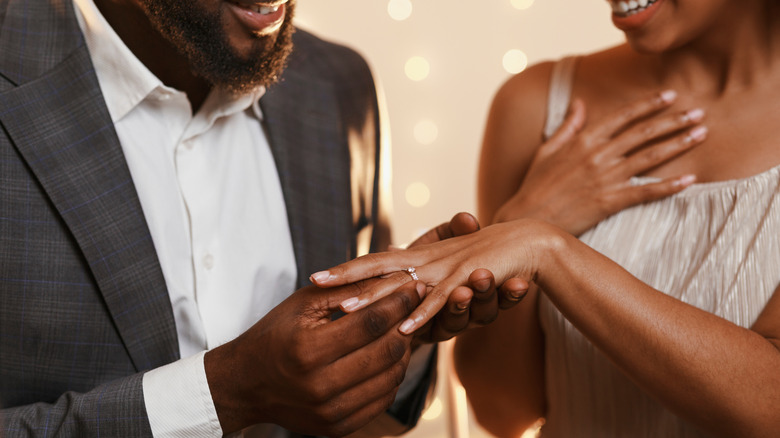 Prostock-studio/Shutterstock
When insurance company Protect Your Bubble sold jewelry insurance, it collected some intriguing data about spouses' ring-losing habits. According to the company's findings (via North-West Brides), over five years, 11% of couples in the United Kingdom lost an engagement or wedding ring. 27% of the incidents reportedly happened when the ring fell off, while 29% happened when the spouse simply removed the ring and forgot where they put it. In the case of one Canadian woman, it seems that a combination of these two factors, along with an heroic carrot, came into play.
In August of 2017, BBC News shared the remarkable story. Mary Grams of Alberta had been wearing a replacement ring for some time, having lost the original while tending to her garden back in 2004. Grams would, more than likely, have worn the other for the rest of her life, but nature works in mysterious ways.
CNN reports that in 2017, Grams' daughter-in-law (who lived in the same house Grams once did, per BBC News) discovered the original engagement ring. Not with the help of kindly social media users, but in an unconventional fashion: It was on a carrot. The ring, by incredible chance, seemed to have come to rest in the soil in just the right place. The blinged-out carrot, which was surely the envy of all its root vegetable friends, developed in such a way that it went on to wear the ring like a great orange finger by the time it emerged.
Carrots have so many superpowers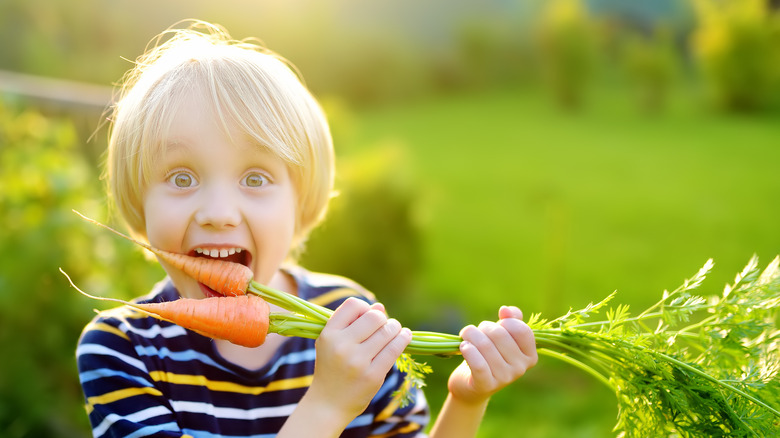 Maria Sbytova/Shutterstock
Sadly, Mary Grams' husband would never know that the ring was found. CNN goes on to report that, when it was discovered in these extraordinary circumstances, he had died five years previously. The consolation, however, was that he didn't know it was ever lost in the first place.
Even more surprisingly, this wasn't the first time that an enterprising carrot recovered a very valuable ring from under the ground. In 2011, Lena Paahlsson told Swedish newspaper Dagens Nyheter (via BBC News) that she had lost her beautiful diamond-encrusted wedding ring in her kitchen in 1995. Once again, it seemed to have been lost forever when she found it around a dug-up carrot, this time after 16 years.
For the couple, per BBC News, the only plausible explanation was that the ring became buried among some food scraps on their farm and gradually worked its way into the soil from there.
People have long exhorted the virtues of carrots. Per Healthline, they are rich in beta carotene, can help reduce cholesterol, and contain lots of antioxidants. Apparently, saving our jewelry is just another of their virtues.