Napoleon's Engagement Ring Holds One Of The Most Famous Sapphires Of All Time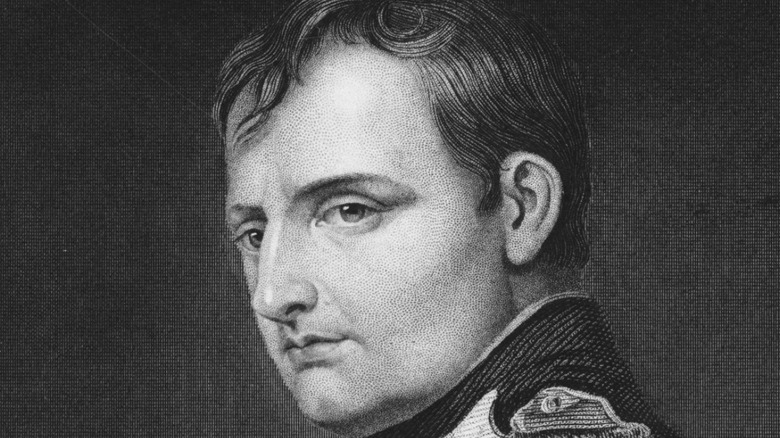 Hulton Archive/Getty Images
You all know how the story is "supposed" to go according to the fairy tales. Boy meets girl. Girl meets boy. They fall in love. Boy proposes. Girl says yes. They get married and ride off into the sunset together to live happily ever after. The end. In theory, this sounds like a dream to some folks, including one of history's most vilified figures, Napoleon Bonaparte. Everyone needs a little love, right? Even when they are trying to take over the world and stuff.
According to The Court Jeweller, Napoleon Bonaparte met Josephine de Beauharnais in 1795, when he was actually engaged to another woman. Miss Beauharnais also was not exactly single, as she was having an affair with another man, despite being widowed with two children. She was also six years his senior, but none of those factors or societal objections were going to keep them from being together.
A million-dollar ring
The couple fell in love, and Bonaparte quickly proposed with a lovely ring. According to Forbes, the ring consists of a gold band and features two pear-shaped stones, one diamond and one sapphire. Each stone weighs about one carat. Though the ring design is pretty, it was actually a fairly common ring for the time (via DSF Antique Jewelry). Because of this, when the ring was put up for auction in France in 2013, it was expected to sell for somewhere between $13,000 and $20,000. However, because this sapphire was owned exclusively by Napoleon's wife Josephine, and then passed down directly through the Bonaparte family line, it went for more than 47 times what it had been appraised at and was sold for a whopping $950,000. The auction for this historical jewel also took place on what would have been Josephine Beauharnais' 250th birthday (per The Court Jeweller).
Though bidders recognized the historical significance of this piece, the marriage that was associated with it turned out not to be the stuff of romance novels. The couple did marry on March 9, 1796, but it was only a couple of days before the newlyweds were forced apart when Bonaparte rode off to invade Italy. The distance strained their relationship and both were unfaithful, but things didn't completely implode until after Bonaparte became emperor. Due to his wife failing to produce an heir, Bonaparte cut his losses and divorced Beauharnais in 1810. So, unfortunately, this whirlwind romance didn't have such a happy ending.