The Story Behind How John Barrymore's Body Was Used In A Disturbing Prank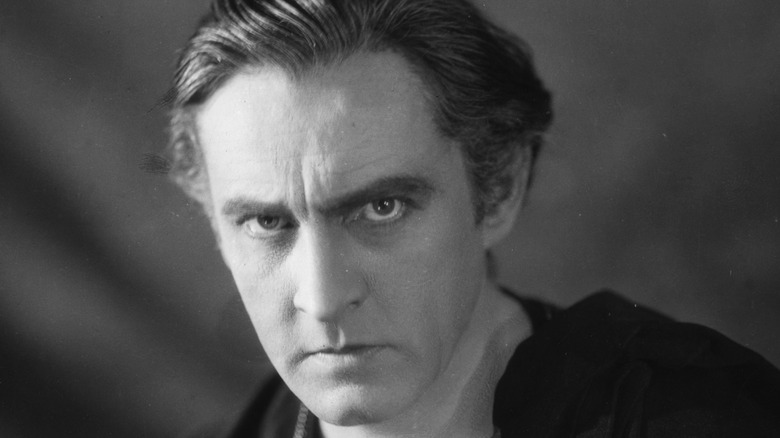 Sasha/Getty Images
Born in 1882 to a renowned family of performers, TCM writes that John Barrymore was once known as "The Great Profile." Per Britannica, he made his professional stage debut in 1903. By the 1910s, Barrymore was starring in silent films and later transitioned into talkies. As Hollywood's Golden Age explains, he had the whole package. Barrymore was attractive and could take on various genres, including comedy and drama. Some of his most significant works include "Dr. Jekyll and Mr. Hyde" and "Dinner at Eight." However, NJ points out that Barrymore was also known for his life of debauchery.
By 1925, Barrymore had ended his stage career to solely focus on film and subsequently moved to Hollywood. According to the 2008 book, Hollywood's Original Rat Pack: The Bards of Bundy Drive, Barrymore eventually became a part of a group known as the Bundy Drive Boys (via Rowman & Littlefield). Besides Barrymore, the group consisted of actors Errol Flynn and W.C. Fields, Journalist Gene Fowler, and art critic Sadakichi Hartmann. The ringleader of the group was artist John Decker (per The Los Angeles Times).
The pack was nicknamed the Bundy Drive Boys as a reference to Decker's Los Angeles home. Here, the "boys" drank and pursued a hedonistic lifestyle. By 1937, however, Barrymore's once thriving career was dwindling as he continued to excessively drink (via NJ). Britannica states that on May 29, 1942, 60-year-old John Barrymore died. Mental Floss reports that upon his death, some of Barrymore's companions snuck his body outside of the morgue as a final prank. However, accounts vary on what actually happened.
Different theories surround the prank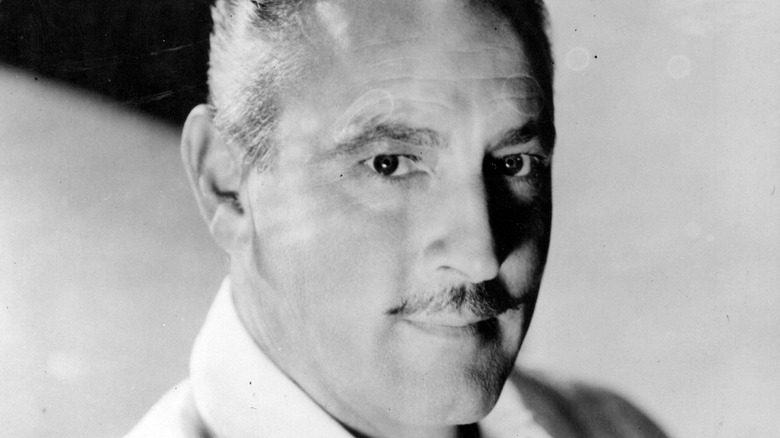 Hulton Archive/Getty Images
As Mental Floss explains, some of Barrymore's close friends have attested that his body did in-fact leave the morgue. Others, however, have stated that it's a complete fabrication. In his 1959 autobiography "My Wicked, Wicked Ways," Flynn recounted that director Raoul Walsh bribed the undertaker with $200 to allow him to take Barrymore's body under the guise that his devastated aunt wanted to say goodbye. Instead, Walsh took the body to Flynn's house and propped him in a chair as a prank. Flynn walked in, encountered the corpse, and lost it. As he put it, "I let out a delirious scream."
In an excerpt from his autobiography "Each Man in His Time" (via The Grove Book of Hollywood), Walsh has a similar story. He explained that the undertaker, whom he knew, allowed him to take Barrymore's body as long as he brought it back within an hour. Walsh agreed and took the body to Flynn's home where he placed it on a couch to prank Flynn. He screamed and with a successful last prank, Walsh promptly took the body back to the mortuary. However, Will Fowler, Gene Fowler's son, later wrote that they had been with Barrymore's body all night and that no such thing ever happened.
That being said, Gregory William Mank, author of Hollywood's Hellfire Club: The Misadventures of John Barrymore, W.C. Fields, Errol Flynn and the Bundy Drive Boys told Mental Floss that he believes the Fowlers. He added that Flynn and Walsh conspired to manufacture what he described as a "morbid tale."
Drew Barrymore confirmed the rumor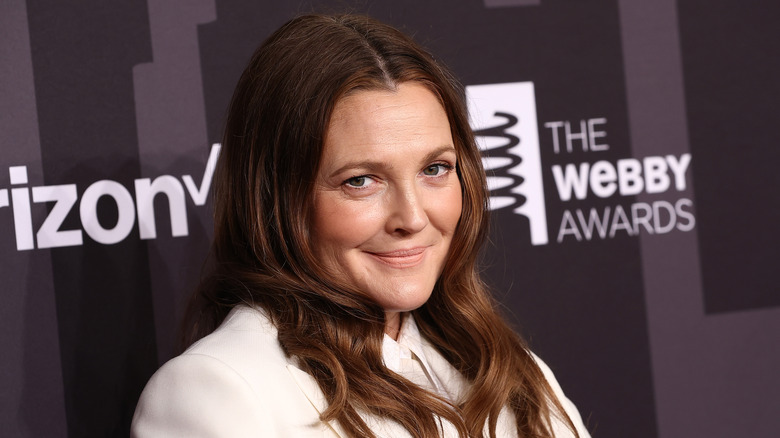 Arturo Holmes/Getty Images
Mank explained to Mental Floss why Flynn and the Bundy Drive boys may have made up this narrative. As he put it "The 'We once stole Barrymore's body for one final party' story was one of their ways of laughing at their own misery." Mank added that the Bundy Drive boys had similar chaotic lives and were coming to terms that they had "...squandered their remarkable talent." Simply put, they had nothing to lose by concocting this tale. If anything, it only added to their status as Hollywood Legends.
In 2020, actress Drew Barrymore, Barrymore's granddaughter, partly corroborated the story (via the New York Daily News). In an interview on the YouTube series "Hot Ones," host Sean Evans asked, "Is it true that your grandfather's body was stolen from the morgue by WC Fields, Errol Flynn and Sadakichi Hartmann so that they could prop him up against a poker table and throw one last party with the guy?"
Drew replied "Not only yes, but there have been cinematic interpretations of that." She went on to explain that the incident inspired the 1981 film S.O.B and may have possibly even inspired "Weekend at Bernies." Drew, however, never mentioned Walsh's prank. She did note that when she dies "I hope my friends do the same for me" (per Vanity Fair).