What Did Early Juneteenth Celebrations Look Like?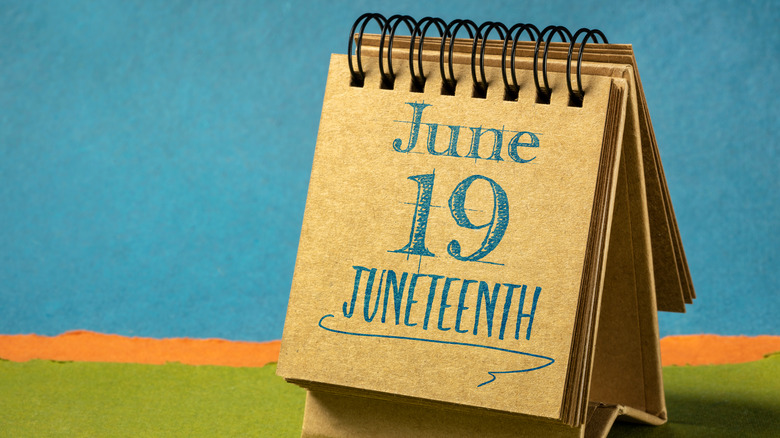 marekuliasz/Shutterstock
On June 19, 1865, Smithsonian Magazine writes that Gordon Granger, a Union general, made his way into Galveston, Texas, to deliver significant news. According to NPR, he told the townspeople that the Civil War was finally over and that the Union had won. Most importantly, Granger explained that slavery had been abolished; the enslaved peoples of Texas were now free. As History explains, the war had actually ended in the spring. Additionally, President Abraham Lincoln had signed the Emancipation Proclamation long before, in 1863. In it, he decreed that enslaved people in Confederate states "shall be then, thenceforward, and forever free." 
However, The Public Domain Review states that this was far from the truth. Due to the longevity of the war, the order failed to be authorized in several states, including Texas. Texas had seen very few battles and did not have a large Union army presence. As a result, several owners of enslaved people fled to the state. Good Housekeeping reports that even when the 13th Amendment (which officially abolished slavery in 1865) was passed, most enslaved people were in the dark about the news until Granger arrived in Galveston. 
Granger stayed in the city for six weeks to ensure that the newly emancipated people would be hired, if they pleased, as their former owner's employees (per Good Housekeeping). Even so, many decided to leave behind the plantations to start a new life and celebrate their newfound freedom. One former enslaved person, Felix Haywood, stated, "Everybody went wild. We all felt like heroes ... just like that, we were free "(via NPR).
Juneteenth was first called Jubilee Day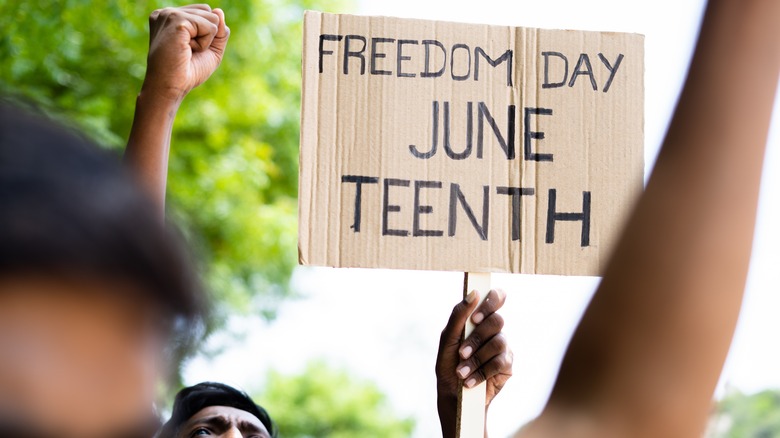 WESTOCK PRODUCTIONS/Shutterstock
According to Good Housekeeping, former enslaved people began to celebrate Juneteenth in 1866. The holiday, which NPR writes combines "June" and "nineteenth," commemorates the day that Granger arrived in Texas to spread the news that slavery had come to an end. That being said, The Public Domain Review states that it was first referred to as Jubilee Day. Early celebrations included barbecues, parades, prayer services, rodeos, ball games, horse riding, and much more. Per Smithsonian Magazine, the meals and drinks prepared on this day — such as a barbecued hog, watermelon, and strawberry soda — were based on traditional recipes from enslaved people. Additionally, many wore their best clothes in defiance of laws that had determined what enslaved people could and could not wear (via InStyle). Beyond this, the Texas State Historical Association reports that other early celebrations included educating former enslaved people about their voting rights and providing them with other political information. Fishing and street fairs were also common.
However, as NPR explains, former enslaved people were barraged with racism and bigotry by fellow white Texans. They often prohibited them from celebrating Juneteenth in public spaces. In response, Black communities joined together to buy public land. One such purchase was Emancipation Park in Houston, which still stands today. What followed was several African Americans purchasing parks around Texas for the purpose of celebrating Juneteenth.
Juneteenth officially became a federal holiday in 2021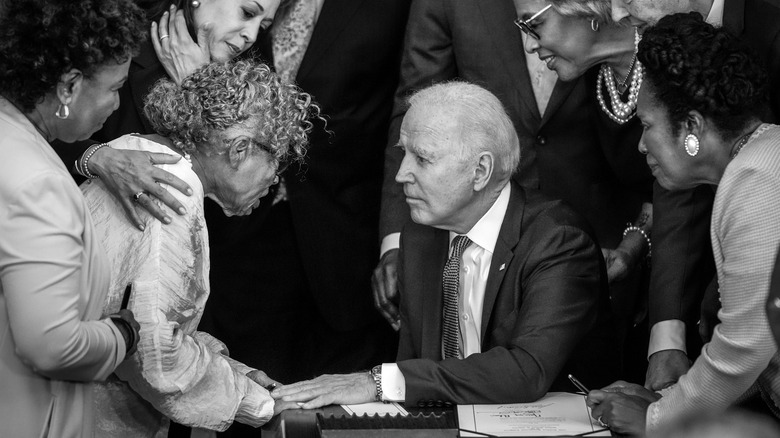 Drew Angerer/Getty Images
The Public Domain Review states that in the beginning, Juneteenth was strictly celebrated in Texas. But by the late 19th and early 20th centuries, the holiday had spread beyond the state. Smithsonian Magazine explains that this was due to the large exodus of former enslaved people into different parts of the South and, eventually, into the west. According to ThoughtCo, Juneteenth was then celebrated in states like Louisiana, Oklahoma, and California.
However, the holiday nearly fell into obscurity. While ThoughtCo faults Jim Crow laws, The Public Domain Review writes that the migration of African Americans to northern cities is to blame. Whatever the case, the holiday had a revival in the 1950s. Since then, its significance and popularity have slowly surged throughout the years. CNN reports that in 1980, Texas became the first state to recognize Juneteenth as an official celebration.
On June 17, 2021, President Joe Biden signed a bill that made Juneteenth a federal holiday (via NPR). Upon signing, he stated, "This day doesn't just celebrate the past. It calls for action today." Per ThoughtCo, present festivities for Juneteenth are not too different from those of the past — they often include music festivals, barbecues, and more. Nevertheless, Smithsonian Magazine notes that now, the emphasis is on ancestors and the bonds between families.