Why The Public Isn't Allowed Upstairs At Graceland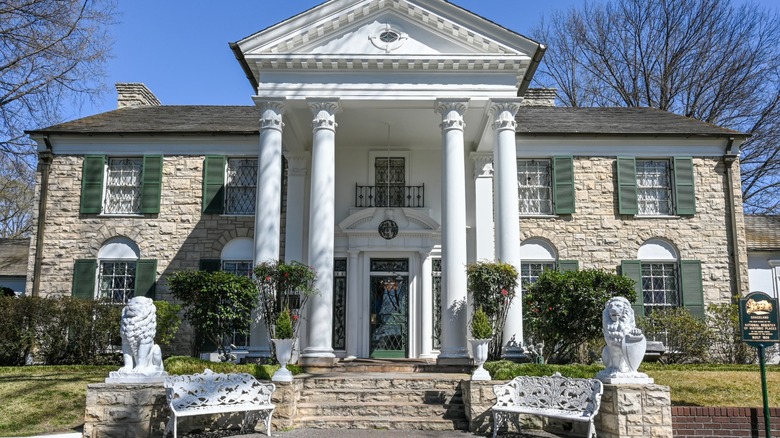 Rolf_52/Shutterstock
A must-stop for any tourist who passes through Memphis, Tennessee is Elvis Presley's famous abode, Graceland. According to Biography, as many as half a million people stop by Graceland each year, making it one of the most visited homes in the United States, second only to the White House. As Graceland's website notes, this Memphis attraction offers visitors a chance to join a group tour — or instead, take a tour on their own, guided by an iPad. Either way, visitors can take in the property, see the mansion itself (pictured), and they even have a chance check out Presley's prized fleet of cars. There's one part of Graceland that isn't part of any tour, though: the mansion's second floor.
Graceland is more than just where Presley lived, it's also where he's buried. According to People, after attempts to steal the King of Rock 'n' Roll's body as well as a number of vandalism issues from Presley's fans at Forest Hill Cemetery in Memphis, Presley's first resting place, the choice was made by Presley's father, Vernon, to move both Presley and his mom Gladys to Graceland. His father and his grandmother Minnie Mae Presley are now buried at Graceland, and there's even a monument to Presley's twin brother Jessie, who was stillborn. As of this writing, Presley's daughter Lisa Marie Presley is set to be buried at Graceland alongside her son, Benjamin Keough. There's clearly plenty to see at this monument to rock music history. But why is the second floor off-limits?
Elvis' history with Graceland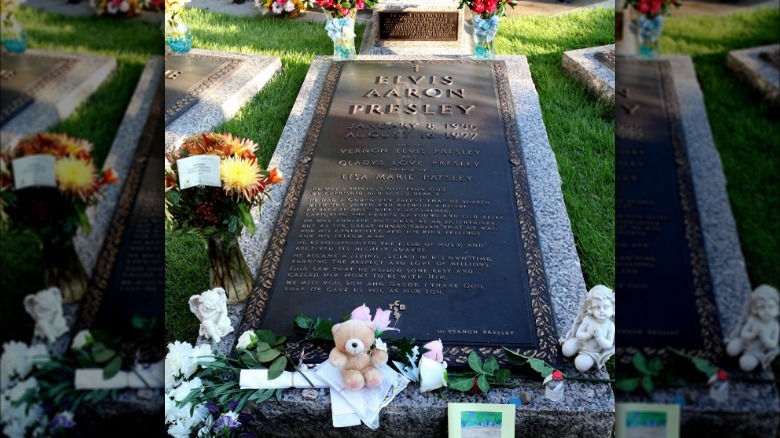 Raymond Boyd/Getty Images
Though Graceland is now synonymous with Presley, he wasn't the property's original owner, and — perhaps even more surprising — he didn't come up with the name, Graceland, either. The 14-acre estate was once part of a larger, 500-acre property owned by the S.E. Toof family, per the Graceland website. The mansion was built in 1939 and the property was named after one of the founding family members — no prize for guessing what her first name was.
The original owners of the house were Ruth Brown Moore and Dr. Thomas Moore. In their day, the Moore family was well known in Memphis, and while they're not Graceland's most famous residents, the trend of musicians calling Graceland home did start with them: Their daughter played harp in the Memphis Symphony Orchestra. Presley bought Graceland fairly early in his career in 1957 for around $102,000 (just under $1 million today), per Biography.
Leading up to the purchase, Presley enjoyed a successful year making numerous television appearances with strong record sales. When he put pen to paper on buying Graceland, he planned to jump to film. Production on his second movie, "Loving You," was underway. During Presley's lifetime, he expanded the mansion from the original 10,000 square feet when he bought it to around 17,000 square feet. While still the King's private residence, it hosted countless friends and family members, who sometimes stayed outside the mansion in other accommodations on the property. Presley's private space was on the second floor.
Graceland's second floor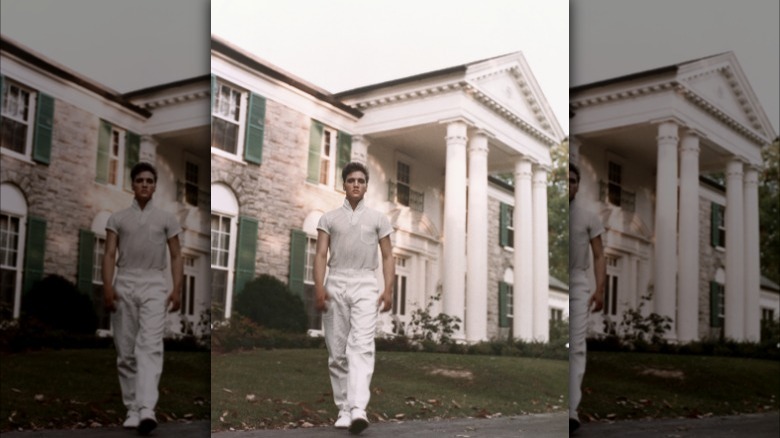 Michael Ochs Archives/Getty Images
A few years after Presley's 1977 death at the age of 42 from cardiac arrest with drug use a possible contributing factor, Graceland opened its doors to the public — at least most of them. According to People, ever since the first tour groups went through Graceland in 1982, one section of the house has been entirely behind lock and key, even for presidents and visiting high-ranking foreign officials. The reason being, Graceland's second floor is where Presley's master suite is located and even during his lifetime, it was a restricted area. This was one of the few places where the incredibly famous singer could get some privacy, and only those closest to him were permitted to enter.
One other factor: Presley died in the bathroom off the master suite, and that's a major reason why no one — outside of ex-wife Priscilla, his daughter Lisa Marie, and the property curator — is allowed up there. Rumor has it that the interior of the space remains unchanged from the moment Presley took his last breath. The concern is that visitors would become more occupied by the bathroom where Presley was found dead than they would be with celebrating the singer's life. While just about everyone who has ever asked to go upstairs has been turned away, one big Elvis fan was granted permission. Nicolas Cage was once married to Lisa Marie and during their marriage, Cage — who according to Express, has named Presley as one of his heroes — was allowed to check out the King's private refuge.