We've Been Completely Fooled About Elvis' Hair This Whole Time
So many of us envy the fame, fortune and global adoration that comes with celebrity status. We get glimpses into the homes of sports stars, acclaimed musicians, and Hollywood legends, and we think, "heck, I wouldn't mind having swimming pools, a private jet, and a garage full of priceless cars." The fact of the matter is, though, all of this comes at a cost. Not just in terms of expenditure out of an astronomical salary, but a far more important cost. Becoming famous changes so many people, and leaves every aspect of their lives (professional and personal) seemingly open for scrutiny.
Everything about Elvis Presley, from his hair to his ostentatious outfits, has been imitated by tribute acts for decades. The first such act, according to Stanley Oberst and Lori Torrance's "Elvis In Texas: The Undiscovered King 1954-1958," was Carl Nelson, known as "Cheesie," who performed "Roll With Me Henry" as a duet with the man himself at Texarkana Memorial Auditorium in December of 1954. 
Today, it's difficult to picture either Elvis or his legions of imitators without his shock of dark hair. Surprisingly, though, that hair held a not-so-dark secret.
Elvis Presley dyed his hair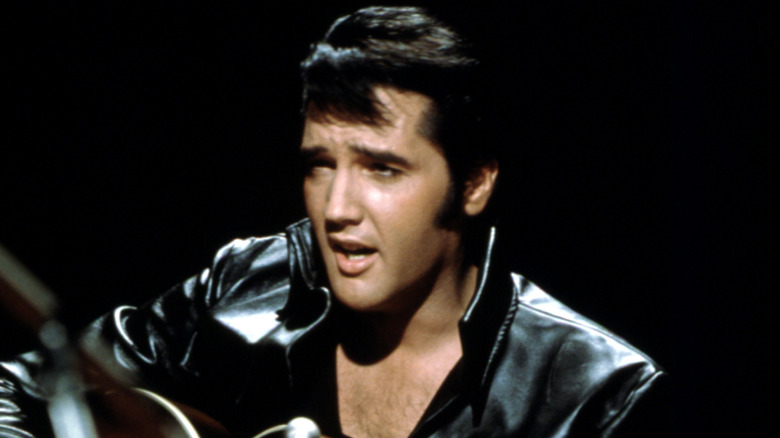 Michael Ochs Archives/Getty Images
Elvis' celebrated music career led into a long string of movies. Britannica reports that they were often simply ways to get his music out there via another medium, but the cachet of Elvis' name was enough to ensure they were successful regardless.
Whether on television, the big screen, or in person at one of his packed-out shows, there was just no getting away from the King in his prime. His face was everywhere (as were his infamous hips). There's one thing about his iconic look that many didn't know, however, and perhaps still don't: His hair wasn't naturally black at all. Those movies of his, it seems, were part of the reason why he dyed his hair.
As Express reports, Elvis Week in August 2021 saw an intriguing little insight shared during a virtual tour of Graceland. Angie Marchese, who manages the archives of the legendary mansion, pointed out a very special photograph of Elvis, which hangs a little further inside the entrance. "This picture was actually done in Texas when Elvis was in the army," Marchese said, going on to explain why the star looks so different in this particular shot: "Elvis was born blonde-haired, blue-eyed. He dyed his hair black as he thought it brought out his facial features better on film."
He kept his hair black for much of the rest of his life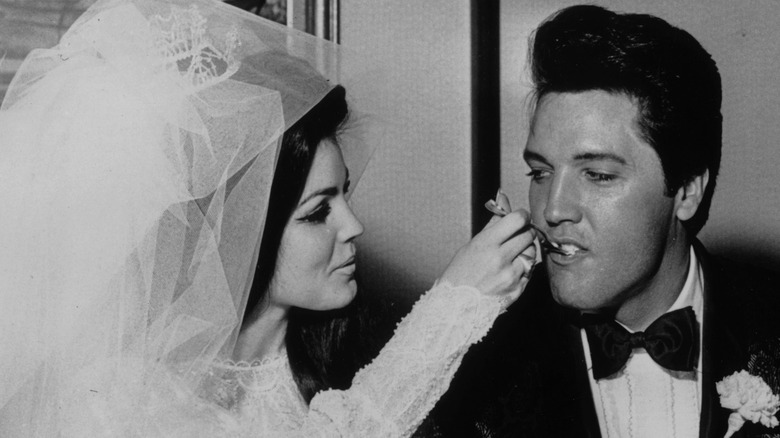 Keystone/Getty Images
According to HMV, Elvis' hair was naturally blond, and remained so throughout his childhood. It had darkened somewhat by the time he approached the age of 20, but by this time, he had already begun to help it along. Country Music Family reports that, prior to his fame, he had only boot polish on hand with which to achieve the jet-black look. When he hit the big time, he reportedly used a combination of the Paramount shades Mink Brown and Black Velvet, along with Miss Clairol 51D.
In 2020, ex-girlfriend Linda Thompson discussed the ruse that was the King's hair. Asked whether he used any special products to achieve his famed early style, Thompson said, per Reel Talker on YouTube, "Not really. Hairspray ... he used hairspray. And hair dye. You know, he was more of a natural blond, dirty blond ... he dyed his hair black ... for drama."
Elvis' life certainly wasn't lacking in drama, so if Thompson is correct, mission accomplished. Whether for the sake of his constant appearances on camera or anything else, he certainly committed to a life of dark hair. As the Daily Mail reports, former wife Priscilla told "This Morning" during a 2015 interview, "He did want me to dye my hair black when I was young so we could lookalike a little bit."