The Accidental Way Lauren Bacall Invented The Look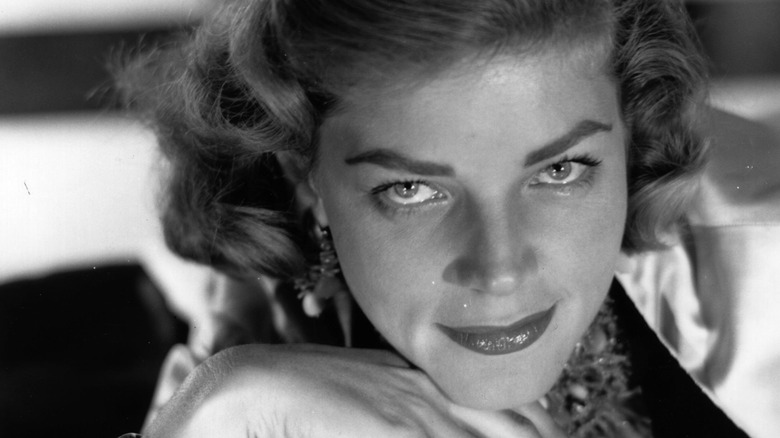 Baron/Getty Images
The classic Hollywood screen idol Lauren Bacall was known for her smoky voice and legendary love affair with Humphrey Bogart. She was also famous for "The Look," a sultry gaze with a lowered head and eyes looking up. It became her signature, along with her untweezed arching eyebrows, witty, staccato delivery, pursed lips, and wavy, dirty-blond hair.
She was born Betty Joan Perske in New York City in 1924, according to the Los Angeles Times, and got her start as a model. A year before she would make "The Look" a thing, she was featured on the March 1943 cover of Harper's Bazaar, according to that magazine, and would soon grace the silver screen after being discovered by the Hollywood director Howard Hawks. The filmmaker paired her with Bogart in 1944's "To Have and Have Not." The film marked the birth of "The Look" and the beginning of her affair with her then-married costar.
It Was All About Nerves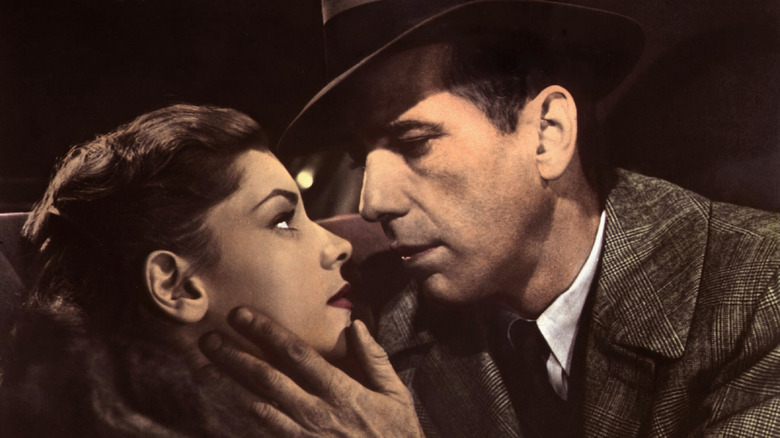 United Archives/Getty Images
"The Look" wasn't aimed at romancing the screen audience or her costars, although in the case of Bogart, that was the end result. "The Look" instead came from Lauren Bacall's jangly on-screen nerves. She was just 19 years old, in her first Hollywood production, and working with Bogart, by then already a famous actor, and being directed by Howard Hawks, who was in the midst of his storied filmmaking career (per Britannica). The chemistry between Bacall and Bogart may have also led to her nervousness.
"It was quite a terrifying experience for me," Bacall recalled in a 1994 NPR interview. "I was this kid and I was scared to death of all these pros around me. ... My head would shake and my hands would shake, and I discovered if I kept my head down and looked up, my head would not shake, so I started to do that when I could when it was appropriate in a scene."
The Look Helped Launch Bacall's Career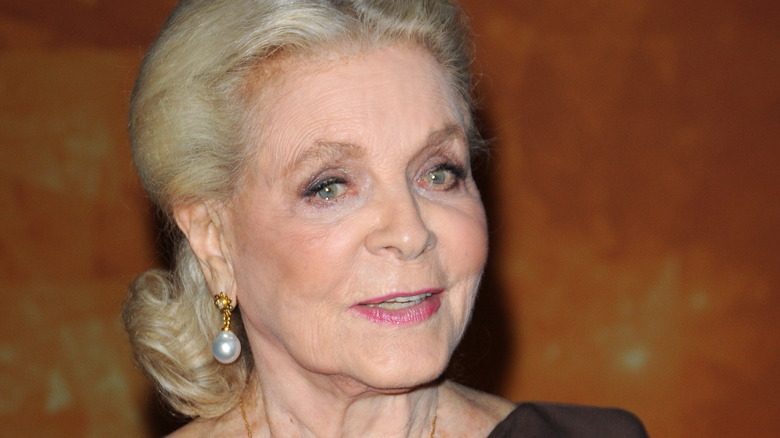 s_bukley/Shutterstock
"The Look" would help launch Lauren Bacall's career with a string of hits and an eternal home in the pantheon of the Golden Age of Hollywood. From her first appearance on screen, she became an instant sensation and landed iconic roles in "The Big Sleep (1946), "Dark Passage," which came out the next year, and Key Largo, in 1948, per the Los Angeles Times. She was paired with Bogart, who she married in 1945, in all three films, and "The Look" got lots of screen time. Bacall and Bogart were married for 11 years until his death in 1957.
Throughout her more than 60-film career, Bacall kept her signature look and sound, helping cement her icon status. She appeared on stage and on film well into the 2000s and won an honorary Oscar in 2009, per The New York Times. She died in 2014, at age 89, but "The Look" lives on in her classic film roles, glamorous photos, and in the minds of her many fans.