The Truth About The Original Hound Dog Song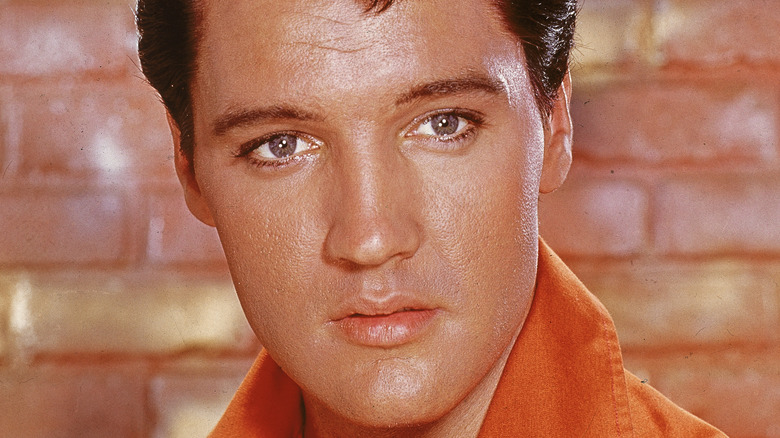 Hulton Archive/Getty Images
History writes that in 1956, the "King of Rock 'n' Roll," Elvis Presley, released "Hound Dog," a tune that would later be known as one of his signature songs. CBS News reports that the track was an instant hit and stayed at No. 1 on the Billboard charts for an impressive 11 weeks. Ultimately, it was bumped off the charts by another Presley song, "Love Me Tender." According to Shmoop, "Hound Dog" was written by Jerry Leiber and Mike Stoller. The duo has an impressive repertoire and is credited for penning iconic songs like "Yakety Yak" and "Stand by Me" (via NPR).
That being said, "Hound Dog" was written in 1952. Although Presley made it famous, The Washington Post explains the song was not originally meant for him. According to the Library of Congress, Leiber and Stoller actually wrote it for Willie Mae Thornton, also known as Big Mama Thornton, a blues singer from Alabama. Per the American Songwriter, the pair was inspired to write a song for her after watching Thornton perform. Leiber later stated that "She had this really guttural, growling sound in her voice. And the both of us fell in love with her. We loved what she looked like, and we loved what she sounded like" (per NPR). When "Hound Dog" was released, History states that it topped the R&B charts.
Hound dog was written in a car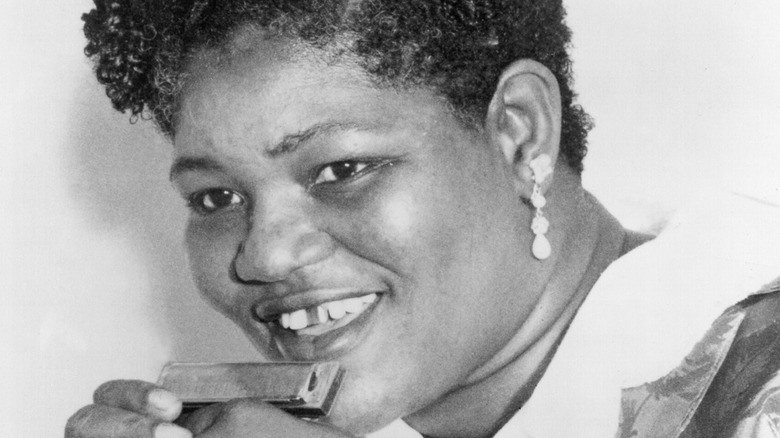 Michael Ochs Archives/Getty Images
NPR reports that Leiber and Stoller had never encountered an artist that looked or sounded like Thornton. The Encyclopedia of Great Popular Song Recordings describes her as weighing 300 pounds and having a heavily-scarred face. Additionally, she preferred to dress in men's clothing. History writes that Thornton began performing at the age of 14. By 1951, she had a recording contract and was asked to join musician Johnny Otis' band. After watching her perform with Otis, Leiber and Stoller got to work on writing a song specifically for Thornton. According to the American Songwriter, Stoller came up with "Hound Dog" in his 1937 Plymouth.
Leiber was not a fan of the lyrics, but Stoller was convinced that he had a hit. All in all, it took them 12 minutes to finish the lyrics. As Shmoop explains, "Hound Dog" is about breaking off a relationship with a two-timing man. In Leiber's words, his intention was to provide a song for Thornton "That basically said go f**** yourself" (via The Library of Congress). When Thornton was first handed the lyrics, she sang them like a ballad. However, Leiber and Stoller wanted her to growl, to represent her hardened demeanor.
Thornton, per the American Songwriter, replied by saying, "Don't you tell me how to sing." Ultimately, Thornton's final version of "Hound dog" was recorded on August 13, 1952 (per History). After the song's release, The Library of Congress states that she had a sporadic career. Thornton later wrote and recorded "Ball & Chain" which was made famous by Janis Joplin. Big Mama Thornton died on July 25, 1984.
The songwriters didn't love Elvis' cover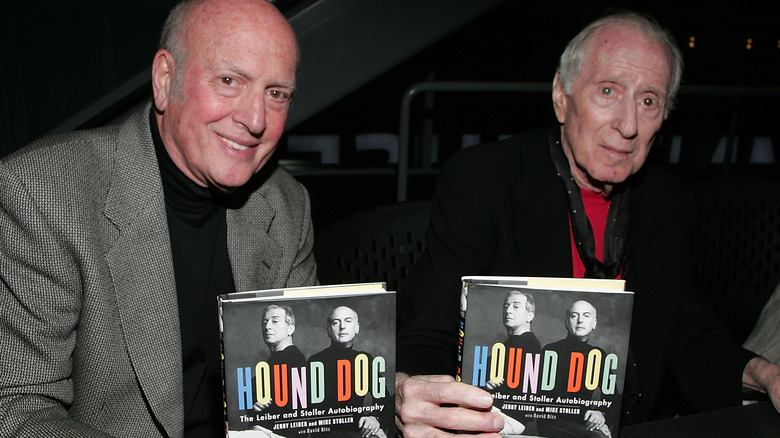 David Livingston/Getty Images
When it comes to Presley's version of "Hound Dog," History points out that he was not inspired by Thornton's version of the song. The American Songwriter writes that he decided to do his own cover after watching a Las Vegas performance of "Hound Dog" by a group called Freddie Bell & The Bellboys. Bell, however, changed the lyrics to make them less explicit and more conventional (via Shmoop). As a result, he sang, "You ain't nothing but a hound dog, cryin' all the time" and "you ain't never caught a rabbit and you ain't no friend of mine." Ultimately, Presley decided to stick with Bell's lyrics when he recorded the song.
Leiber and Stoller were not a fan of Presley's now-iconic rendition. They bemoaned that while Thornton sang the song in the key of E flat, Presley sang it in C. There were also the lyric changes. Per NPR, Stoller later stated that "it's a woman complaining about a gigolo. Elvis couldn't sing that song." In another interview, he added that "She (Thornton) was singing to a man. And he was singing to a dog" (per the American Songwriter).
Leiber later blatantly stated that he preferred Thornton's original version. The Washington Post explains that ultimately, Presley's "Hound Dog" was able to be as successful as it was because he was white, while Thornton was a Black woman. The publication notes that she is just now getting the exposure she deserves for her influence on Presley. As for Leiber and Stoller, there were no hard feelings; they went on to write other songs for Presley, including "Jailhouse Rock."