The Truth About Elvis Presley's First Commercial Single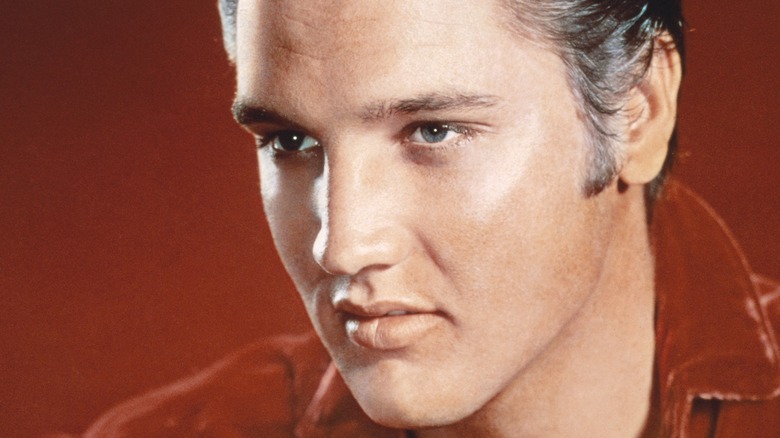 Michael Ochs Archives/Getty Images
Baz Luhrmann's 2022 biopic "Elvis" seems certain to remind audiences of the greatness of the so-called "King of Rock and Roll," none other than Elvis Presley (via IMDb). Among the biggest rock stars in history , Elvis is often credited with inventing rock music itself, as Variety notes. But although he was without a doubt a charismatic and gifted entertainer, the music Elvis played was instead an amalgam of sounds and styles that had been around for years before he adapted it and adopted it as his own, as The Atlantic goes on to report.
Nowhere is this fact better illustrated than in the true story of Presley's debut single, the very first song Elvis ever released back in 1954, according to the The San Diego Union-Tribune. Although some call Presley's first hit the first rock 'n' roll song in history, the music's real origin story goes to show that the roots of rock music were around long before Elvis ever stepped up to the mic.
Elvis recorded his debut hit single at Sun Studios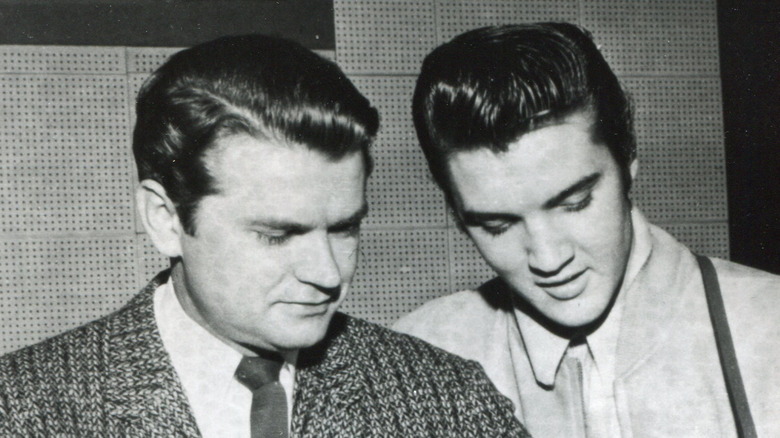 Mark And Colleen Hayward/Getty Images
Like much of Elvis' early material, his first-ever hit song, "That's All Right (Mama)," was recorded in 1953 for Sun Records in Memphis, Tennessee. Elvis handled vocals and rhythm guitar, backed up by long-time Presley guitarist Scotty Moore and Bill Black on bass, as History notes. Producing the song was legendary Sun Records owner Sam Phillips (with Elvis, above). Once Phillips heard Elvis and his band rehearsing the song, he knew he had something special. After the song was released to Memphis radio station WHBQ it was a near instantaneous hit.
The first rock song in history is a matter of much debate, but according to many experts, Presley's "That's All Right (Mama)" belongs in the conversation, as Bob Gulla writes in his book "Icons of R & B and Soul" It also landed in Rolling Stone's "500 Greatest Songs of All Time." The truth of the matter is, though, "That's All Right (Mama)" wasn't written by Elvis, and it was first recorded nearly two decades prior to him recording it at Sun Studios, as History goes on to explain.
'That's All Right (Mama)' was written by Arthur 'Big Boy' Crudup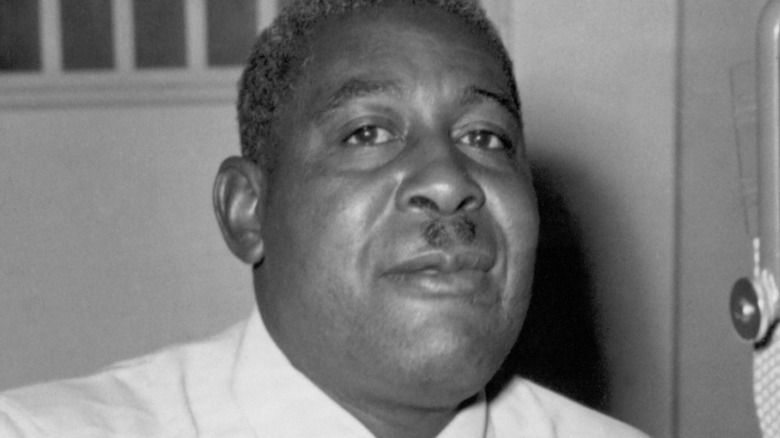 Donaldson Collection/Getty Images
Much as Elvis would do all throughout his career, the song that he recorded that day with Sam Phillips at the helm was drawn from the blues. It was written and first recorded by Arthur "Big Boy" Crudup in 1946. (Crudup's version is available to hear now on YouTube – Crudup sings and plays guitar, backed by a drummer and a bass player.) What's more, certain passages that Crudup included in the music are taken from traditional blues songs that were first recorded by Blind Lemon Jefferson in the 1920s. It's Crudup's version that also features what many consider to be among the first ever rock-style guitar solos ever recorded, as Mental Floss notes. 
Though Elvis certainly added what would one day be called a rockabilly touch and his unmistakable style to his cover, for this reason, many consider Crudup to be the true father of rock 'n' roll, rather than Presley. Nonetheless, Elvis' version would go on to sell thousands of copies after it was released, and it continued to chart all over the world as late as 2004, more than 50 years after it was released (via Danny Dutch). The debate over the true rock 'n' roll innovator notwithstanding, Elvis' debut single certainly announced the arrival of a major and enduring pop music presence.