The Only Elvis Presley Movie To Have 100% On Rotten Tomatoes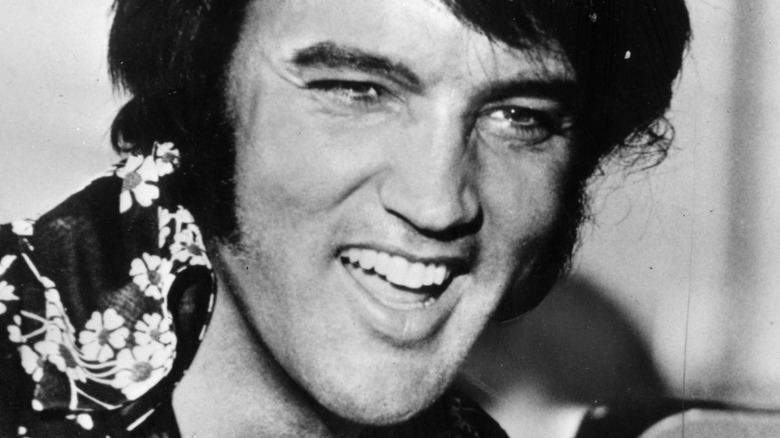 Keystone/Getty Images
Elvis Presley will always be remembered as a study in contradictions. As a white entertainer, he made history by bringing elements of Black music to his audiences, much to the dismay of America's parents and other so-called moral guardians of the time (via The San Diego Union-Tribune). His name is up there with Chuck Berry and Bill Haley as one of the original rock 'n' roll pioneers, but the only Grammy awards he won in his lifetime were for gospel music. A sex symbol in his early years, his later life was marked by substance use issues and poor health — and right before his death in 1977, many thought of him as a man who had become a caricature of himself.
Another study in Elvisian contradictions comes with the juxtaposition of two aspects of his career. On the one hand, his records -– the early ones in particular -– were groundbreaking, and there's no disputing the impact he had on the music industry at large, even on an international scale. On the other hand, he tried to forge a career in movies, and his filmography is largely known for forgettable, boring B-movies. (For one such example, look no further than the 1967 flick "Clambake," which one Los Angeles Times reviewer declared "elaborate," "forgettable," and "garish" all at once.) Nevertheless, a handful of Elvis movies have fair to middling ratings, at least on Rotten Tomatoes. But one — and only one — has the distinction of maintaining a 100% "certified fresh" rating on the site.
Elvis Presley's movie career had ups and downs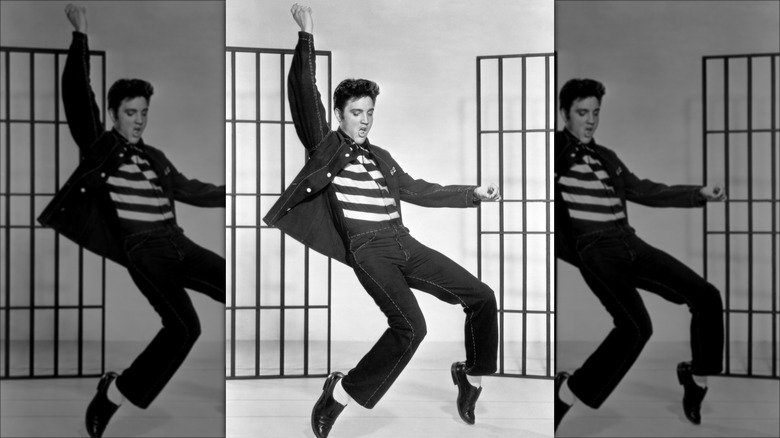 Michael Ochs Archives/Getty Images
It's not uncommon for entertainers to find success in two or more genres. In that sense, Elvis Presley was neither the first nor the last entertainer to make it big in music, following it with a subsequent successful film career. But that's with a big caveat: in this case, describing Presley's film oeuvre as "successful" is more of an indicator of their fiscal and commercial viability– almost all of them were box-offices smashes that made Presley and his team mountains of money (via Biography). Generally speaking, most of them were decidedly unsuccessful in terms of critical response — even Elvis himself hated most of them. His later movies, in particular, were described as bland and formulaic, something which he purportedly admitted. "It was just that Hollywood's image of me was wrong, and I knew it and couldn't say anything about it," he allegedly told director Pierre Adige a few years before he died (via Rolling Stone).
It might pay to think of Elvis' movie career in two parts: his pre-military career (the films he made before he was drafted in 1957) and his post-military career (the 27 movies produced in the 1960s). By the latter half of his tenure as a movie star, he'd settled into his predictable formula. But some of his early work is less formulaic (and less, shall we say, just plain bad) than his later stuff — and one could even be considered a bonafide classic.
Elvis Presley's film King Creole might be his best
Before joining the Army in 1957, Elvis Presley made three movies: "Love Me Tender," "Loving You," "Jailhouse Rock," and "King Creole" — the last of which he concluded filming by way of an official delay before donning his uniform (via Biography). For those who haven't seen "King Creole," Presley plays Danny Fisher, a down-on-his-luck average Joe who sweeps up at a New Orleans nightclub to make ends meet (via HowStuffWorks). He eventually runs afoul of a criminal gang, falls in love, and gets into various shenanigans before everything works itself out (we're deliberately being vague to avoid spoilers). 
After its release in 1958, criticisms of "King Creole" ranged from middling to positive — but notably, many were enthusiastic about Presley's laudable performance. New York Times critic Howard Thompson might have summed up the general reaction in his response to Elvis in the role: "Cut my legs off and call me Shorty! Elvis Presley can act." And even reviews of "King Creole" that weren't entirely sold on Presley had some kind words for him. "Presley shows himself to be a surprisingly sympathetic and believable actor on occasion," a reviewer for Variety wrote, though he went on to praise his musical candor (via Rotten Tomatoes). Regardless, as of this writing, the film holds a 100% score with critics (and 82% with the audience) on Rotten Tomatoes, making it the only Presley flick to be ranked as "certified fresh."