Reds Star Joe Nuxhall Was Younger Than You Think When He Made His Pro Baseball Debut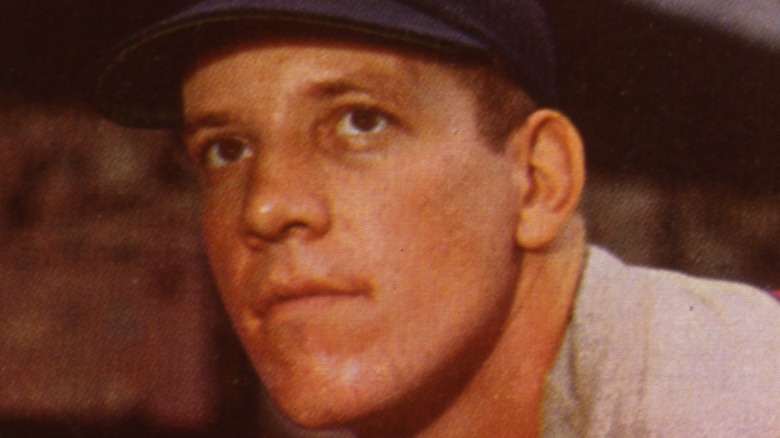 Transcendental Graphics/Getty Images
With World War II still raging in 1944, many able-bodied American athletes found themselves leaving professional sports to fight for Uncle Sam. As a result, rosters across the MLB were depleted during the wartime years, and that was also the case in the minors — to be more specific, more than 500 MLB players and 4,000 minor leaguers were drafted to military service.
Due to that shortage of manpower, it wasn't uncommon for MLB teams to search high and low for players to fill their rosters, including seemingly past-their-prime veterans who were forced into larger roles while the likes of Bob Feller, Hank Greenberg, Joe DiMaggio, Ted Williams, and other certified MLB superstars fought for their country. There were also some instances of extremely young players suiting up for MLB teams amid the Second World War, including a pitcher by the name of Joe Nuxhall.
In the summer of 1944, Nuxhall made his debut for the Cincinnati Reds, officially kicking off what would be a long and successful career on the mound. He also became the youngest-ever player in MLB history, a record that hasn't been broken, and probably never will. But how young was he when he made his MLB debut? Considering the current rules prohibiting anyone under 17 from playing in the majors, you may be surprised to learn how young Nuxhall was when he threw his first big-league pitches.
Joe Nuxhall was only 15 when he debuted in 1944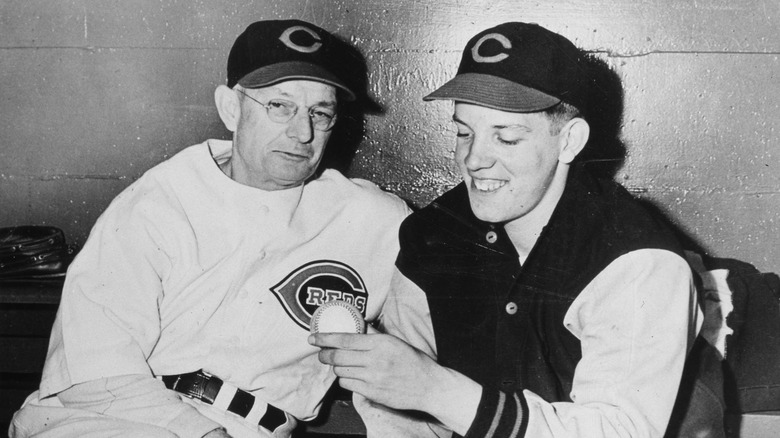 Transcendental Graphics/Getty Images
Fifteen years, 316 days. Let that sink in for a moment. That's how old Joe Nuxhall was when he stepped up to the mound on June 10, 1944, in the ninth inning of a blowout game where the Cincinnati Reds were trailing the St. Louis Cardinals, 13-0. According to The Sporting News, Nuxhall had just finished junior high school at the time the Reds offered him a contract, one which his parents signed due to the obvious reason he was a few years shy of drinking age. Making things even more interesting was how the Reds were actually scouting the Ohio teenager's father, Orville, who, according to Nuxhall, was a hard thrower in his own right. "Almost by accident, they found me," he told the Associated Press in 1994.
By 1944 standards, Nuxhall had MLB-caliber tools. He had already reached his adult height of 6-feet-3-inches, and he threw an 85-mph fastball — way too slow by today's standards, once again, but perfectly acceptable in the '40s. The Sporting News noted that his signing was partly out of necessity and partly a PR move, which meant Nuxhall wasn't going to see a lot of action for the Reds. But against the Cardinals on June 10, the game was all over but the final score, and that was the perfect chance for Cincinnati manager Bill McKechnie to give Nuxhall his first taste of major-league hitting.
And what a taste it was. Nuxhall allowed two hits and five runs and walked five batters in two-thirds of an inning, giving him an ERA of 67.00. Ouch. But credit needs to be given where it's due — Nuxhall was just 15 years old, and he was up against a St. Louis team led by future Hall of Fame outfielder Stan Musial.
Nuxhall resumed his MLB career in 1952 and kept playing till 1966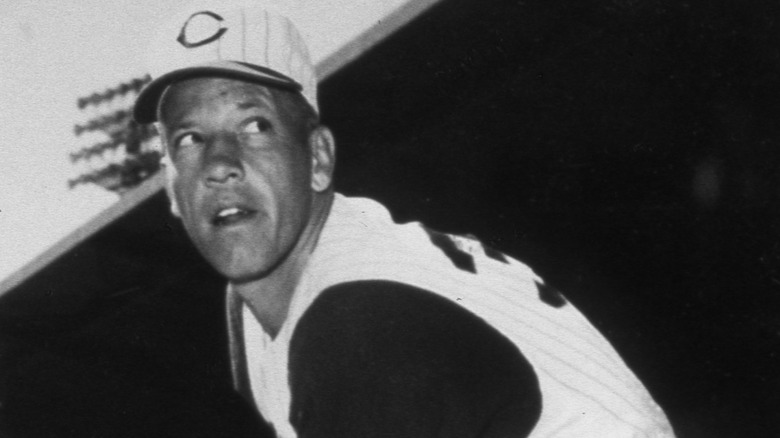 Transcendental Graphics/Getty Images
As noted above, Joe Nuxhall went on to enjoy a successful MLB career, but by the time he resumed playing in the majors, he was already well into young adulthood. Per The Sporting News, the youthful left-hander chose not to play professional baseball in 1946 — the year of his 18th birthday — and spent most of the next seven years in the minor leagues. He played his first full MLB season — still with the Cincinnati Reds — in 1952, and while his numbers weren't really that spectacular, he did get to represent the National League in the 1955 and 1956 All-Star Games (via Baseball-Reference). 
It was also in 1955 when Nuxhall had his best statistical season, which saw him finish with a 17-12 record and a 3.47 ERA. He also struck out a paltry 98 batters in 257.0 innings that year, though he only had 78 walks — with an 85-mph fastball, it's safe to say he was more of a control pitcher in his prime. Nuxhall's first extended stint with the Reds ended in 1960, and after playing one season for the Kansas City (later Oakland) Athletics and starting the 1962 campaign with the Los Angeles Angels, he was back in Cincinnati that same year.
Nuxhall's MLB career ended after the 1966 season — where he was still posting decent numbers for the Reds at the age of 38. After retiring as a player, he became a radio broadcaster for the Reds, popularizing the phrase "This is the old left-hander, rounding third and heading for home" and remaining employed in that capacity until 2004. He died three years later, on November 15, 2007, at the age of 79, and was rightfully honored by the Reds during the team's 2008 Opening Day Parade.