How Did The Beastie Boys Get Their Name?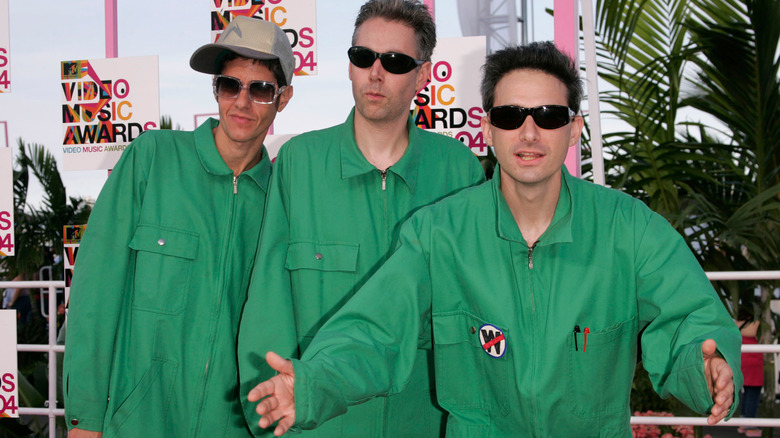 DFree/Shutterstock
You cannot understate the importance of the Beastie Boys as one of the groups that helped propel rap music into the mainstream. Yes, it's true that many of their early recordings didn't age that well, and the satirical message of their breakout hit, "(You Gotta) Fight For Your Right (To Party)," was lost on many a hard-partying, rebellious teen who related to its lyrics without a tinge of irony. But the Beasties — Michael "Mike D" Diamond, Adam "Ad-Rock" Horovitz, and Adam "MCA" Yauch — were a band that kept evolving, melding hip-hop and alternative rock so flawlessly throughout most of their three-decade-long career and even calling back on occasion to their hardcore punk roots. And they even righted the lyrical wrongs of their first few albums and became involved in a number of worthy causes.
Tragically, the Beasties effectively ended following founding member Yauch's death in 2012, but their legacy in both rap and rock is more than secure. But given their unique-sounding name, many have wondered where exactly it came from. Suffice to say, they chose a good one, and it can be argued that it's not one of those terrible band names that the members would end up regretting. But who came up with it, and what does it really mean?
'Beastie' is an acronym for a word salad phrase, and 'boys' means boys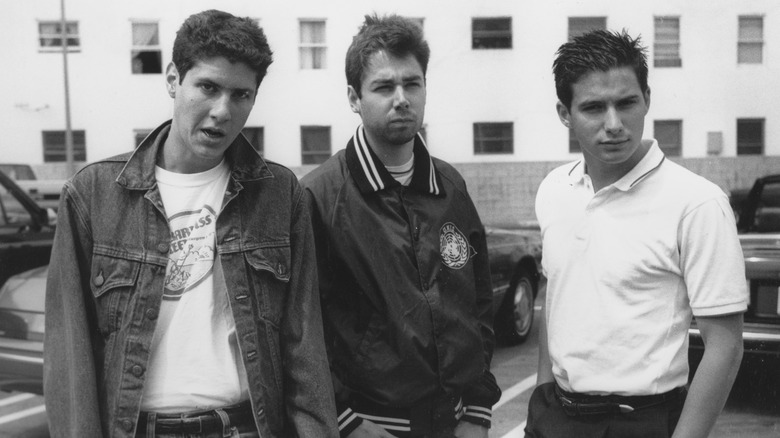 Michael Ochs Archives/Getty Images
Back when the Beastie Boys formed in the summer of 1981, they weren't a rap group yet — they were a teenage hardcore punk band, one of many in their home state of New York. Initially formed from the ashes of the unfortunately named Young Aborigines, the first Beastie Boys lineup consisted of Mike Diamond, Adam Yauch, John Berry, and Kate Schellenbach, so yes, they technically had a "Beastie girl" in the lineup for a few years. (Schellenbach would later resurface in the 1990s as the drummer of the all-female alt-rock band Luscious Jackson.) But where did this newer, less offensive name come from anyway?
During a 2018 appearance on "The Tonight Show with Jimmy Fallon," the Beasties' surviving members, Mike D and Ad-Rock, promoted their band's autobiography, "Beastie Boys Book," and discussed several topics related to their long history, including their early days as a punk act (via Billboard). Talking about the origin of the group's name, Mike D told Fallon that "Beastie" is an acronym for "boys, entering anarchistic states towards inner excellence." He jokingly referred to it as a "stupid name," though you've got to admit it — even if the phrase where the first half of the name originated doesn't really make much sense, Beastie Boys is a much more tasteful name than Young Aborigines.
The acronym came after the band decided to go Beastie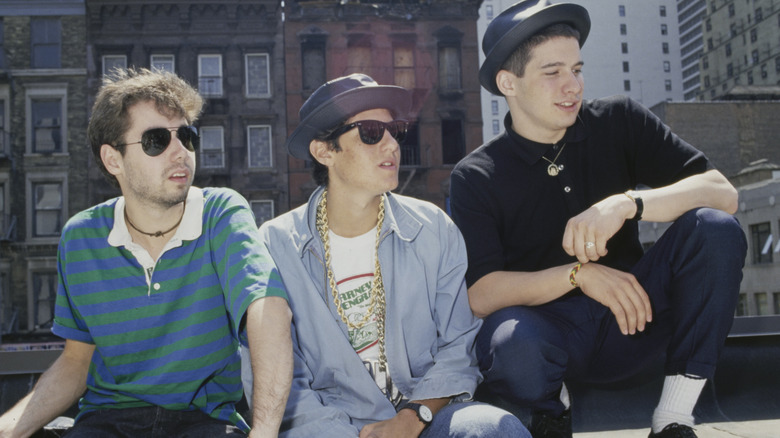 Michael Ochs Archives/Getty Images
While Mike D's anecdote about the Beastie Boys' band name is on-brand as far as the group's trademark sense of humor is concerned, it also doesn't tell the full story of its origin. Back in August 2007, all three Beasties appeared on Charlie Rose's eponymous talk show to promote their new all-instrumental album "The Mix-Up" and answer a number of questions from both Rose and their fans. As it was during the aforementioned 2018 interview, the band's genesis was a popular topic of conversation, and when asked about the origin of their name (at the 16:40 mark of the episode), MCA explained that it came up while he and original guitarist John Berry were brainstorming on potential names for their new group. According to the late rapper, it was Berry who specifically came up with "Beastie Boys."
Rose went on to ask the inevitable follow-up question of what the band name stands for, with MCA clarifying that the acronym came along as an "afterthought." He was quickly seconded by Mike D, who dropped the "boys, entering anarchistic states towards inner excellence" phrase and agreed that it did indeed come after the fact.
Despite apparently coming up with the name, Berry (who sadly died in 2016 at the age of 52) didn't stick around for long, as he left the Beasties in 1982, not long after they recorded their first EP (via Rolling Stone). His role in the Beasties' formative years, however, was definitely not forgotten when the band was enshrined in the Rock and Roll Hall of Fame in 2012.