The Real Reason Jean Harlow Changed Her Name
Fox Photos/Getty Images
Blonde bombshell Jean Harlow is remembered for her sensual on-screen presence and her tragic premature death (via Country Living). Although Closer Weekly reports that the starlet wanted to be a writer, fate had other plans. Per The Sunday Post, Harlow, a Kansas City native, moved to Beverly Hills at the age of 15 when she married a wealthy man named Charles McGrew. She was reportedly discovered by Fox when she visited a friend working at a movie studio. Though she stated that she had no interest in acting, she became a film extra. Soon after, Harlow's acting career took off.
According to Britannica, her performance in "Saturday Night Kid" and Howard Hughes' 1930 film "Hell's Angels" captivated audiences. By this point, her marriage to McGrew was over, as he had prohibited her from acting (via History). Nevertheless, her rapid rise to fame continued as she starred in several hit films, including "Red Dust" and "Dinner at Eight." Part of Harlow's allure was her wide-eyed persona and of course, her blond hair, which was manufactured by Hughes (per Country Living). That being said, the book "Hollywood V. Beauty and the Synchronicity of the Six" by Kirk Henderson relates that Harlow was pressured by her mother to become an actress — so much so that Harlow may have changed her name to honor her mother's wishes.
Jean Harlow was her mother's name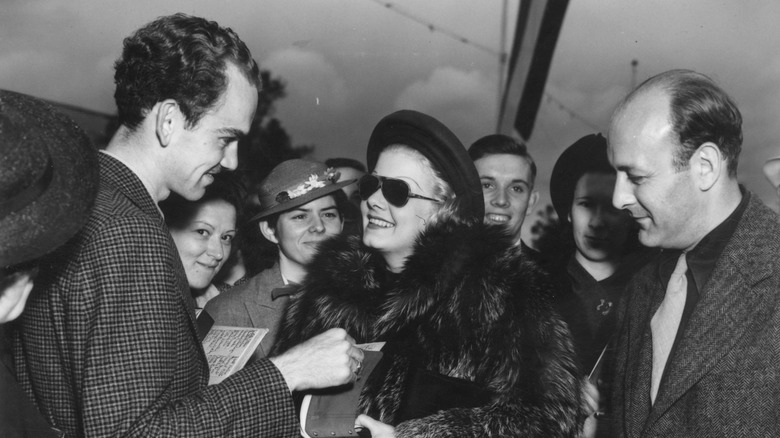 General Photographic Agency/Getty Images
History states that the actress was born Harlean Carpenter in 1911 to her mother, who was herself named Jean Harlow. In fact, her birth name is an amalgam of her mother's name. According to The Sunday Post, Harlow's mother dreamt of becoming a star. When she and Harlow's father divorced, she packed up her daughter and left Kansas City for Hollywood. However, the elder Harlow was 34 and was considered too mature for an acting career and the family headed back to the Midwest (via Country Living). When the daughter married and permanently moved back to Los Angeles, she told Fox executives that her name was Jean Harlow.
Ultimately, Closer Weekly states that Harlow decided to become an actress to make her mother's dreams come true. Darrell Rooney, co-author of "Harlow in Hollywood: The Blonde Bombshell in the Glamour Capital" told the publication that "Jean loved her mother deeply and would do anything for her." Harlow's website explains that she legally changed her name from Harlean Carpenter to Jean Harlow in 1935 in order to elevate her career.
From then on, her mother was referred to as "Mother Jean," while Harlow's family and friends called her "The Baby" (per Country Living). Per "Hollywood V. Beauty and the Synchronicity of the Six," "Mother Jean" was domineering and controlled every aspect of her daughter's life and career. She pushed her daughter to star in film after film. Find a Grave reports that she even signed Harlow's fan mail. At Harlow's expense, Mother Jean lived vicariously through her daughter until the end.
Mother never recovered from her daughter's death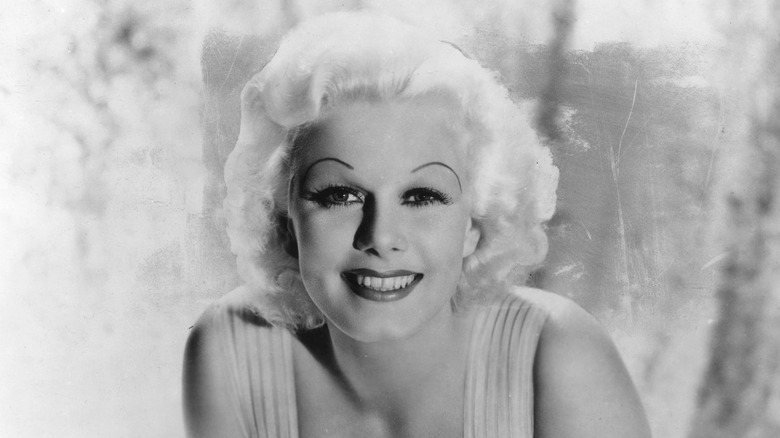 Evening Standard/Getty Images
According to History, Jean Harlow died on June 7, 1936, at the age of 26. Country Living states that years of health issues led to kidney failure. Harlow's shocking death came as she had spent years unable to find any true happiness. Per Closer Weekly, she was married three times. Two marriages had ended in divorce, while one husband, Paul Bern, had killed himself. Before she died, History explains, Harlow was engaged to actor William Powell. At her mother's request, Powell reportedly paid for Harlow's mausoleum at Forest Lawn Memorial Park in Los Angeles. He also attended the funeral and was seen holding on to "Mother Jean" at the burial (via UCLA).
"Hollywood V. Beauty and the Synchronicity of the Six" says that after Jean Harlow's death, her mother's life began to crumble, as she had seemingly lost her life's purpose; she was no longer a stage mother. "Mother Jean" was said to have been beside herself with grief. An individual close to Harlow stated that "Her mother became delusional, dressed in her daughter's clothes, and tried communicating with her through mediums" (via Closer Weekly). Per Closer Weekly, Powell made sure to care for her for the rest of her life. The elder Jean Harlow died in June 1958 (via Find a Grave). She is buried in the same mausoleum as her daughter.
If you or anyone you know is having suicidal thoughts, please call the National Suicide Prevention Lifeline​ at​ 1-800-273-TALK (8255)​.