Prince's Close Brush With Death Just Days Before His Tragic Demise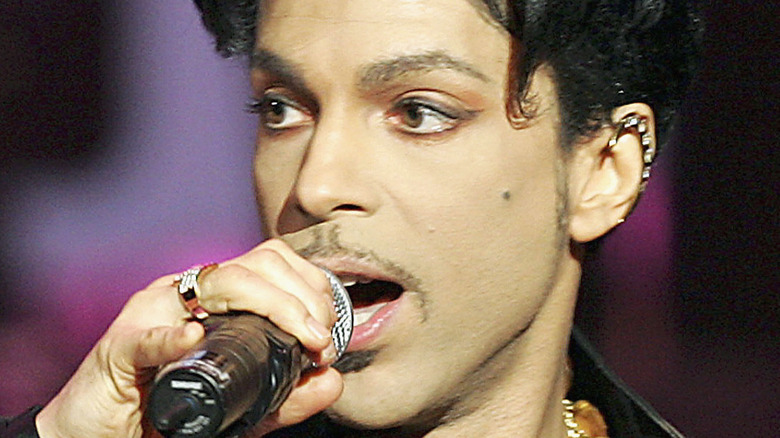 Kevin Winter/Getty Images
Back in April 2016, the entertainment industry was rocked by the loss of an icon of the late 20th century. The man, who quite literally had no name at one point at time, turned the music industry upside down in the early '80s, Prince Nelson Rogers. Better known simply as Prince, the giant of pop music was born on June 7, 1958 to pianist/songwriter/jazz musician John Lewis Nelson and Mattie Shaw, lead singer of Nelson's ensemble, the Prince Rogers Band (via Biography). Of course, the Purple One's reign began early in the '80s with iconic releases like his self-titled debut in 1979, "Dirty Mind" in 1980, the glorious "Controversy" in 1981, and the album that would permanently alter pop culture in 1984, going forward straight to today, "Purple Rain."
And while success carried Prince well into the new millennium, the man behind the moniker had many, many secrets he'd been harboring for a very long time. One so dangerous, in fact, would end his life: opioids (via History).
A life of physical pain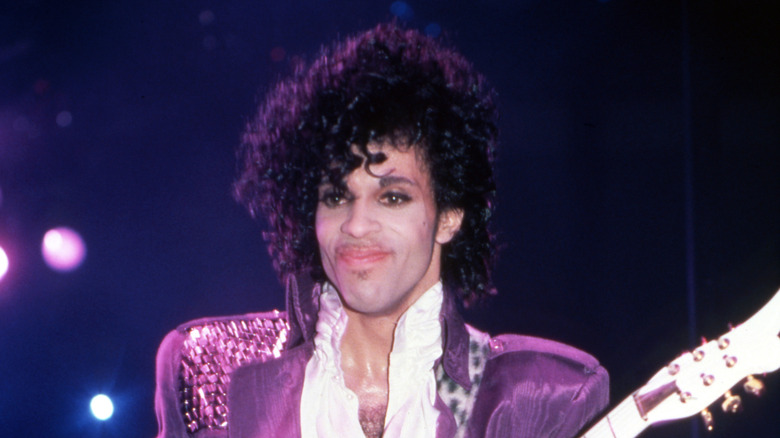 Icon And Image/Getty Images
As was reported in a 2018 USA Today article, Prince was found unconscious in an elevator at his home at Paisley Park studios in Chanhassen, Minnesota, the morning of April 21, 2016. According to Music In Minnesota, paramedics attempted to resuscitate the singer by performing CPR, but it was clear they were already too late. Reports tell of Prince being dead for almost six hours. The time of death was called at 10:07 a.m. Unfortunately for all, Prince had a meeting scheduled with an addiction specialist, Howard Kornfield, the very next day. Years of jumping off of high risers in heels caused the singer permanent damage to his back, which he addressed on his own, as well with doctors. It would later be determined that Prince died from taking a counterfeit version of the painkiller Vicodin that ended up being laced with the synthetic opioid called fentanyl (via NBC News).
The reason for that scheduled meeting with Kornfield? Prince was treated for a drug overdose just six days prior to his death (via TMZ). According to AP News, on a private plane taking him back to Minneapolis from a concert in Atlanta, Georgia, on the night of April 14, 2016, Prince told a confident along with him on the flight that he had been depressed and was "incredibly bored."
A tragic end to a prolific life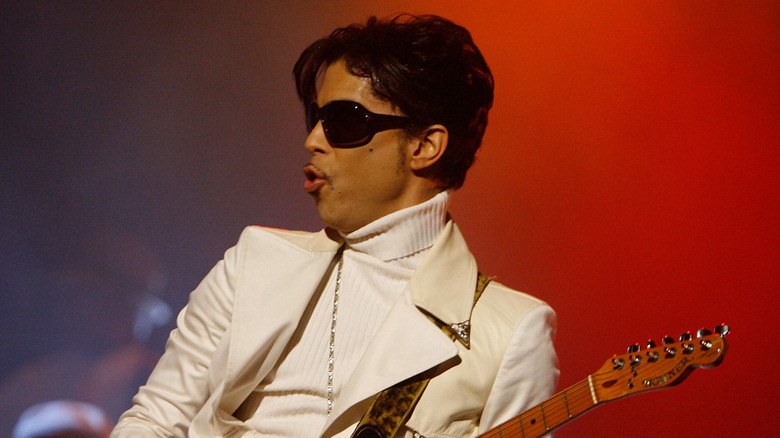 Kevin Winter/Getty Images
Not long after making that utterance, less than an hour into the flight in fact (via TMZ), the private plane carrying the superstar had to make an emergency landing in Moline, Illinois (via AP News). Found unresponsive on board, Prince had reported earlier in the evening he had been feeling ill, with flu-like symptoms worsening as the flight continued (via The Wrap). According to AP News, Prince's bodyguard Kirk Johnson carried the singer out of the plane to waiting paramedics "like you would carry a little kid or baby."
The musician was in such bad condition (via AP News) that paramedics administered not one, but two doses of Naloxone, a medicine that quickly reverses opioid overdoses (via National Institute on Drug Abuse). The "safe shots," as they are known, successfully brought the artist back. However, as paramedics attempted to corral Prince into the ambulance, he resisted, with his bodyguard Kirk Johnson telling them, "Prince feels fine" (via AP News). Ultimately, the artist would sign himself out of the hospital later that day. Less than a week later, Prince would be found dead alone in the vastness of Paisley Park studios.