The Truly Horrific Crime Scene Of The Katherine Knight Murder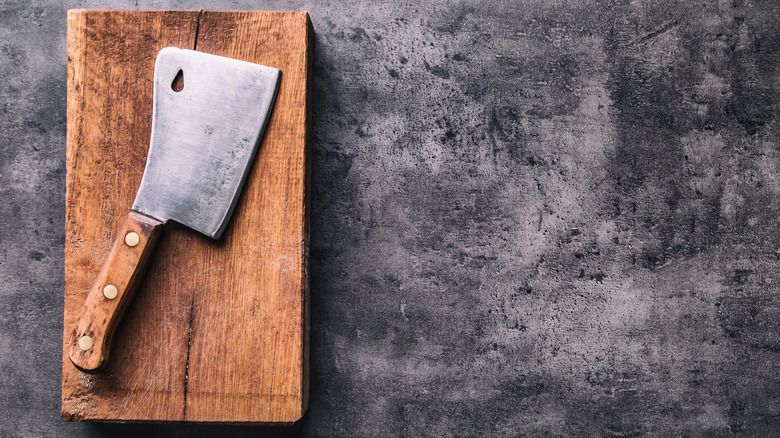 Marian Weyo/Shutterstock
On March 1, 2000, two police officers walked into a home in Aberdeen, Australia, and came face to face with a grotesque scene, per the Australian website, News. According to ABC, they found John Price, a local miner, had been skinned and decapitated. Years later, Sergeant Graham Furlonger described what he saw as a "human pelt" and "A full skin just hanging from the top door frame." Per All That's Interesting, Katherine Knight, Price's girlfriend, was also inside of the home and was found unconscious. Despite claiming that she was unable to remember committing the gruesome crime, she was arrested for Price's murder.
Born in 1955, News states that Knight endured a childhood that was marked by severe physical abuse. At the age of 15, she found her calling when she began to work as a butcher at a slaughterhouse. The Daily Mail reports that Knight also had various romances and was a mother. Even so, all of her relationships were unstable and filled with incident after incident of violence. At one point, Knight had placed her 2-month-old daughter on a train track when she discovered that her first husband, David Kellett had left her.
A stranger rescued the child before a train passed by. However, this was only the beginning of Knight's demented behavior. After a string of failed relationships, Knight met John Price in 1993. By all accounts, Price was a warm-hearted man that was no match for his new girlfriend (per 7News). Needless to say, the relationship soured over the next four years.
She made a stew out of her partner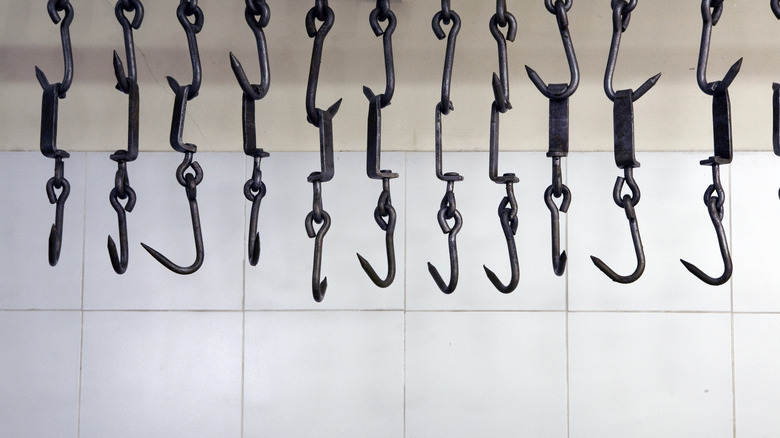 Ricardo Ceppi/Getty Images
According to News, the couple's blossoming romance went downhill after Price refused to marry Knight. He wanted to ensure that his children from a previous marriage inherited his home. From then on, Knight became increasingly violent. All That's Interesting writes that prior to his murder, Knight had attempted to stab price in the chest. This led him to file a restraining order and telling his co-workers that if something happened to him, it was Knight's doing. On February 29, 2000, Knight made her way into Price's home. The couple had sex and Price fell asleep. Then, Knight proceeded to stab him 37 times (per ABC).
Knight then skinned his entire body with the expertise she learned working in a slaughterhouse. When she was finished, she placed the body on a meat hook. 7News states that his head and other parts of his body were found in the kitchen. Knight had cooked pieces of Price's flesh with vegetables and placed them on plates with his children's names on notes near each plate. 
When Price didn't show up for work the next day a co-worker went by his house and saw blood on the door. He then called the police, per 7News. Not only did they find the macabre murder scene, but they also found Knight sleeping in a bed at the home. She'd tried unsuccessfully to end her life by taking an overdose of pills.
Katherine Knight's historic prison sentence
Christopher Burgess/Shutterstock
When police first arrived at the scene, 7News reports that they were confounded by the amount of blood inside the couple's residence. Investigators later concluded that Price had attempted to flee the home during the attack but was overpowered by Knight who had been stabbing him in the back as he tried to escape. 
Some officers took a leave of absence as the crime scene, which included witnessing Knight's macabre culinary creations (via ABC) took a toll on them. As for Knight, she was evaluated by a psychiatrist who believed her sudden amnesia was all an act. She was found fit to stand in her trial, which began in October 2001. At first, Knight pled not guilty but she quickly changed her plea to guilty.
At her trial, Judge O'Keefe said, "The prisoner showed no mercy whatsoever to Mr. Price — the last minutes of his life must have been a time of abject terror for him, as they were a time of utter enjoyment for her" (per ABC). News writes that Knight did not show any remorse and was sentenced to life in prison without the possibility of parole. Ultimately, The Guardian explains that this made her the first Australian woman to receive this sentence.
In 2006, Knight tried to fight her sentence but was denied an appeal. According to News, Knight is now in her 60s and is currently incarcerated at Silverwater Women's Correctional Centre. Her hobbies include knitting and painting.