Whatever Happened To Stone Cold Steve Austin?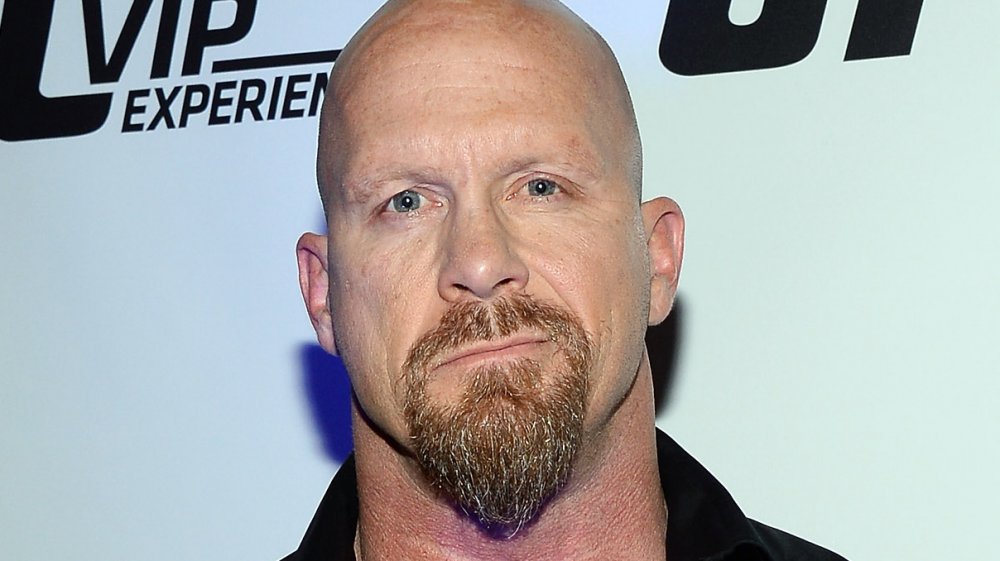 Getty Images
In the pro wrestling boom of the late '90s, no single superstar was bigger than "Stone Cold" Steve Austin. Along with fellow wrestlers like the Rock, Mick Foley, and Hunter Hearst Helmsley, Austin's hell-raising, beer-drinking, mudhole-stomping attitude defined an era for the WWE — and sold a whole lot of "Austin 3:16" T-shirts.
But while Dwayne Johnson has gone on to fame as one of the world's biggest movie stars and Triple H has remained with the WWE as a both an onscreen and behind-the-scenes authority figure, Austin is a little less visible than he was at the height of the Attitude Era. He's never really gone away, but if you've been wondering what happened to Stone Cold after his final match at WrestleMania XIX, then sit back, crack open a frosty Steveweiser, and find out what happened to Austin after the last bell rang.
Before Steve Austin was Stone Cold, he was Stunning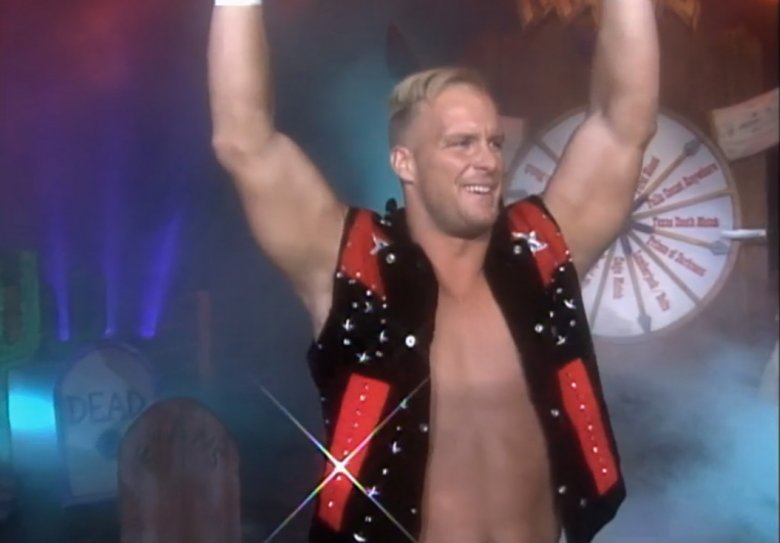 WWE Network
Born in Austin, Texas, in 1964, Steve Williams broke into wrestling at the Dallas Sportatorium, home of the famous Von Erich family and World Class Championship Wrestling, earning a $40 payday in his first match. Soon after, the legendary Dutch Mantell suggested that he changed his name to avoid confusion with the more famous "Dr. Death" Steve Williams — who would have his greatest fame in Japan as a member of a tag team with the amazing name "The Miracle Violence Connection" — and suggested that he work under the name "Steve Austin" instead.
By 1990, he was signed to World Championship Wrestling as one of the Hollywood Blondes, a tag team with "Flyin'" Brian Pillman, but a few years later, following an injury and a series of frustrations that he chronicled in a famously inspiring promo, he was fired over the phone. After a stint in Extreme Championship Wrestling, he was hired by the World Wrestling Federation and repackaged as "The Ringmaster," a henchman for the notorious Million Dollar Man, Ted DiBiase.
Austin 3:16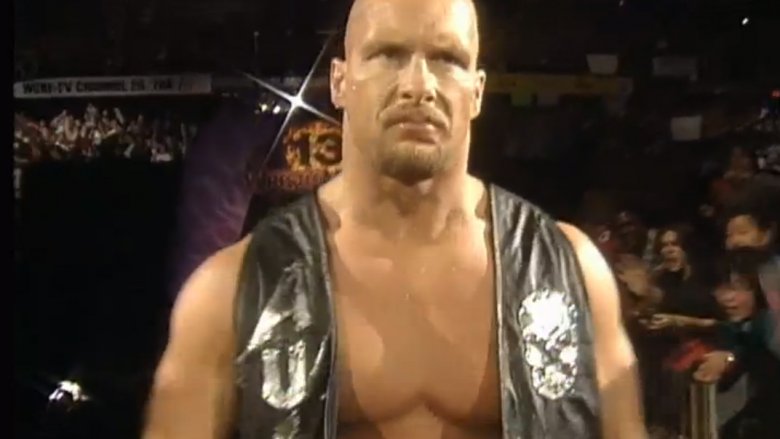 If "The Ringmaster" sounds a little goofy, that's because it is. It's better than some of the other options Austin was presented with when he took the job in the WWF, though. In an interview, Austin's former wife Jeanie Clarke — who also worked as his valet, Lady Blossom — revealed that the WWF's initial suggestions for Austin's ring name were all hilariously bad puns about the cold that even Arnold Schwarzenegger's Mr. Freeze would've passed on for being too hokey, including the truly jaw-dropping "Fang McFrost." Fortunately, she had once told Austin to drink his tea before it got "stone cold," and he realized that would be a better name than "Ice Dagger."
Before long, Austin would cut his famous "Austin 3:16" promo, and after a legendary match against Bret "The Hitman" Hart at WrestleMania 13 in 1997, he'd go from being a villain to an anti-hero to a full-on fan favorite who would feud with his boss, Vince McMahon, and spend the next six years as the biggest star in the company and the source of some of the decade's most memorable moments.
The toll of injuries on Stone Cold Steve Austin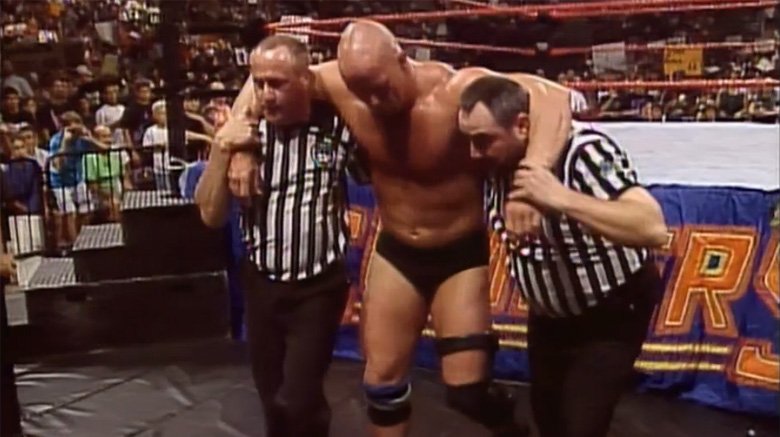 Unfortunately, not all those memorable moments went as planned. At SummerSlam 1997, Austin was wrestling against Owen Hart when Hart, usually one of the company's best workers, botched a piledriver and sent Austin crashing to the mat directly on his head, resulting in an immediate and very noticeable neck injury. While he finished the match and left the ring on his feet (with the help of a couple referees), the injury kept Austin out of in-ring action for months, and, in 1999, led to a neck surgery plus several months of rehabilitation.
In addition to the neck injury, Austin also had several knee injuries. He even took to wearing one, then two knee braces in the ring, which became such a part of his iconic look that they were even included with action figures.
Finally, in 2003, the injuries accumulated to the point where Austin finally retired from competition. As he said in a 2013 interview after casually listing a pretty horrifying string of injuries dating back to 1993, "It's a rough job. It's a fun job, but make no mistake about it, it's a rough-ass way to make a living."
Stone Cold Steve Austin's personal issues in 2002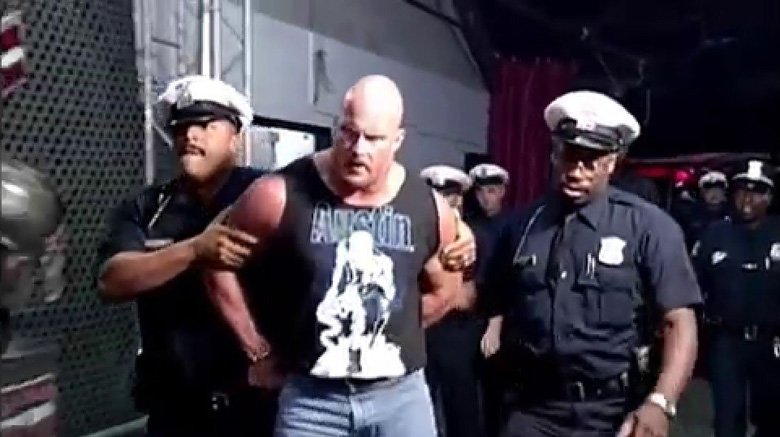 WWE Network
In addition to the physical deterioration adding up from the wear and tear of wrestling, Austin's last few years with the WWE were also marked by a series of personal problems. In 2002, Austin walked out of the company twice, refusing to lose to then up-and-comer Brock Lesnar, and was blasted on television by announcer and long-time friend Jim Ross for "taking his ball and going home."
To make matters worse, 2002 also saw Austin plead no-contest to a charge of domestic violence, leading to a divorce from his wife Debra, who would go on to tell Fox News in 2007 that he was paranoid and prone to rage due to steroid use. Clearly, the time had come for Austin to step out of the spotlight.
Stone Cold Steve Austin's post-wrestling involvement in WWE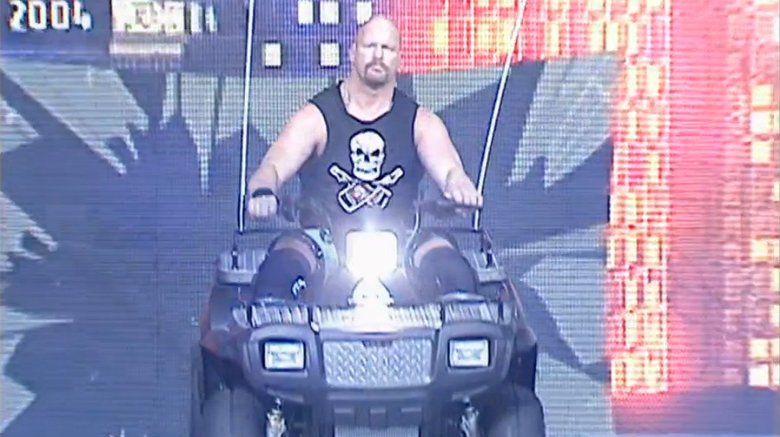 Even though he was no longer active as a wrestler, Austin's gift for entertaining promos would see him continue working with World Wrestling Entertainment years after his retirement.
From 2003 to 2004, he appeared onscreen as an authority figure under a variety of increasingly weird titles, starting as "Co-General Manager" before being fired and returning as "Sheriff" of the WWE. It might seem odd, but considering that Austin's tenure as a wrestler had seen him run over in the parking lot as part of a conspiracy, crucified by the Undertaker during his self-styled Lord of Darkness phase, and occasionally drive to the ring in a beer truck or zamboni, he probably understood that WWE could use a little law enforcement.
From then on, he'd make several special appearances for the company, including serving as the special referee for the WrestleMania XX match between Brock Lesnar and Goldberg, which was infamous for involving three people who were on their way out of the company, including two who definitely wrestled like they didn't need to worry about what anyone thought of the match on Monday. He's made sporadic appearances since, occasionally returning as a "legend" at WrestleMania, promoting the Attitude Era-themed WWE 2K14, and being inducted into the WWE Hall of Fame in 2009. And you better believe Stone Cold has been featured in pretty much every WWE video game since 1999, from the N64 to the iPhone to the PlayStation 4.
Stone Cold Steve Austin stuns Hollywood
While he hasn't made the kind of headlining appearances that his old rival Dwayne "The Rock" Johnson has in the Fast & Furious franchise — even if we're still holding out to see Luke Hobbs catch a Stone Cold Stunner one of these days — Austin has made plenty of excursions into Hollywood that went far beyond his old tag team with Brian Pillman.
Unsurprisingly, his first major role came from a movie produced by the WWE called The Condemned, about a convicted prisoner who gets involved in a last-man-standing Hunger Games situation on an island while wealthy patrons bet on the outcome. It's pretty much exactly what you'd expect out of The Most Dangerous Game mixed with pro wrestling, and if you're up for a little bit of NSFW language, you can see for yourself that it features one of the single greatest moments in cinema history.
Beyond that, Austin has also been seen on the big screen in movies like The Expendables and Grown-Ups 2. His major cinematic output, however, has been in a string of direct-to-video action movies with titles built from a tough-sounding adjective and a militaristic noun, like Tactical Force (2011) and Maximum Conviction (2012).
Stone Cold Steve Austin is Tough Enough
In 2011, Austin returned to WWE programming, but not as a wrestler. Instead, he was the host and one of the trainers for a revival of Tough Enough, a reality show that was meant to whittle down a crop of aspiring wrestlers into one brand-new superstar made for WWE. Or at least, that's how it was supposed to work.
In practice, it didn't actually work out that way. The show was certainly entertaining, but as a reality competition, it went about as wrong as it could. The winner, Andy Leavine, never actually wrestled a match on WWE television and was released from his contract the following year, presumably because someone realized that "Silent Rage" was actually a pretty terrible nickname. Of the 14 contestants that started on the show, the only one to find fame on WWE's main roster was Ariane Andrew, better known to fans as Cameron, who once tried to pin an opponent while she was face-down on the mat instead of on her back. It's worth noting, however, that Ivelisse Vélez was eliminated from the competition due to injury, but would go on to becoming a two-time Lucha Underground trios champion.
The best part of the show was unquestionably Austin's reactions to the contestants, which he delivered with exactly the kind of deadly seriousness with an undercurrent of comedy that made his wrestling character so fun to watch. There's a lot of gold there, but hit play above to see the best, which involves getting so frustrated with their performances that he tells a story about getting bodyslammed so hard that he crapped his pants. That's good television.
Steve Austin's Broken Skull Challenge
Apparently, Tough Enough wasn't a bad enough experience to turn Austin off reality competition shows forever. Starting in 2012, he's been the host of Redneck Island (basically just Survivor with a mouthful of chewing tobacco), and in 2014, Country Music Television launched Steve Austin's Broken Skull Challenge, a physical game show with a truly ridiculous set of rules.
In addition to a series of physically exhausting "bust-ass" challenges that make American Ninja Warrior look like a slightly taxing yoga class culminating in an obstacle course called the Skullbuster that's exhausting just to watch, the show has a catch for the winner. The first person to complete the Skullbuster sets the time to beat, and if any subsequent winners don't beat it, the person who holds the record gets their prize money. In other words, you can bust your ass and actually win this thing, and someone else gets your money if you don't do it fast enough.
The one really great thing about the show is that Austin himself is shockingly encouraging. Unlike the stone-faced curmudgeon persona that he had on Tough Enough, the Austin of Broken Skull Challenge is more like an extremely gruff cheerleader, accompanying the contestants on the course and telling them how great they're doing. So if you're ever having a rough day, just put an episode on in the background and imagine Stone Cold telling you that you can do it — it makes washing the dishes a much more intense and rewarding experience.
Stone Cold Steve Austin's rumored return to the ring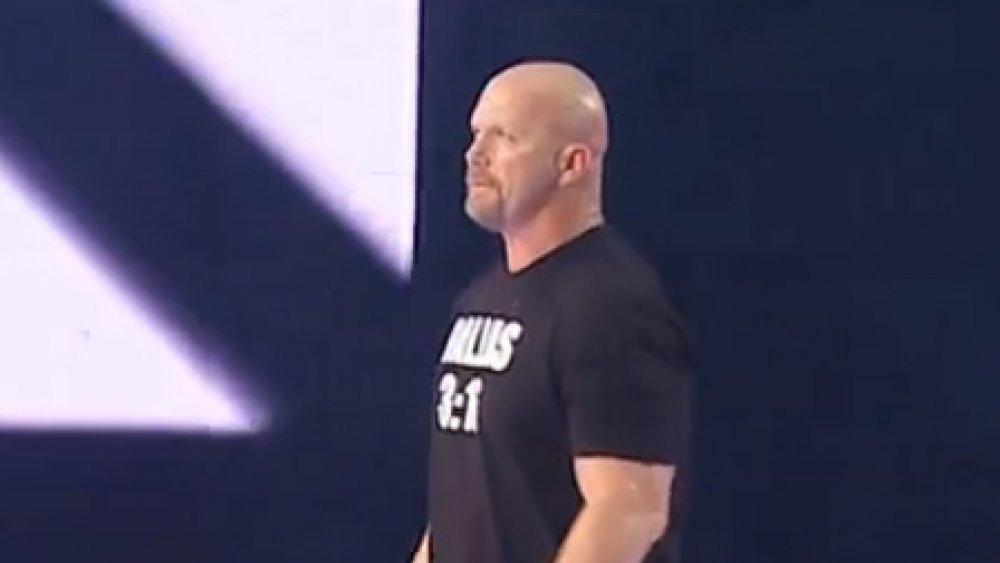 WWE Network
With Austin's level of success and fame in the world of pro wrestling, and with the fact that wrestlers' "retirements" are known to last about three days on average — lookin' at you here, Terry Funk — it's not surprising that Austin would be the subject of plenty of rumors about an eventual return. Hell, he even started a couple himself.
In 2012, during a press event for the WWE '13 video game, Austin made a mention that just maybe, once he was done doing rehab for a recent knee surgery, he might return to the roster to take on CM Punk in a battle of the ages. At the time, Punk was still riding high on 2011's infamous fourth wall-breaking "Pipe Bomb" promo, which was being hailed by fans as the 21st-century equivalent of the "Austin 3:16" promo — in part because Punk had worn a Stone Cold T-shirt while he delivered it.
Of course, that rumored match didn't materialize (although Punk said in 2019 "there was a sliver of time where it was going to happen"), and in retrospect, was probably more designed to get fans excited about the video game's "Attitude Era" mode and the potential of matching up current-roster superstars with late '90s wrestlers than it was to set up any actual in-ring action. Still, with Austin still making appearances on WWE programming every once in a while, it's not entirely out of the question to see him make his return — even if CM Punk's extremely bitter public departure from the company and somewhat ill-fated move to the UFC makes him an unlikely opponent.
The Steve Austin Show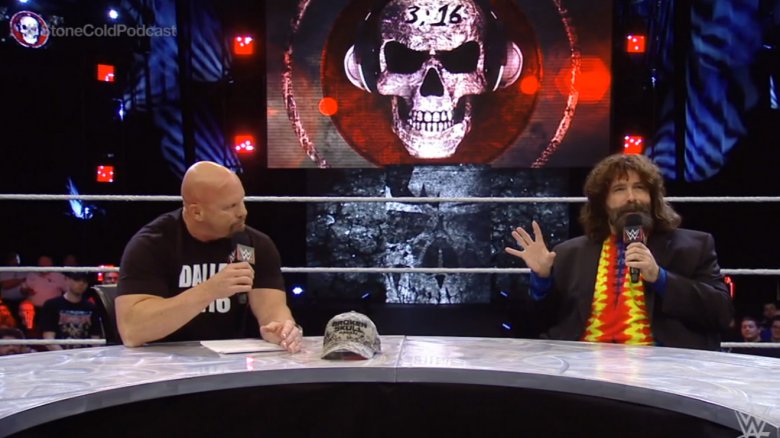 If you're still wondering why you haven't seen Steve Austin in a while, the real answer is that his primary work these days is in a medium that doesn't need a visual component: the wild world of podcasting.
Starting in 2012, Austin launched The Steve Austin Show, which would eventually grow to include two podcasts and a series of specials on the WWE Network. Usually, the show involves Austin having conversations with current and former wrestlers in between swigs of coffee for the workin' man, but occasionally, he goes in-depth in really fascinating ways. A recent episode, for instance, involved him being joined by Bayley to go move-by-move through her match with Sasha Banks at NXT Takeover: Brooklyn, discussing the motivations and psychology behind every aspect of the match. For fans of wrestling as an art form, it's an incredibly interesting look at every aspect of the craft, and episodes like that show why the video version is one of the WWE Network's most popular original shows, even when (or maybe especially when) he's critical of the current product.
And sometimes, Austin uses the show to voice his support for same-sex marriage. Probably didn't see that one coming from a guy who was once called "the Bionic Redneck," huh?
Stone Cold Steve Austin as a Cougar Life spokesman
With all that said, it's clear that all these years after retiring from the ring, there's one thing that "Stone Cold" Steve Austin is truly passionate about: MILFs.
Okay, maybe not, but when a dating site called Cougar Life sponsored Austin's podcast, we got what might just be Austin's best work since WrestleMania 17: Ninety seconds of Austin reading ad copy with lines like "single women in their sexual prime!" and "who hadn't fantasized about bein' with a MILF? HUH-HO! That's every guy's dreeeeeeam!"
Hey, is there a way to get audio tattooed on your body yet? Asking for a friend.